Sautéed Broccoli Rabe, Provolone, and Roasted Long Hot Peppers Hot Dog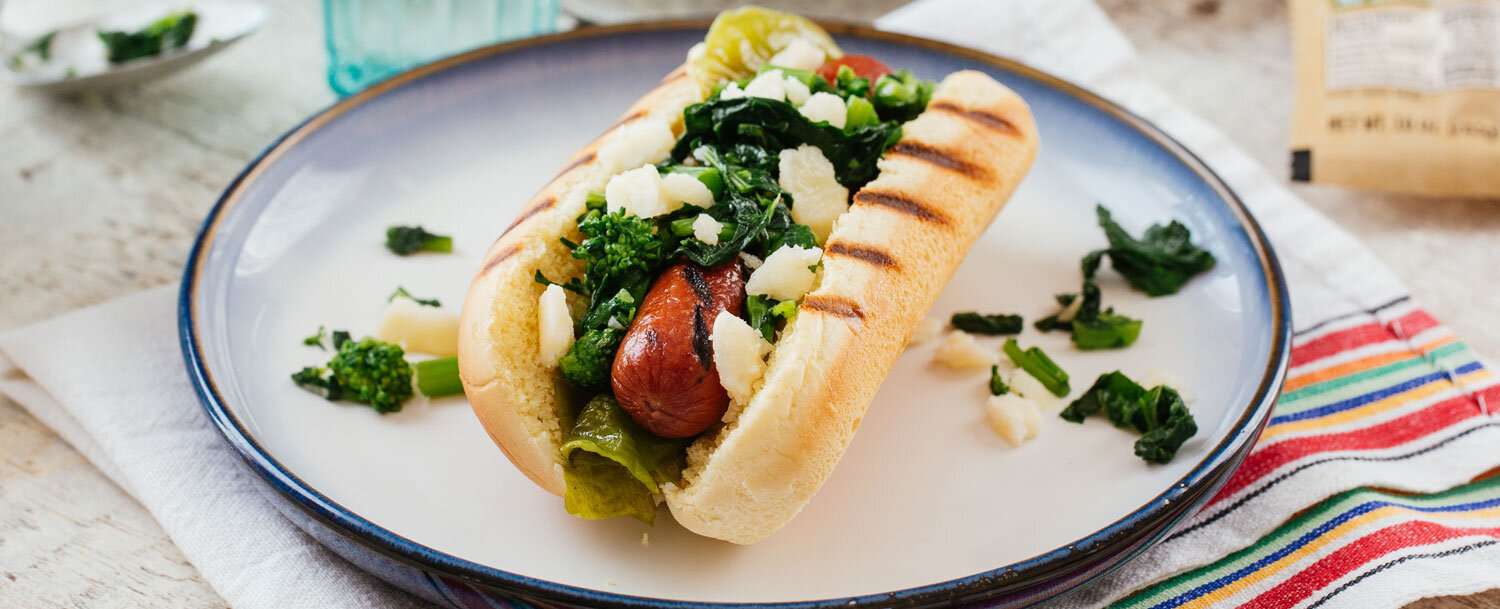 Most people think cheesesteaks, when they think of Philly food. However, we'd argue that the roast pork sandwich is the more iconic sandwich. In honor of the City of Brotherly Love, this hot dog recipe mimics a proper Philly roast pork sandwich.
8 Topped Hot Dogs | Total Time: Less Than 30 Mins
Instructions
Broccoli Rabe:
1. Bring medium pot of water to boil. Add broccoli rabe. Cook about two minutes until bright green.
2. Transfer to a bowl of ice water to stop the cooking. Drain.
3. In a saute pan, add olive oil, add chopped garlic and cook for about 30 seconds. Add broccoli rabe. Cook for an additional two minutes until heated through. Set aside.
4. Chop each stalk into 4 pieces
Roasted Long Hot Peppers and Sharp Provolone:
1. In a medium bowl, toss long hot peppers with olive oil, and salt and pepper to taste. Place on baking sheet.
2. Roast in a 350 degree oven for about 20-25 minutes until soft.
3. Remove the stem, seeds, and slice in half. Set aside.
4. Cut or break sharp provolone into small chunks.
Assembly:
1. Prepare hot dog to your liking. Place on bun.
2. Top each hot dog with half of a roasted long hot pepper
3. Add a piece of sautéed broccoli rabe
4. Top each hot dog with chunks of sharp provolone