Minestrone with Turkey Bacon and Arugula Pesto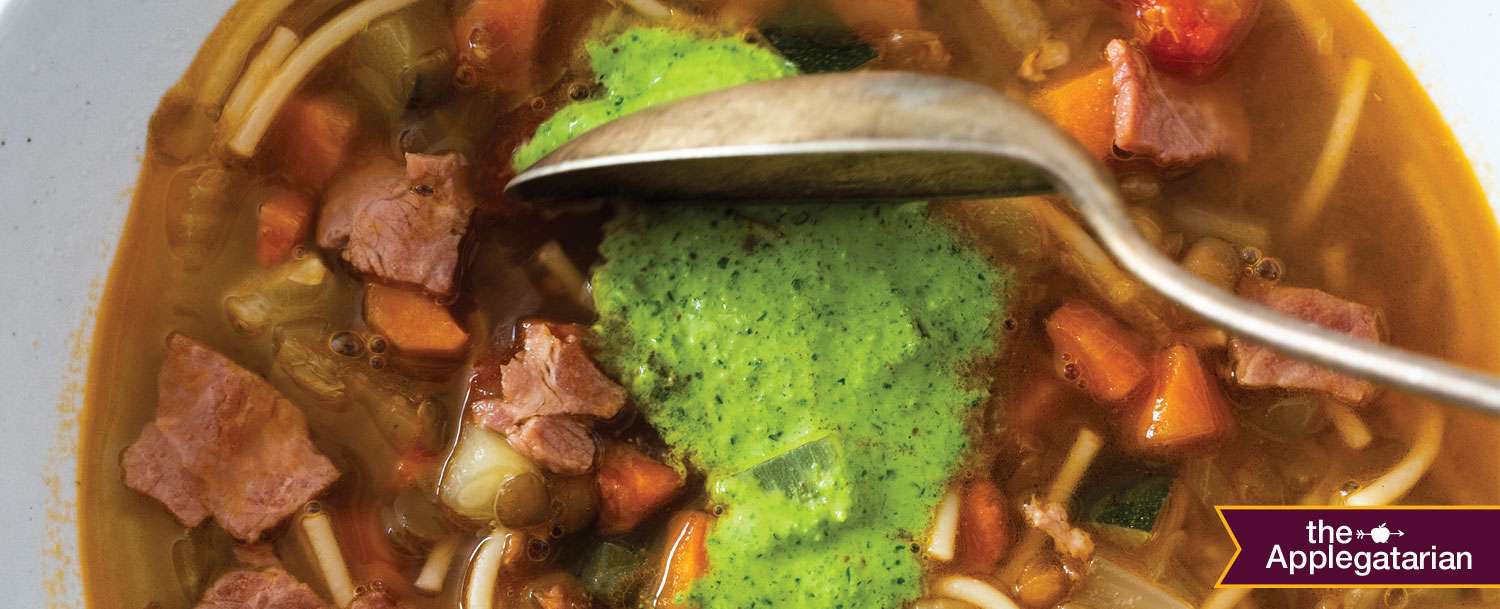 Chock-full of vegetables, speckled with savory turkey bacon and brightened with a verdant dollop of basil and parsley puree, this minestrone satisfies on so many levels.
Feel free to sub in a grain­ free pasta, rice, quinoa, farro, whatever you like! This pesto recipe makes more than you'll need, but hold onto it for the Grilled Polenta and Veggies or for adding to pasta, omelets or dabbing over grilled chicken.
Serves 4-6 | Total Time: Less Than 60 Mins
Ingredients
2 tablespoons olive oil
1 (8-ounce) package APPLEGATE NATURALS® Turkey Bacon, chopped
3 carrots, chopped
2 celery ribs, chopped
1 onion, chopped
2 garlic cloves, finely chopped
Salt and freshly ground black pepper
¼ small green cabbage, cored and chopped 
1 (14-ounce) can diced tomatoes
1 cup lentils
8 cups water
1 bay leaf
4 ounces thin spaghetti, broken into pieces
1 medium zucchini, chopped
Arugula pesto (see below)
Instructions
Heat the olive oil in a large soup pot over medium-high heat. Add the chopped bacon and cook, stirring occasionally, until browned, 8 to 10 minutes.
Add the carrots, celery, onions and garlic and cook, stirring occasionally, until softened, 8 to 10 minutes. Season with salt and pepper.
Add cabbage, tomatoes, lentils and water and bring to a simmer. Reduce heat and simmer gently until lentils are soft, about 30 minutes.
Meanwhile, cook the pasta in a small pot of salted boiling water until al dente. Drain and set aside.
When the lentils are soft, add the zucchini and simmer until tender, 8 to 10 minutes. Stir in the cooked pasta, season to taste with salt and pepper and serve with dollops of arugula pesto swirled into each bowl.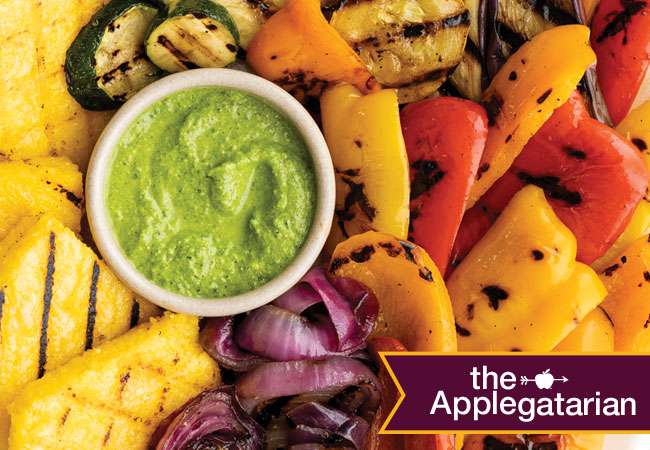 Arugula Pesto
Ingredients
5 ounces baby arugula
½ cup almonds
1 garlic clove
2/3 cup olive oil
½ teaspoon kosher salt
¼ cup water, or as needed
Instructions
Combine the arugula, almonds, garlic, olive oil and salt in a food processor or blender and blend until smooth, adding a little water to loosen the mixture if needed. (Alternatively, use an immersion blender.)
Pesto will keep up to 1 week in the refrigerator, or up to 1 month in the freezer.