Grilled Polenta and Veggies with Arugula Pesto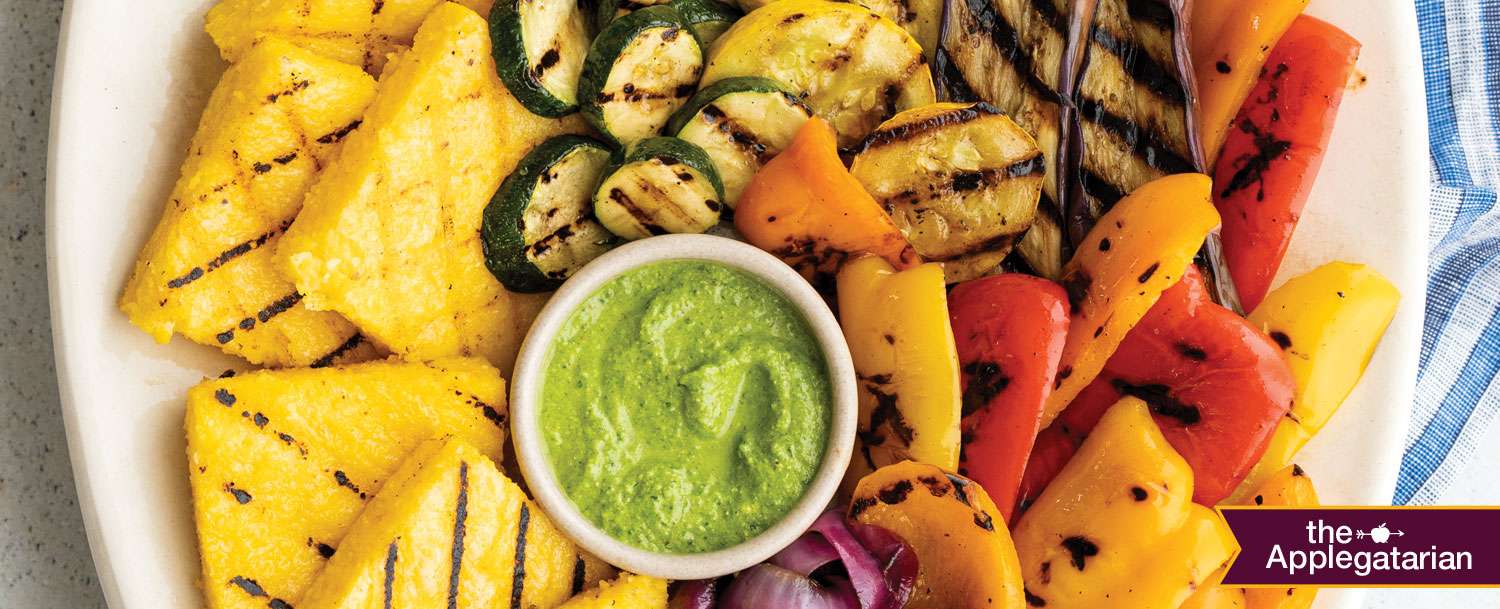 If you're looking for a late-summer Meatless Monday option, look no further (but if there's room on the grill, some APPLEGATE® dinner sausages would fit right into this meal). A bowl of Slow-Roasted Cherry Tomatoes would also go nicely here. We like to make our own polenta for this the night before, but feel free to use ready-made polenta that comes in a tube and simply slice it into ½-inch thick rounds.
Total Time: Less Than 60 Mins
Ingredients
6 cups water
2 cups dried polenta
Kosher salt
2 bell peppers, cored, seeded and cut into wide strips 
2 summer squash, cut into ½-inch-thick rounds 
Freshly ground black pepper
2 Chinese eggplants, trimmed and halved lengthwise
1 large red onion, cut into ½-inch-thick rounds
7 tablespoons olive oil, divided Arugula Pesto, for serving
Instructions
Bring the water to a boil in a heavy pot. Whisk in the polenta and ½ teaspoon salt. Reduce the heat and simmer, whisking frequently, until polenta has thickened, about 20 minutes.
Pour the polenta into a 9 x 13-inch baking pan and let cool completely (polenta will firm up as it cools). Set aside.
Combine the bell peppers and squash in a large bowl with
2 tablespoons olive oil. Season with salt and pepper and toss gently to combine.
Arrange the eggplants and onions on a tray (these are too finicky to toss easily) and brush with 3 tablespoons olive oil and season with salt and pepper. 
When the polenta is completely cool, cut it into squares and brush with the remaining 2 tablespoons olive oil.
Heat a grill to moderate heat. Working in batches, arrange the vegetables and polenta over the grill. Grill, flipping once, until vegetables are tender and polenta is heated through, 8-10 minutes.
Transfer everything to a large platter and serve with the arugula pesto on the side.