Hot Dogs with Toasted Garlic Buns and Crunchy Giardiniera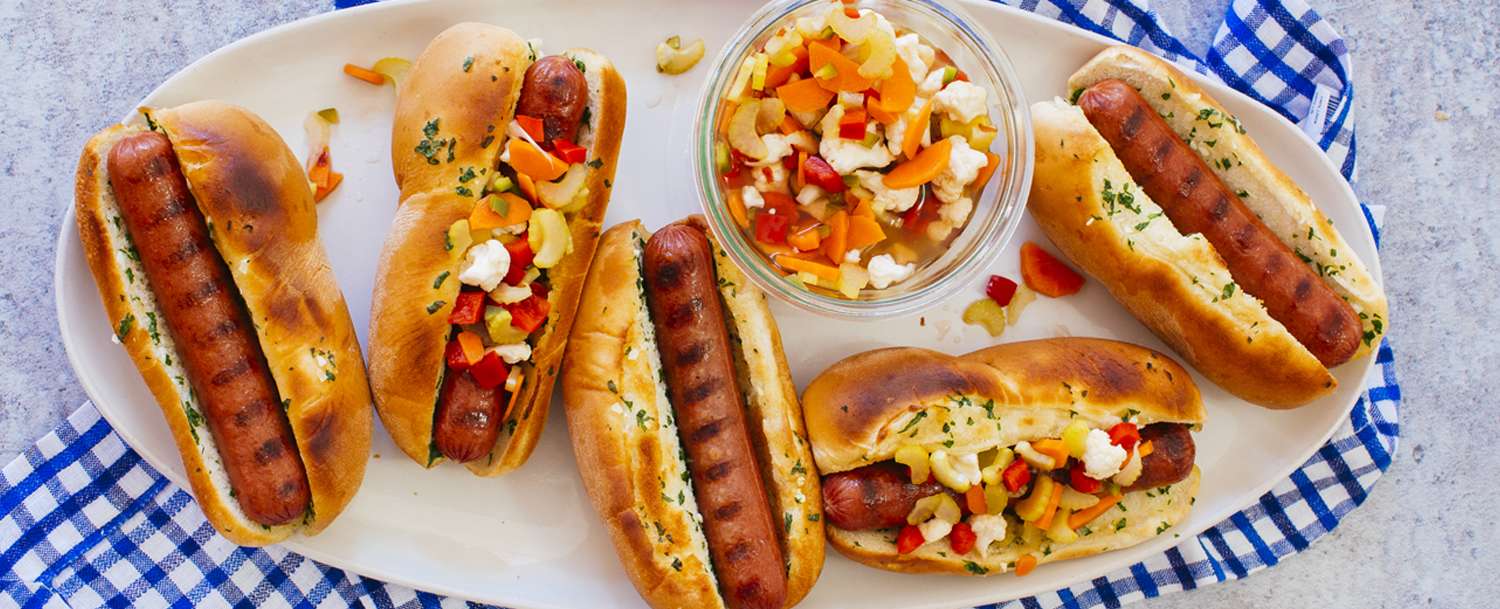 Buttery, garlicky toasted buns and a crunchy pickled topping elevate this hot dog to new heights. Making your own giardiniera is easy, but feel free to use store-bought—just make sure to chop it into bite-sized pieces.
6 Hot Dogs | Total Time: Less Than 30 Mins
Ingredients
Hot Dogs:
4 tablespoons Vital Farms Sea Salted Butter, softened 1–2 garlic cloves, finely chopped or grated

1 tablespoon finely chopped fresh parsley 6 hot dog buns

6 Applegate Organics® The Great Organic Uncured Beef Hot Dog™ hot dogs

½ cup chopped Overnight Giardiniera (see recipe below)
Overnight Giardiniera:
Chop the vegetables into bite-sized pieces, which make them easier to eat when spooned over a hot dog or tucked into a sandwich.
Makes about 2 cups / Takes less than 30 minutes (plus resting overnight)
½ cup chopped cauliflower
½ cup chopped red bell pepper
½ cup chopped carrots
½ cup chopped celery
½–1 jalapeño, seeded and chopped
½ red wine vinegar
½ cup water
½ teaspoon kosher salt
¼ teaspoon crushed red pepper flakes
Combine the vegetables in a bowl and toss well to combine. Pack the vegetables into a pint jar.
Instructions
Mash together the softened butter, garlic and parsley in a small bowl until thoroughly combined. Spread the mixture evenly on the insides of the hot dog buns. Set the buns on a baking sheet and broil until golden-brown.
Meanwhile, grill the hot dogs according to package instructions. Place the grilled hot dogs inside the toasted buns and top with some of the chopped giardiniera. Serve at once.