Bountiful Summer Sausage Salad with Herbed Avocado Dressing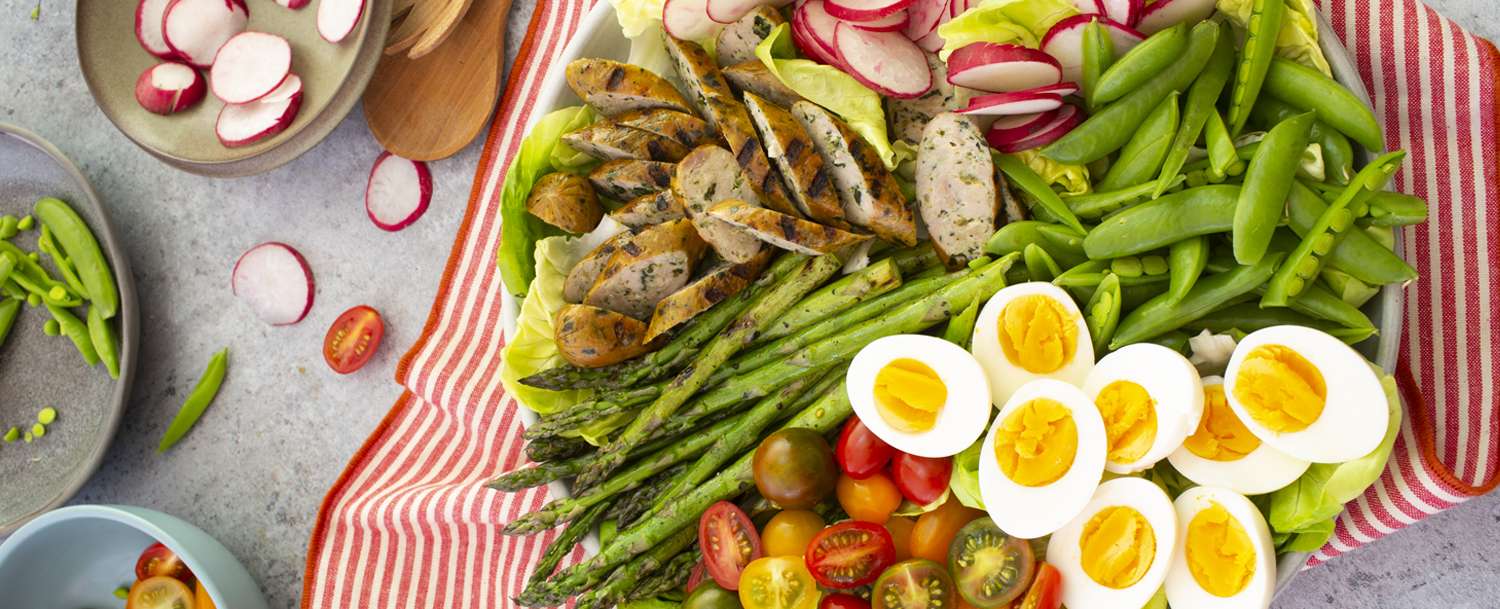 This giant salad platter is the definition of Italian "abbondanza"—delicious abundance. Let everyone serve themselves, mixing and matching to make their perfect plate.
6 Servings | Total Time: Less Than 60 Mins
Ingredients
1 ripe avocado, pitted, peeled and chopped
¾–1 cup water
¼ cup + 1 tablespoon olive oil, divided 3 tablespoons fresh lemon juice
3 tablespoons mixed fresh herbs, such as basil, parsley, dill, cilantro and chives Kosher salt and freshly ground black pepper
4–6 Vital Farms eggs
1 bunch asparagus, trimmed
1 package APPLEGATE ORGANICS® Spinach-Feta Chicken Dinner Sausages 1 head Boston or Bibb lettuce
8 ounces sugar snap peas, trimmed 1 bunch radishes, thinly sliced
1 pint cherry tomatoes, halved
Instructions
To make the dressing, combine the avocado, ¾ cup water, ¼ cup olive oil, lemon juice and herbs in a blender. Season with ½ teaspoon salt and ¼ teaspoon pepper. Blend until very smooth, adding more water if needed to thin the dressing. Taste and adjust the seasoning. Set aside.
Bring a small pot of water to a boil. Add the eggs, reduce the heat and simmer for 11 minutes (less if you like a softer set yolk). Drain and run cold water over the eggs until they are cool to the touch. Peel the eggs and cut in half.
Toss the asparagus with the remaining 1 tablespoon olive oil and season lightly with salt and pepper. Grill the asparagus until bright green and crisp tender, about 8 minutes. At the same time, grill the sausages according to package instructions. Slice the grilled sausages into rounds.
To assemble the salad, separate the lettuce into individual leaves and arrange over a large platter. Arrange the grilled sausages, asparagus, hard-boiled eggs, sugar snap peas, radishes and cherry tomatoes over the lettuce and serve with the dressing on the side so people can dress it themselves.