Harvest Salad wih Warm Bacon Vinaigrette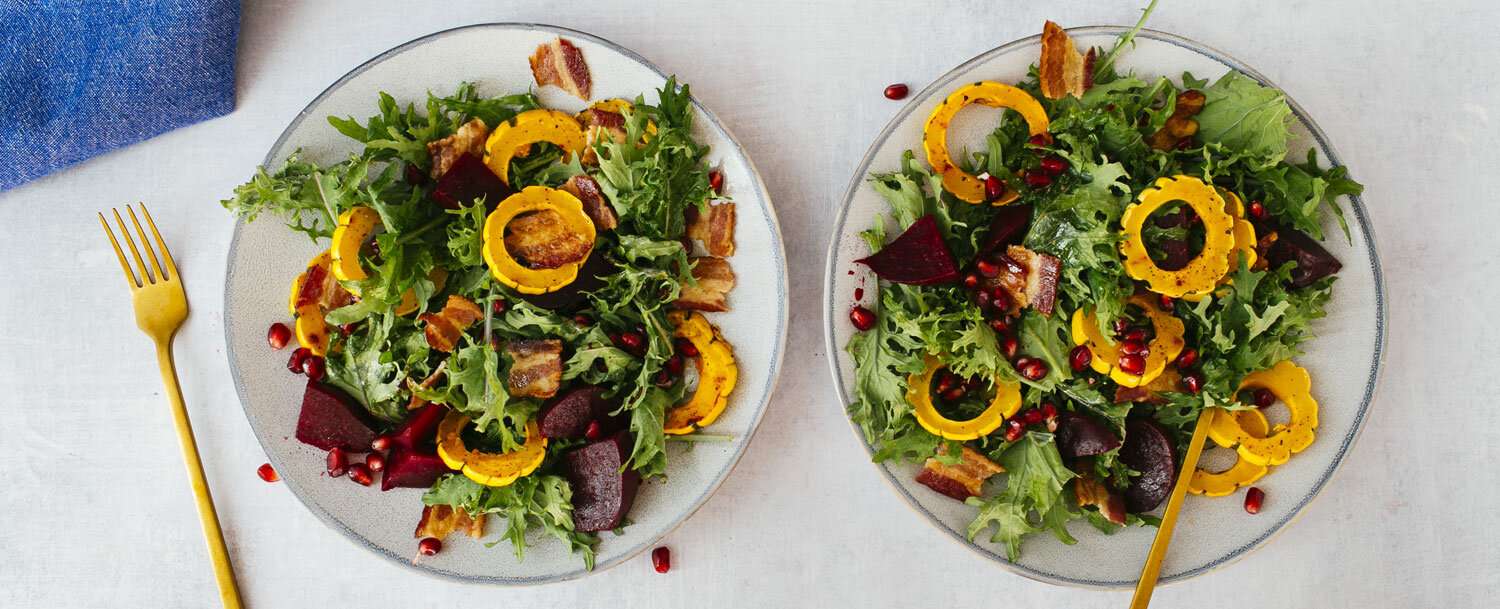 Colorful, hearty and bright, this salad makes for a delicious autumn meal. Or, pair it with roast pork or chicken for a larger gathering.
Serves 4-6 | Total Time: More Than 60 Mins
Ingredients
3 medium beets
Kosher salt and freshly ground black pepper
2 delicata squash, sliced into ¼-inch thick rings
4 tablespoons olive oil, divided
¼ teaspoon sweet or smoked paprika
1 (8-ounce) package APPLEGATE ORGANICS® No Sugar Bacon
3 tablespoons apple cider vinegar
1 tablespoon Dijon mustard
8 ounces baby kale
½ cup fresh pomegranate seeds
Instructions
Heat oven to 400°F. Scrub beets and wrap tightly in foil. Place in the oven and roast until tender, 45 minutes to 1 hour. Remove from the oven and unwrap. When cool enough to handle, slip off the skins and cut beets into wedges. Season with salt and pepper. Set aside.
While beets roast, cut squash into ¼-inch-thick rings. Remove any seeds. Arrange the squash rings on a large baking sheet and drizzle with 1 tablespoon olive oil. Toss gently to coat. Season with paprika, ¼ teaspoon salt and ¼ teaspoon pepper. When beets are done, add the squash to the oven and roast until tender, about 15 minutes.
While squash roasts, chop the bacon and place it in a heavy skillet. Cook, stirring occasionally, over moderate heat until browned and crisp, 8 to 10 minutes. Using a slotted spoon, transfer bacon to a paper towel–lined plate to drain.
Pour off all but 2 tablespoons of the bacon fat. Working over moderately low heat, whisk cider vinegar and mustard into fat and bring to a gentle simmer. Season with ½ teaspoon salt and ¼ teaspoon pepper. Whisk in remaining 3 tablespoons olive oil until well combined. Remove from heat and cover loosely to keep warm.
Place baby kale in a large salad bowl. Toss with the warm vinaigrette. Add the beets and squash and toss very gently to combine; taste and adjust the seasonings. Scatter the crisp bacon and pomegranate seeds over top and serve at once.