Turkey Pin Wheels with Basil Pesto Dipping Sauce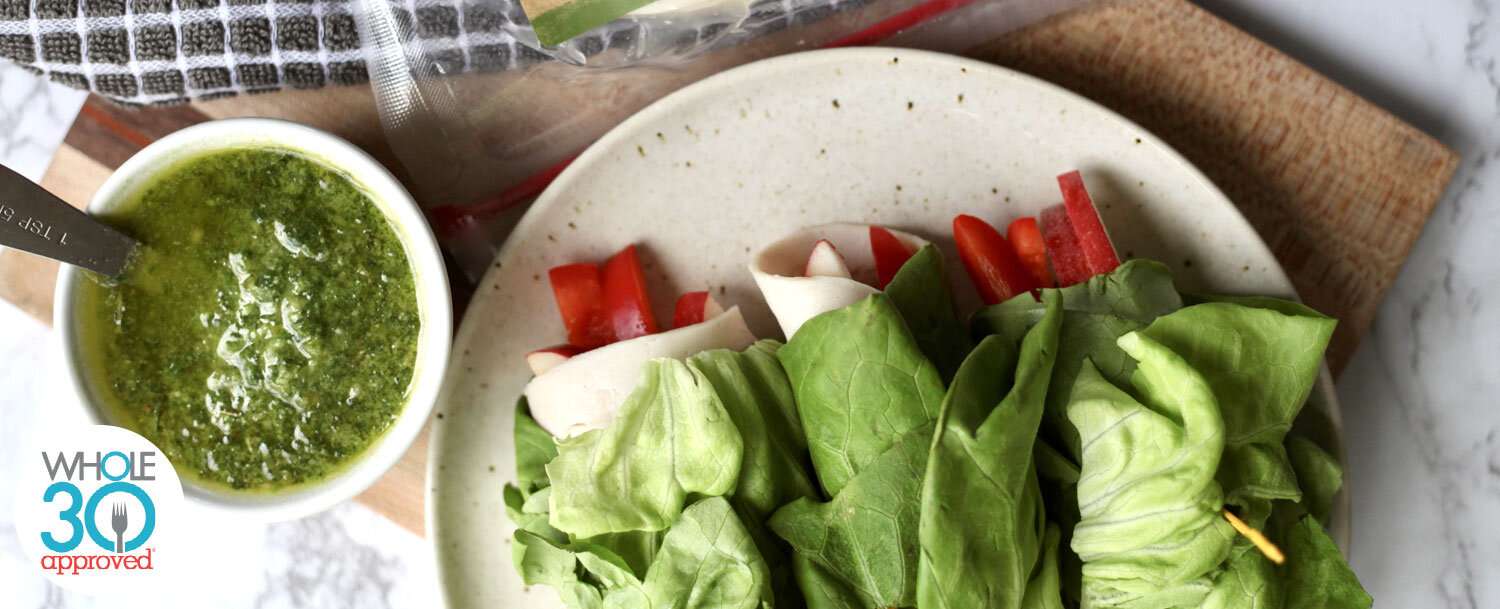 Photography by: Sarah Steffens
Melissa Urban, co-creator of Whole30, suggests using butter lettuce leaves as a Whole30 complaint alternative to a traditional tortilla wrap. Melissa creates nutrient-dense turkey pinwheels by stuffing the lettuce leaves with colorful fruits and vegetables. She then serves them with a basil pesto dipping sauce for the final flavor explosion.
Serves 4 | Total Time: Less Than 30 Mins
Ingredients
Pinwheels:
Basil Pesto Dipping Sauce:
2 cups fresh basil
½ cup olive oil
Juice from ½ lemon
1 tsp. sea salt
½ tsp. black pepper
1 tsp. garlic powder
¼ cup pine nuts
Instructions
Place all basil pesto dipping sauce ingredients in a food processor and pulse until creamy and well combined. Set aside.
Wrap a few thin slices of red pepper and apple in a slice of turkey.
Wrap 1-2 butter lettuce leaves around the turkey rolls and secure with a toothpick.
Arrange on a platter and serve with the basil pesto dipping sauce.
Enjoy!
*This recipe can be prepped 1-2 days in advance.
**You will likely have extra red pepper and apple slices. Serve them with the pinwheels, dipping in pesto.