Roasted Acorn Squash with Turkey Bacon and Herb Confetti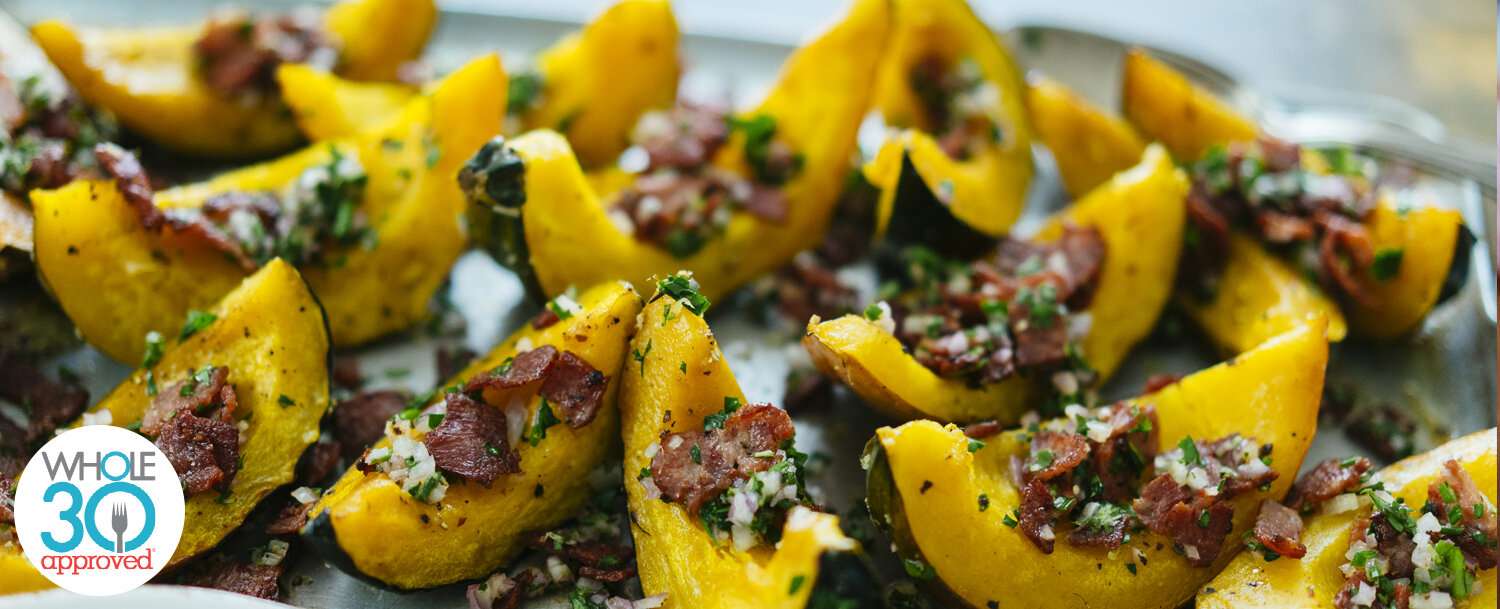 This squash dish was conceived as a festive holiday side dish, but there's no reason it can't be a weeknight main course, paired with a leafy green salad.
Serves 4-6 | Total Time: Less Than 15 Mins
Ingredients
2 acorn squash, halved, seeded and cut into thick wedges
3 tablespoons olive oil, divided
Kosher salt and freshly ground black pepper
1 package of Applegate Organics® Turkey Bacon
2 small shallots, finely chopped
½ cup mixed finely chopped herbs, such as parsley, chives, thyme, marjoram and/or chives
Zest of 1 lemon
1 tablespoon lemon juice
Instructions
Preheat the oven to 450°F.
Combine the squash wedges with 2 tablespoons olive oil, ½ teaspoon salt and ½ teaspoon pepper in a bowl; toss well until evenly coated. Arrange in a single layer on the baking sheet. Roast until squash is tender when pierced with a knife, about 25 minutes. Remove from the oven.
Meanwhile, cook the chopped turkey bacon in a skillet over moderate heat until crisp and browned, about 8 minutes. Remove from the heat and set aside to cool.
Stir together the chopped shallots, herbs, lemon zest, lemon juice and remaining 1 tablespoon olive oil in a bowl. Stir the cooled bacon into the herb mixture. Season with salt and pepper to taste.
Transfer the roasted squash to a serving platter. Spoon the bacon-herb mixture over the squash wedges and serve at once.