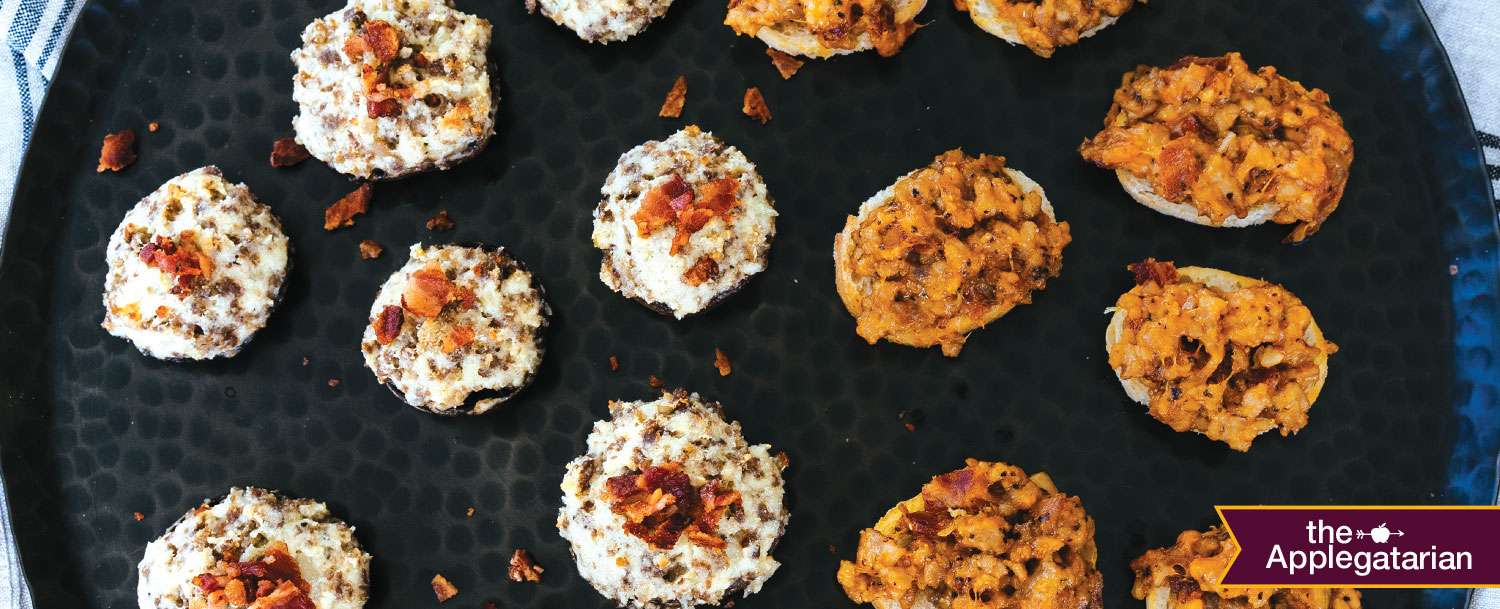 "I love to entertain-that's always been my reputation. Kelly and I host barbecues, a big Christmas party and every Thanksgiving, we always invite any co-workers who aren't able to get home to join us. I almost always make my sausage toasts, which my friends have dubbed 'manatizers, 'and Kelly is known for her stuffed mushrooms. She likes to make these with her dad-their family often makes dinner completely out of appetizers­ and now our daughter Annie is even getting in on the action!" Joe O'Connor, Applegate Vice President of Sales & Marketing
As Featured in The Applegatarian. 
Makes 20-24 appetizers | Total Time: Less Than 60 Mins
Ingredients
24 oz large white button mushrooms
½ lb hot pork sausage
½ medium yellow onion,
finely diced 4 cloves garlic, minced
½ cup dry white wine
Kosher salt and freshly ground black pepper
8 oz cream cheese 1 large egg yolk
¾ cup freshly grated Parmesan Cheese
4 strips cooked APPLEGATE NATURALS® Bacon
Instructions
Wipe off or wash mushrooms in cold water. Pop out stems, reserving both parts. Chop mushroom stems neatly and set aside.
Cook sausage in a skillet over moderately high heat, stirring occasionally, until brown and crumbled. Set aside on a plate to cool. Add onions and garlic to the same skillet; cook for 2 minutes over moderately low heat. Pour in wine to deglaze pan; simmer until liquid evaporates. Stir in chopped mushroom stems and cook for 2 minutes. Add salt and pepper to taste. Set mixture aside on a plate to cool.
In a bowl, combine cream cheese, egg yolk and Parmesan cheese. Add cooled sausage and cooled vegetables. Stir mixture together and refrigerate for a short time to firm up.
Preheat oven to 350°F. Smear mixture into the cavity of each mushroom, creating a sizable mound over the top. Chop the cooked bacon and sprinkle over top the mushrooms. Bake until golden brown, 20-25 minutes. Let cool at least 10 minutes before serving; the stuffed mushrooms taste best when not piping hot.