Carrot Fries with Carrot Top Dip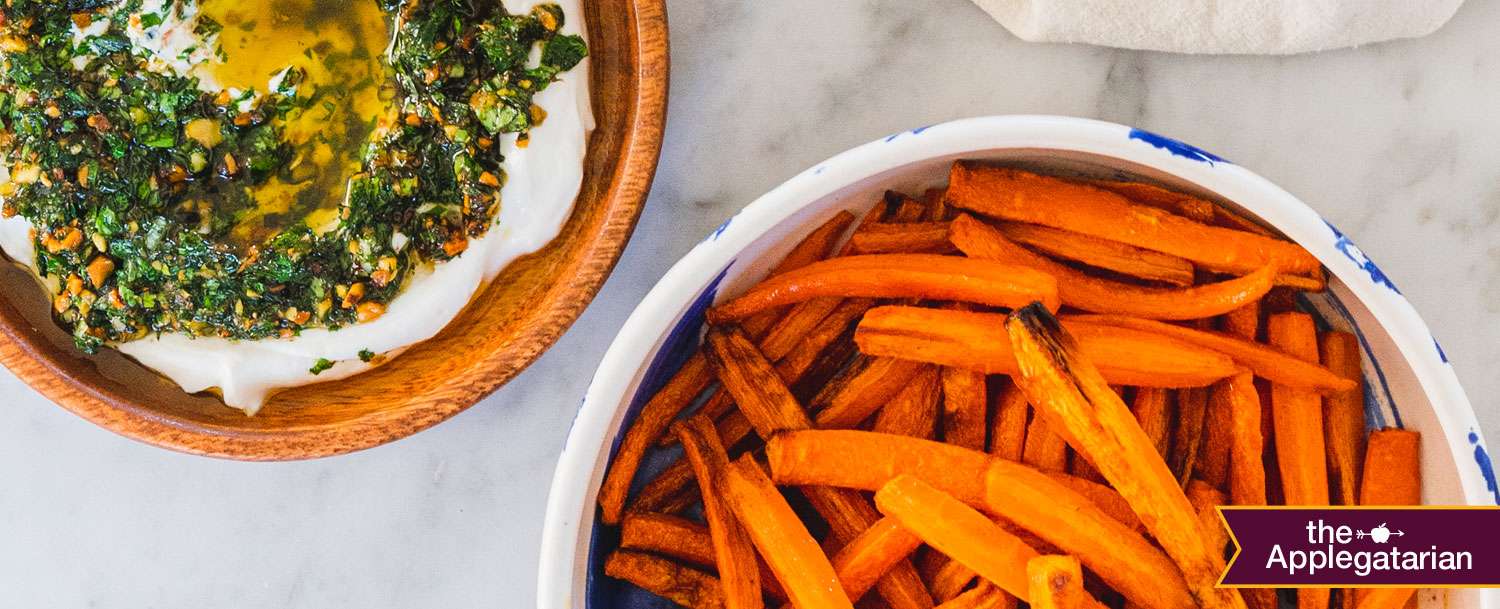 After dragging one of these crisp, sweet "fries" through this creamy, herby dip you might swear off spuds and ketchup forever! This recipe works well in a large air fryer; if you have a smaller model you will need to cook the carrots in two batches. They can also be cooked in the oven.
As Featured in The Applegatarian.
Serves 4 | Total Time: Less Than 30 Mins
Ingredients
2 pounds carrots with tops attached
1 Tbsp avocado or vegetable oil
1 tsp cornstarch
½ tsp paprika, sweet or smoked
½ tsp ground cumin
Kosher salt
¼ cup fresh parsley leaves
¼ cup fresh cilantro leaves
2 scallions, chopped
⅓ cup shelled, roasted and salted pistachios, finely chopped
Finely grated zest of 1 lemon
½ cup extra virgin olive oil
½ cup labne or plain Greek yogurt
Instructions
Cut the feathery green tops from the carrots and set aside. Peel the carrots and cut into ½ inch-thick matchsticks, so they resemble French fries. Toss the carrots with the avocado oil, cornstarch, paprika, cumin and ½ tsp salt.
Arrange carrots in the basket of an air fryer and cook on high (about 400°F) for 10 minutes. Shake the basket to redistribute the carrots and continue to cook until browned and crisp, about 8 minutes more.
Meanwhile, wash and dry the carrot tops. Roughly chop enough greens to measure about ½ cup. Place the greens on a large cutting board along with the parsley, cilantro and scallions and chop together until everything is finely chopped. Transfer to a bowl and add the lemon zest, olive oil and pistachios. Season to taste with salt.
To serve, transfer the carrot fries to a platter. Spoon the yogurt into a shallow bowl and top with some of the carrot top sauce. Serve with the fries.

NOTE: If you don't have an air fryer, you can roast the carrots in a preheated 425°F oven for 20-25 minutes.