Farro Salad with Pepperoni, Artichokes and Celery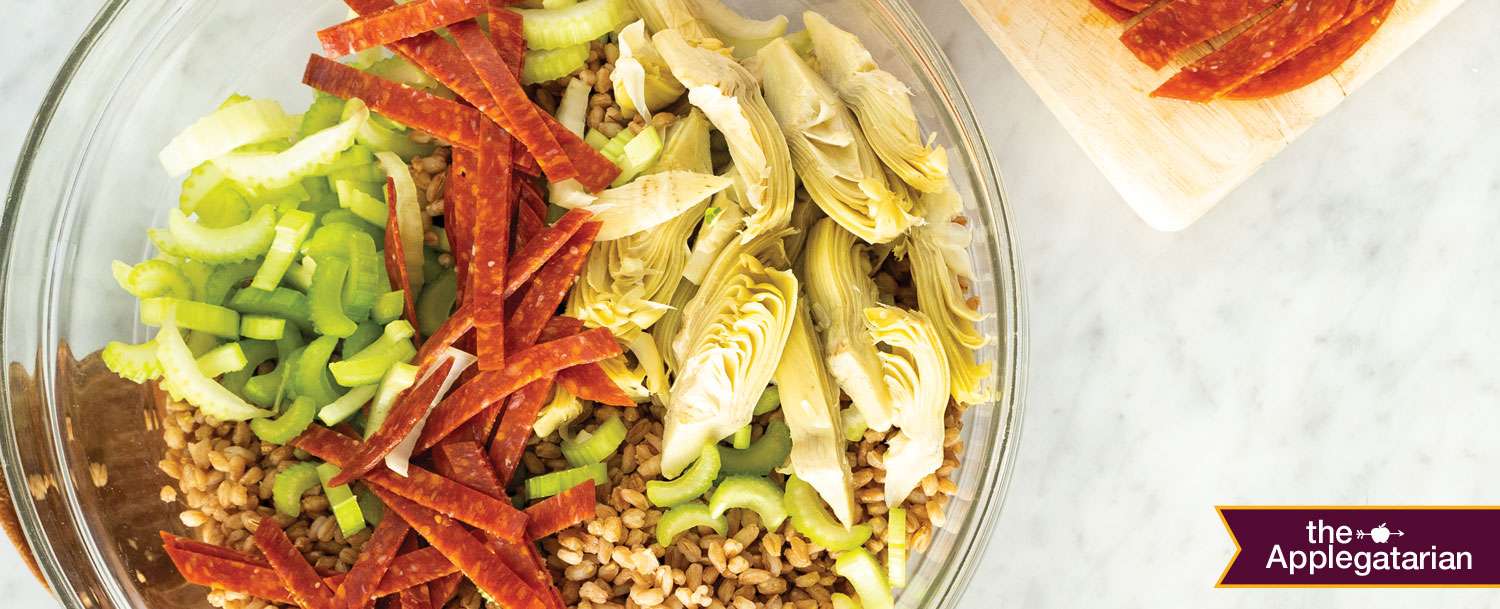 This is not your usual boring desk salad! A plethora of textures and ingredients, all married in a bright, lemony dressing, keeps each bite a little different than the last. Make this salad early in the week and keep nibbling all week long. If you want to change it up a bit, add some cubes of fresh mozzarella, a handful of olives or capers, chickpeas, steamed green beans or edamame or grilled chicken strips. 
Serves 6 | Total Time: Less Than 60 Mins
Ingredients
2 cups farro
¼ cup finely chopped red onion
¼ cup olive oil
2 tablespoons freshly squeezed lemon juice
½ teaspoon kosher salt
¼ teaspoon freshly ground black pepper Pinch of crushed red pepper flakes
3 celery stalks, sliced
1 (14-ounce) can artichoke hearts, drained and cut into 8ths
2 ounces APPLEGATE NATURALS® Pepperoni (about 7 slices), cut into strips
½ cup chopped fresh parsley
Instructions
Bring a large pot of salted water to a boil. Add the farro and boil gently until tender, about 25 minutes. Drain well.
While farro cooks, combine the red onion, olive oil, lemon juice, salt, pepper and crushed red pepper flakes in a large bowl.
Add the drained farro to the bowl and toss well to combine. Let cool for about 20 minutes before adding the celery, artichoke hearts, pepperoni and parsley and tossing well to combine. Taste and adjust the seasonings.