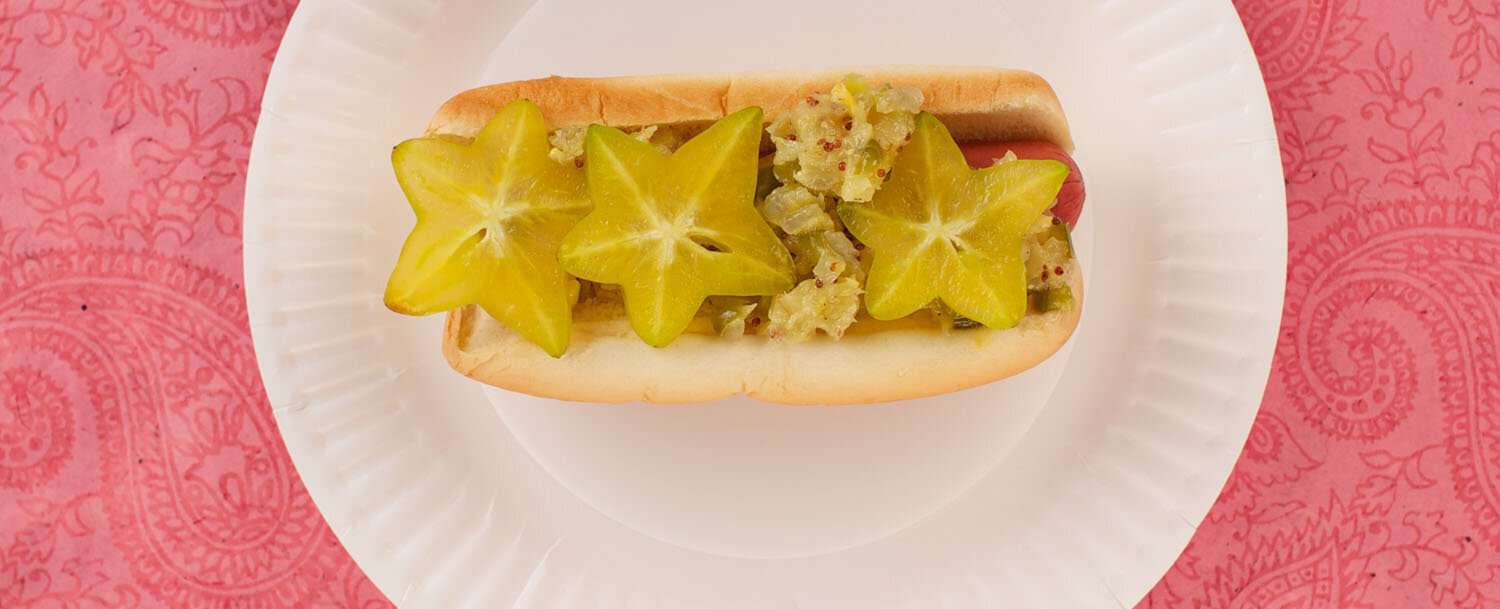 Honolulu Dog with Pineapple Relish, Lemon-Garlic Mayo and Starfruit
Hot dog stands in Hawaii offer a range of tropical toppings—think relishes made from coconut, papaya, or mango. This version pairs a snappy pineapple relish with a cool lemony mayo and slices of starfruit for a truly transporting experience.
Makes 8 | Total Time: Less Than 60 Mins
Ingredients
Hot Dogs
Lemon-Garlic Mayo (see recipe below)
1 package hot dog buns, toasted
Pineapple Relish (see recipe below)
1 starfruit, thinly sliced
Lemon-Garlic Mayo
½ cup mayonnaise
Finely grated zest of 1 lemon
1 tablespoon freshly squeezed lemon juice
1 clove garlic, minced
Salt and pepper
Pineapple Relish
1 tablespoon olive oil
1 small sweet onion, finely chopped
2 (8-ounce) cans crushed pineapple
1 teaspoon salt
¼ teaspoon black pepper
¼ cup cider vinegar
2 teaspoons stoneground mustard
Finely grated zest of 1 lime
Juice of 1 lime
Instructions
Hot Dogs
Grill hot dogs to desired doneness.
Spread 1 tablespoon Lemon-Garlic Mayo over each toasted bun.
Arrange hot dogs in buns and top with a dollop of pineapple relish.
Garnish with sliced starfruit.
Lemon-Garlic Mayo
Combine the mayonnaise, lemon zest, juice, and garlic in a small bowl.
Pineapple Relish
Adapted from the pineapple relish served at Hank's Haute Dogs on Honolulu, this sweet-tart condiment is a great foil for savory dogs. It also makes an unorthodox—but delicious—topping for pork or shrimp tacos.
Makes about 2 cups
Heat the oil in a medium saucepan over medium heat, then add the onions and cook, stirring occasionally, until softened, 8–10 minutes.
Add the crushed pineapple, salt and pepper and cook, stirring occasionally, until liquid reduces, about 15 minutes.
Add the vinegar, mustard, and lime zest and cook for 5 minutes.
Add the lime juice, and cook until slightly reduced, about 5 minutes more.
Remove from the heat and allow to cool.
When cooled, taste and adjust the seasonings. The relish keeps, tightly covered and refrigerated, for 5 days.