Grilled Bacon, Swiss and Mushroom Sandwich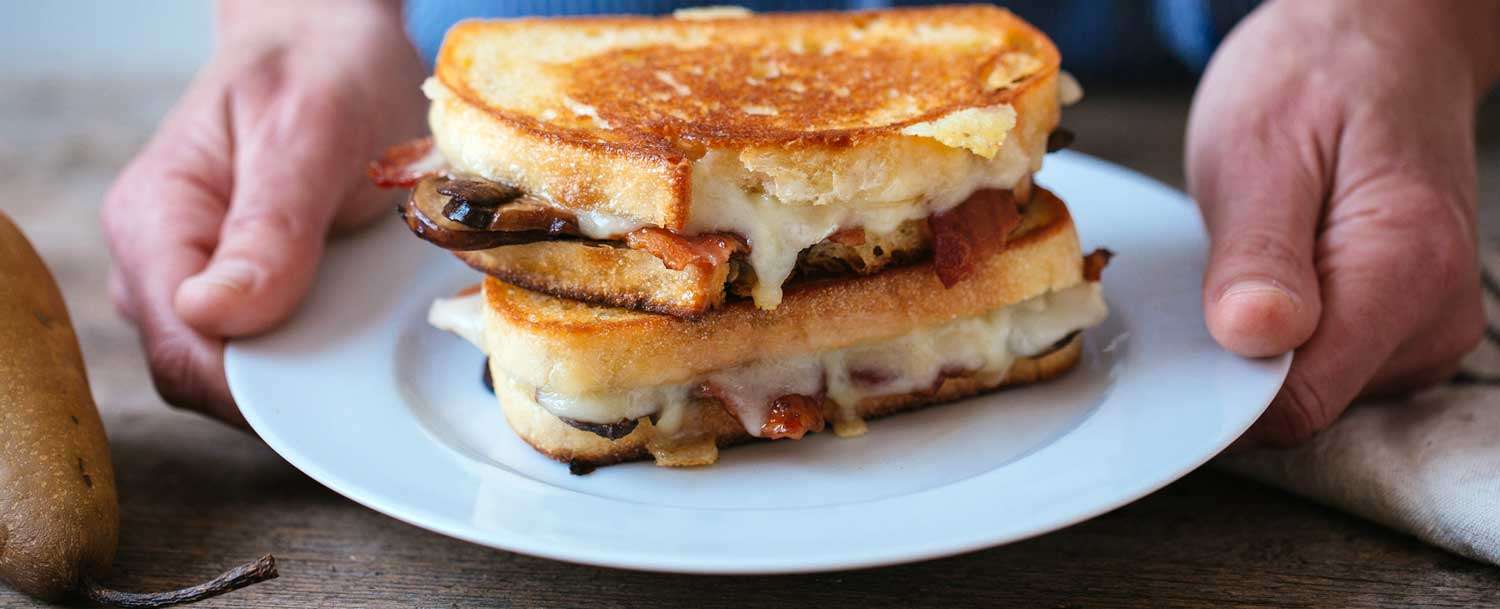 Plenty of golden mushrooms and smoky bacon make this a dinner-worthy grilled cheese. Serve with a crisp green salad to round out the meal.
Makes 4 sandwiches | Total Time: Less Than 30 Mins
Ingredients
8 ounces cremini or white button mushrooms, sliced
1 shallot, finely chopped
1 sprig fresh thyme
1 tablespoon balsamic vinegar
4 tablespoons butter, softened
8 slices country bread
8 slices Applegate Naturals® Emmentaler Swiss Cheese, halved
Instructions
Cook the bacon in a heavy skillet over moderate heat until crisp and browned, about 10 minutes. Transfer the bacon to a paper towel–lined plate to cool.
Pour off all but 2 tablespoons of the bacon fat in the skillet. Add the mushrooms, shallot and thyme to the skillet and cook, stirring occasionally, until browned and tender, about 10 minutes. Add the vinegar and cook for another minute. Transfer the mushroom mixture to a bowl and wipe out the skillet.
Butter 1 side of each slice of bread. Arrange 4 slices of the bread in the skillet, buttered side down. Top evenly with the cheese, bacon and mushrooms and the remaining slices of bread, buttered side up.
Cook over moderate heat until the bottoms are golden brown. Flip and continue to cook until the cheese is melted and the bread is golden brown. Serve at once.