Eat the Rainbow Turkey Sandwich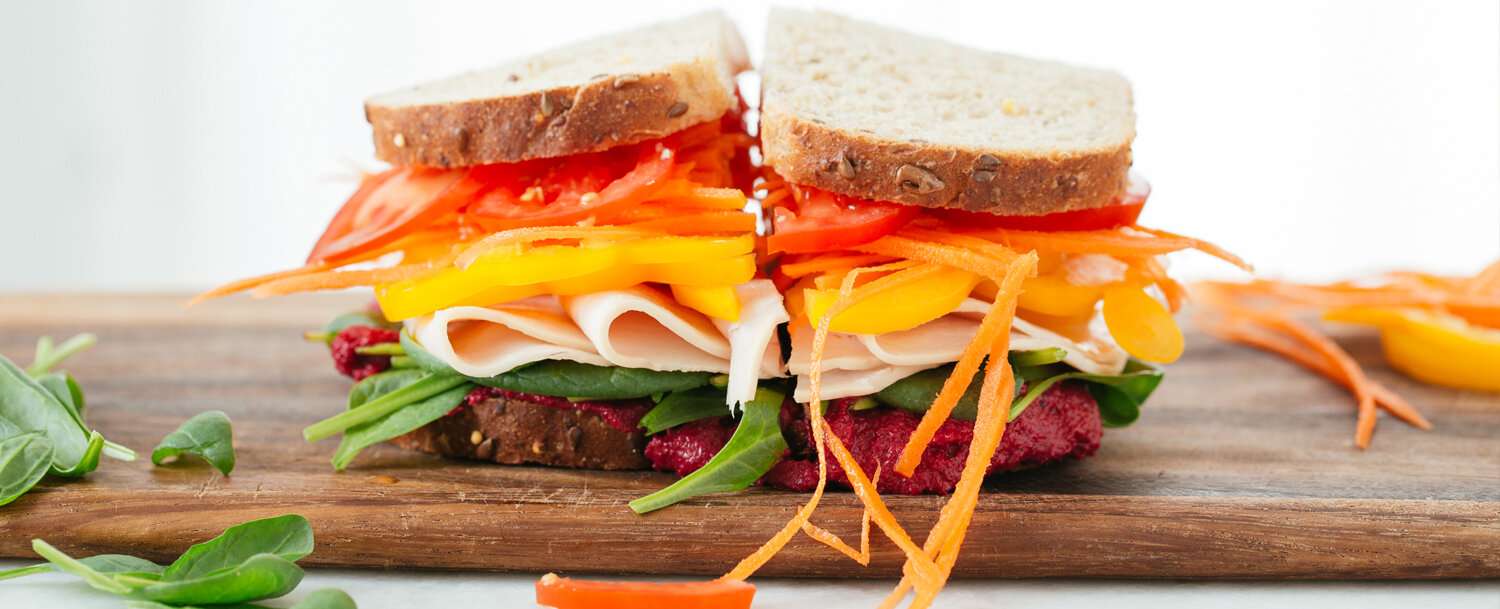 Need more color in your life? This sandwich should do the trick. The recipe makes more beet hummus than you will need, but it makes a wonderful appetizer…serve it with pita chips and plenty of cut vegetables.
Makes 2 sandwiches | Total Time: More Than 60 Mins
Ingredients
For the beet hummus:
1 pound beets, scrubbed
1 garlic clove, chopped
1/3 cup tahini
¼ cup extra-virgin olive oil
1 tablespoon fresh lemon juice, or to taste
1 teaspoon ground cumin
1 teaspoon kosher salt
For the sandwiches:
Instructions
To make the beet hummus:
Preheat the oven to 400°F. Wrap the beets tightly in foil and roast until very tender when pierced with the tip of a knife, 1 to 1½ hours. Remove from the oven, unwrap and let cool slightly.
When cool enough to handle, rub the skins from the beets. Let cool completely.
Coarsely chop the cooled beets and place in a food processor with the garlic; process until the vegetables are very finely chopped.
Add the tahini, olive oil, lemon juice, cumin and salt to the food processor and process until mixture is very smooth. Taste and adjust the seasonings. Transfer to a bowl. (The recipe makes about 2 cups hummus; leftovers will keep, refrigerated in an airtight container, for up to 3 days.)
To make the sandwiches:
Spread some of the beet hummus on 2 slices of bread.
Divide the spinach evenly over the hummus then top with the turkey, yellow peppers, carrots and tomatoes.
Close the sandwiches with the remaining slices of bread. Cut in half and serve at once.