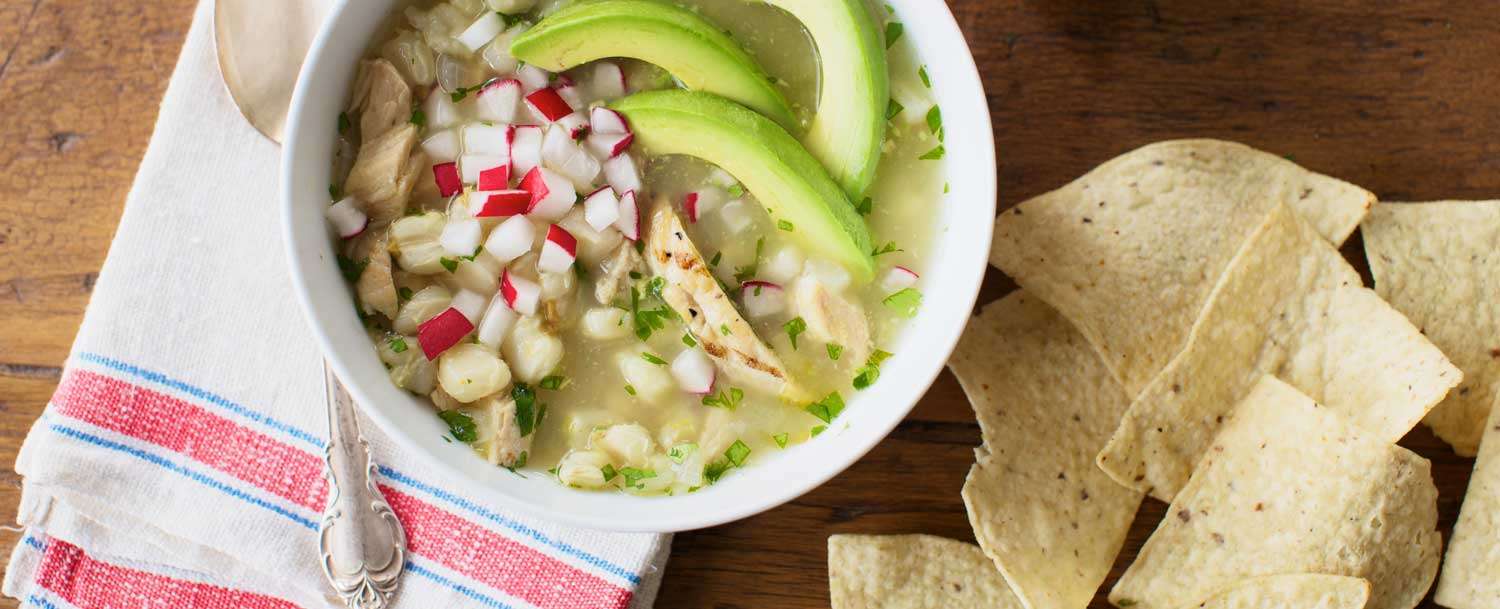 This is a soothing, mild version of the Mexican hominy soup, which often contains a swirl of red chile sauce. If you need a little heat, season to taste with bottled hot sauce.
Serves 4 | Total Time: Less Than 60 Mins
Ingredients
1 tablespoon extra-virgin olive oil
1 white onion, chopped
½ teaspoon ground cumin
¼ teaspoon dried oregano, preferably Mexican
4 tomatillos (fresh or canned), husked and chopped
1 (29-ounce) can white hominy, rinsed and drained
4 cups chicken broth
1 (8-ounce) package Applegate Naturals® Grilled Chicken Breast Strips, chopped
Salt and freshly ground black pepper
4-6 radishes, finely diced, for garnish
2 ripe avocados, pitted, peeled and chopped, for garnish
Small handful fresh cilantro leaves, chopped, for garnish
Instructions
Heat the olive oil in a medium heavy pot over medium heat, then add the onions and cook, stirring occasionally, until softened, about 10 minutes.
Stir in the cumin and oregano and cook for 30 seconds.
Add the tomatillos, hominy and chicken broth and bring to a simmer. Simmer, uncovered, for 20 minutes.
Stir in the chopped chicken breast strips and cook until warmed through, about 3 minutes. Season to taste with salt and pepper.
To serve, ladle the soup into warmed bowls and pass the garnishes separately so everyone can season their soup exactly as they like.
Keep the soup in an airtight container for up to 3 days in the refrigerator, and up to 1 month in the freezer.