Beet & Red Cabbage Borscht w/ Chicken-Apple Sausage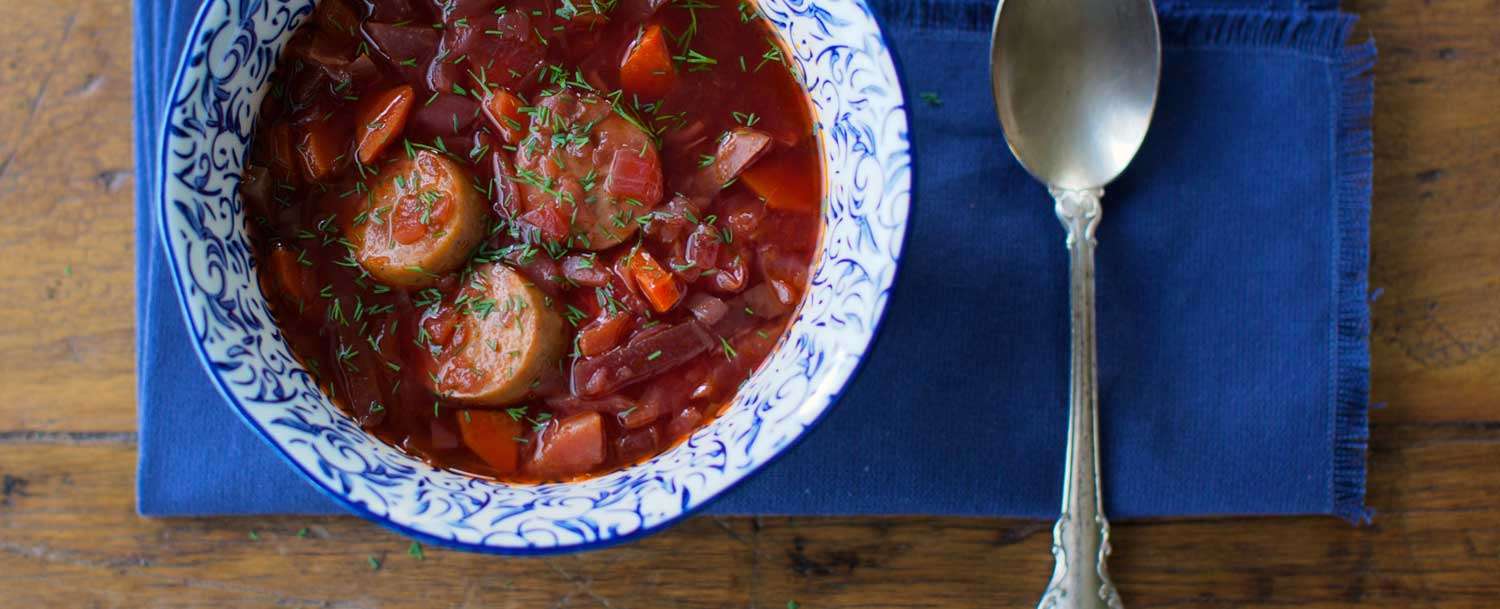 Chicken sausage may be an unexpected addition to borscht, but we love how it complements the natural sweetness of beets and red cabbage.
Serves 4 to 6 | Total Time: More Than 60 Mins
Ingredients
2 tablespoons extra-virgin olive oil
3 carrots, chopped
2 ribs celery, chopped
1 onion, chopped
½ teaspoon caraway seeds
2 large red beets, peeled and cut into strips
1 large potato, peeled and cut into strips
2 cups shredded red cabbage
8 cups chicken or vegetable broth
Salt and freshly ground black pepper
2 tablespoons apple cider vinegar, or to taste
(12-ounce) package Applegate Organics® Chicken & Apple Sausage, sliced
Chopped fresh dill, for garnish
Instructions
Heat the olive oil in a large heavy pot over medium-high heat, then add the carrots, celery and onions. Cook, stirring occasionally, until vegetables are softened, about 10 minutes. Stir in the caraway seeds and cook for 30 seconds. 
Add the beets, potatoes, cabbage and chicken broth and bring to a boil. Reduce heat to medium-low and simmer until the vegetables are tender, 30–40 minutes. Season to taste with salt and pepper, then add the vinegar.
Stir in the sliced sausages and cook until warmed through and plump, about 5 minutes.
To serve, ladle the soup into warmed bowls and garnish with some chopped dill. Serve immediately.
The soup keeps, in an airtight container, up to 5 days in the refrigerator, and up to 1 month in the freezer.