Roasted Red Pepper Soup with Sausage and Chickpeas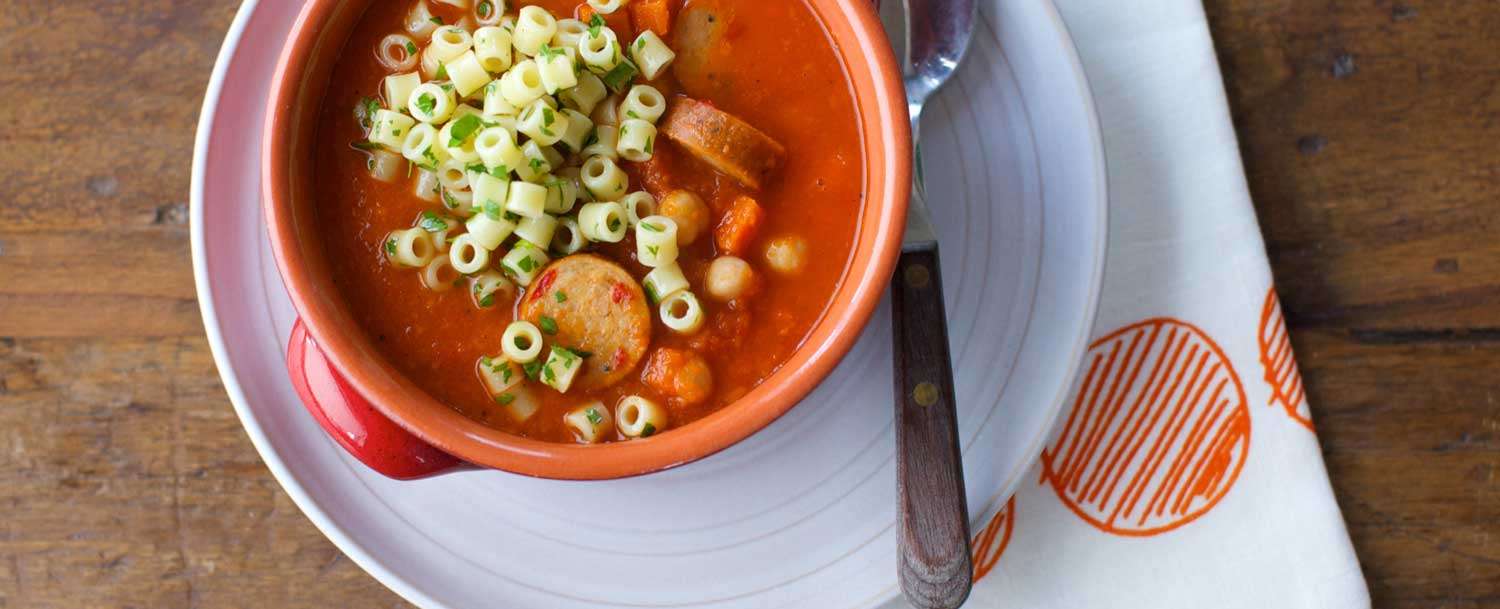 Suave and hearty, this soup makes a perfect one-dish supper. A bit of smoked paprika adds resounding depth.
Serves 4 | Total Time: Less Than 60 Mins
Ingredients
3 tablespoons extra-virgin olive oil, divided
2 ribs celery, chopped
1 large onion, chopped
1 carrot, chopped
2 cloves garlic, chopped
½ teaspoon smoked paprika, or to taste
1 (12-ounce) jar roasted red peppers (packed in water), drained and chopped
4 cups chicken stock
Salt and freshly ground black pepper
1 (15-ounce) can chickpeas, rinsed and drained
½ cup ditalini or other short, tubular pasta
1 tablespoon finely chopped fresh parsley leaves
Instructions
Heat 2 tablespoons of the olive oil in a medium heavy pot over medium heat. Add the celery, onions, and carrots and cook, stirring occasionally, until vegetables are softened, 10–12 minutes.
Add the garlic and smoked paprika and cook 30 seconds more. Stir in the roasted red peppers and chicken stock and bring to a boil, then reduce heat to medium-low and simmer, uncovered, until vegetables are very soft, about 30 minutes. 
Remove from heat and, working in 2 batches, blend soup in a blender until smooth (use caution when blending hot liquids). Alternatively, use an immersion blender to purée the soup.
Return the soup to the pot and season to taste with salt and pepper. Stir in the sausages and chickpeas and cook over medium-low heat until heated through and sausages are plump.
Meanwhile, cook the pasta in a small pot of well-salted boiling water until al dente, about 8 minutes. Drain well, then return to the pot and toss with the chopped parsley and remaining 1 tablespoon olive oil.
Ladle the soup into 4 warmed soup bowls. Top each bowl of soup with some of the seasoned pasta and serve immediately.
Keep the soup in an airtight container for up to 5 days in the refrigerator, and up to 1 month in the freezer.