Chicken Sausage and Veggie Bake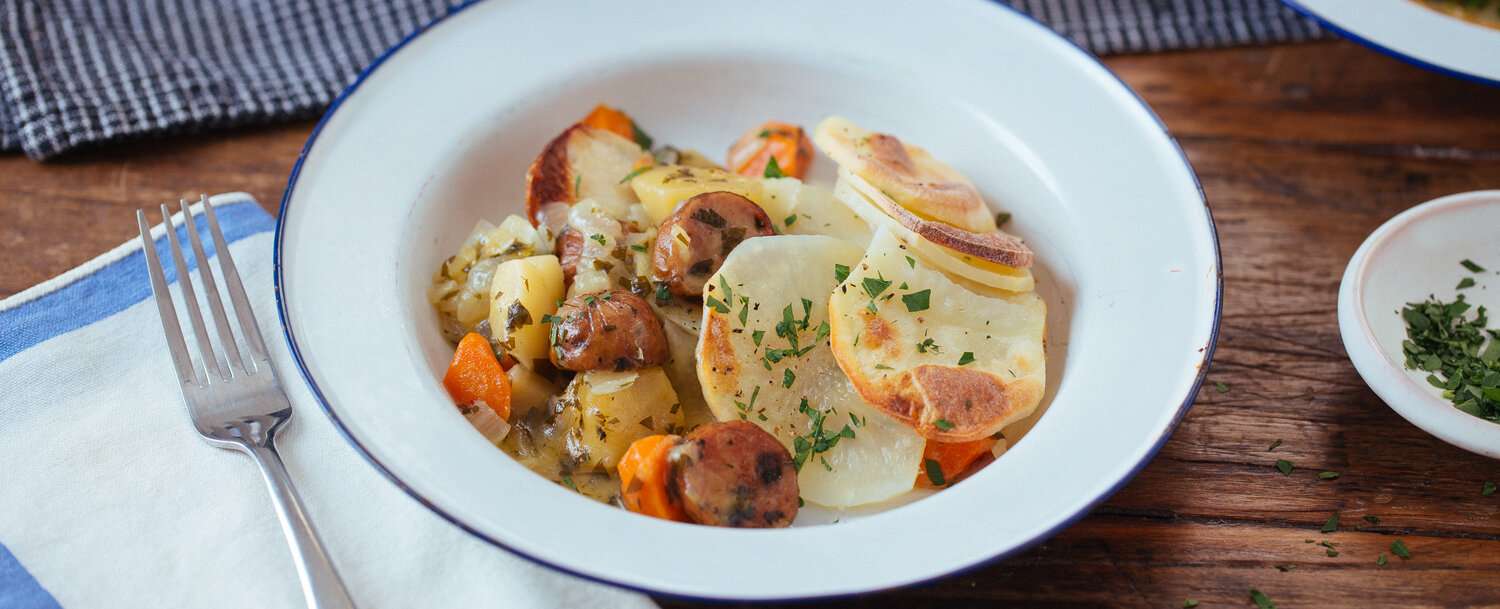 Perfect for those first cool days of fall, this one-dish dinner is well balanced and super satisfying. It's packed with savory chicken sausage, loads of veggies and sweet apple and topped with a crown of golden brown potatoes.
Serves 6 | Total Time: More Than 60 Mins
Ingredients
3 tablespoons olive oil
1 large yellow onion, chopped
1 pound carrots, peeled and chopped into bite-sized pieces
2 parsnips (about 8 ounces), peeled and chopped into bite-sized pieces
Salt and pepper
2 tablespoons all-purpose flour
1 (8-ounce) package chicken broth
1 (12-ounce) package Applegate Organics® Chicken & Apple Sausage, sliced
1 apple, peeled and chopped into bite-sized pieces
1 small bunch parsley, finely chopped
3 russet potatoes (about 1½ pounds), peeled and thinly sliced
Instructions
Heat 2 tablespoons olive oil in a 12-inch cast-iron skillet over medium heat. Add the chopped onions and cook, stirring occasionally, until softened, about 10 minutes.
Add the chopped carrots and parsnips, 1 teaspoon salt and ½ teaspoon pepper. Cook, stirring occasionally, until vegetables are softened, 8 to 10 minutes.
Sprinkle the flour over the over the vegetables and stir to combine. Cook, stirring constantly, for 2 minutes.
Stir in the chicken broth and cook for 1 minute. Remove from the heat and stir in the sliced sausages, chopped apple and all but 1 tablespoon of the chopped parsley (reserve for garnish).
Heat the oven to 425°F. Drain the potato slices well and pat dry. Arrange the potato slices in tight, overlapping circles over the stew. Drizzle with the remaining 1 tablespoon olive oil. Sprinkle with ¼ teaspoon salt and ¼ teaspoon pepper.
Bake until potatoes are tender and golden brown, 30 to 40 minutes.
Remove from the oven and sprinkle the remaining parsley over the potatoes. Serve warm.