I served these with some pickles and greens, and we absolutely devoured them! As featured in The Applegatarian.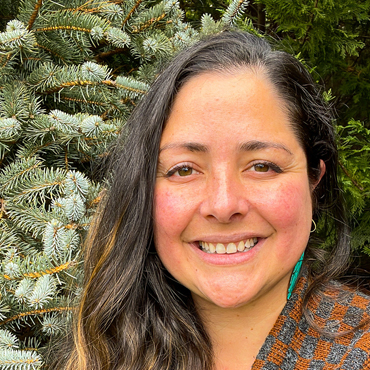 ERIN ARONOWITZ
Food Blogger
@spinachandbacon
Erin is a Philadelphia-area food blogger specializing in family-friendly recipes. She was brought up on a hearty diet of Puerto Rican and Eastern European delicacies, which shaped her palate and gave her the desire to constantly push flavor boundaries. She always had
a passion for cooking, but it wasn't until she moved to Santiago, Chile, in 2013, where she decided to really hone her skills and start creating her own recipes. She and her wife, Allison, have one daughter, who is 2½ years old, and a 10-year-old cat.
Makes 4 Servings | Total Time: Less Than 60 Mins
Instructions
If you are using wooden skewers, soak them for 30 minutes to an hour.
Boil the baby potatoes for 15 minutes in salted water until they are soft, but not so soft that they fall apart when you insert the skewers. Drain and rinse with cold water.
Meanwhile, preheat a grill to medium heat. Mix together the butter with the garlic and rosemary. Cut each hot dog into thirds.
Make skewers by threading 1 piece of hot dog, a potato, another piece of hot dog, another potato, and the final hot dog piece. Repeat with the remaining hot dogs and potatoes.
Spoon the garlic butter over the potatoes and sprinkle the salt and black pepper all over the potatoes. Grill the skewers, flipping once, for 6 minutes total.
The Applegatarian, an outlet where employees and advocates of the nation's leading natural and organic meat brand dish about their favorite recipes, tips, products, partners and more.