Cemita with Chicken Mole, Avocado, and Pickled Onions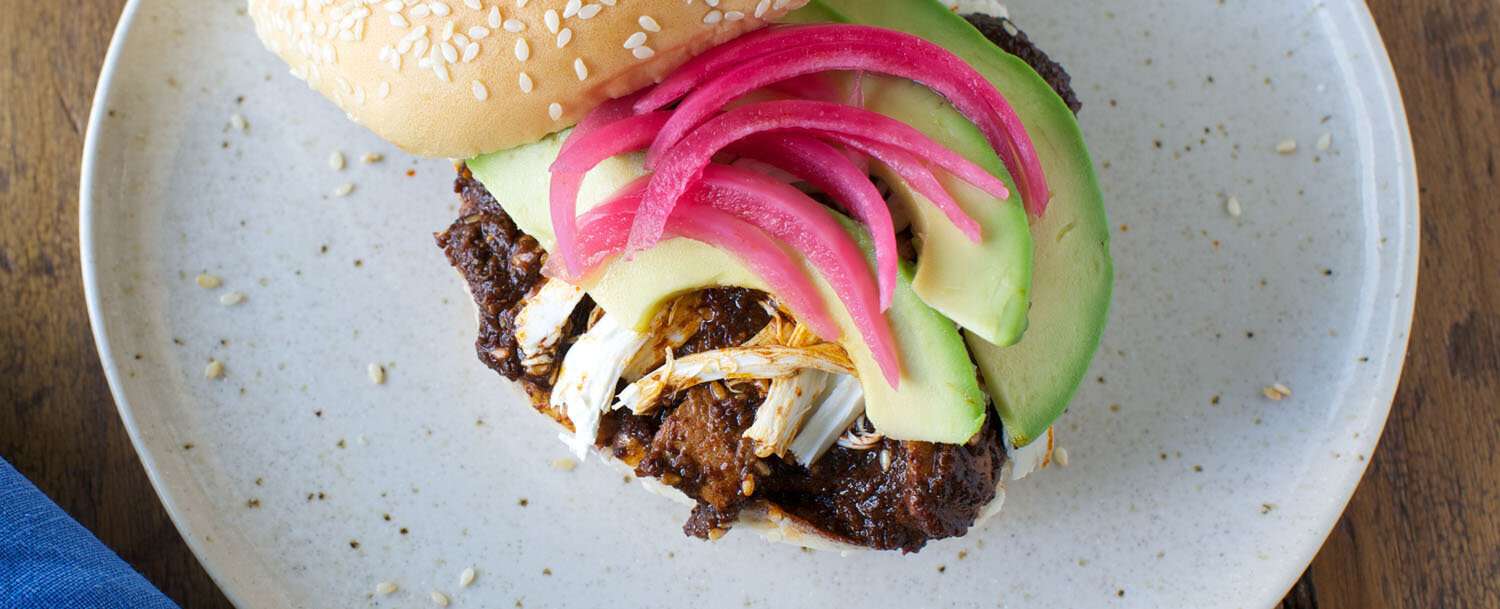 Originally from the Puebla region of Mexico, the cemita has made its way north of the border and into hearts all over the country. Always made on a soft, sesame seed–topped roll, a cemita may be filled with most any type of grilled or roasted meat, plus white string cheese. This colorful version uses a quick, rich chicken mole, plus creamy avocado and pink pickled onions.
Makes 4 sandwiches | Total Time: Less Than 15 Mins
Ingredients
Pickled Red Onions - Makes about 1 cup
1 medium red onion, halved lengthwise and thinly sliced
½ cup distilled white vinegar
½ teaspoon salt
Sandwiches
1 tablespoon vegetable oil
½ cup prepared mole sauce
½ cup water
1 tablespoon toasted sesame seeds
4 round sesame seed–topped rolls, split
4 ounces Oaxaca string cheese or fresh mozzarella, pulled into long shreds
1 avocado, pitted, peeled and sliced
Pickled Red Onions (see recipe)
Instructions
Pickled Red Onions
Combine the onions, vinegar, and salt in a small bowl and stir until the salt is dissolved.
Cover tightly and refrigerate overnight.
The pickled onions keep, tightly covered, up to 1 week in the refrigerator.
Sandwiches
Heat the vegetable oil in a heavy skillet over medium-high heat, then add the mole sauce and cook, stirring, until sizzling and a shade darker, about 5 minutes.
Stir in the water and bring to a boil, stirring until smooth and combined.
Reduce the heat to medium-low, stir in the chicken strips, and cook gently until warmed, about 5 minutes. Remove from heat.
Spoon some of the chicken and sauce over the bottom halves of the rolls.
Sprinkle the chicken with the toasted sesame seeds.
Divide the shredded cheese between the sandwiches, then top with the avocado slices, some pickled red onions, and the top halves of the rolls.
Serve immediately.