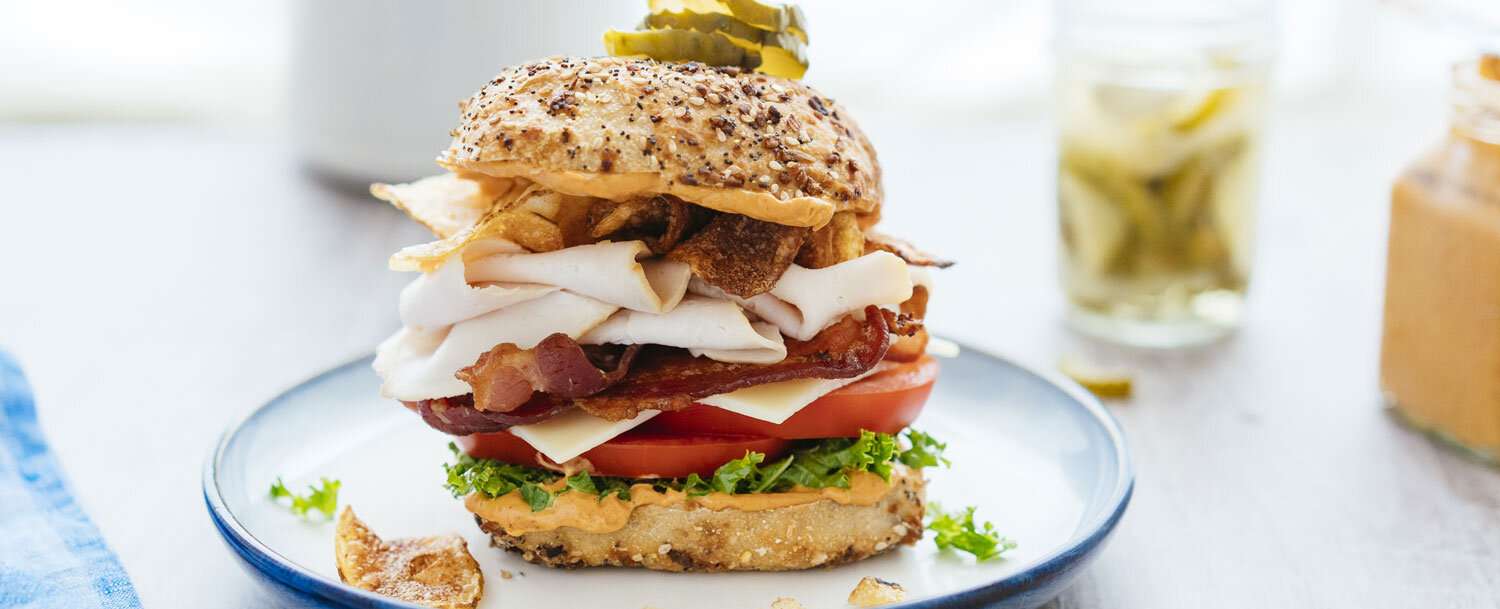 Sometimes you need a sandwich that's a little over the top. This is one of those sandwiches, groaning with turkey, cheese, bacon and fluffy fresh kale and tomatoes. A handful of potato chips—tucked into the sandwich–adds the pièce de resistance, an unexpected crunch. We used good old salted chips here, but the sandwich would be delicious with other flavors as well, such as salt and vinegar, sour cream and onion or barbecue.
1 sandwich | Total Time: Less Than 15 Mins
Ingredients
Sandwich:
1 seeded roll, split
2 tablespoons chipotle mayonnaise
⅓ cup Shredded Kale Slaw (see below)
2 slices ripe tomato
2 to 3 slices Applegate Naturals® Sunday Bacon, cooked until crisp
Handful of potato chips
1 small head kale
1 tablespoon red wine vinegar
1 tablespoon extra-virgin olive oil
Kosher salt and freshly ground black pepper
Instructions
Sandwich:
Spread the insides of the roll with the chipotle mayonnaise. Layer the shredded kale slaw over the bottom bun. Pile the tomato, cheese, bacon and turkey on top. Scatter the potato chips over the turkey and top with the bun.
Serve at once. (If you want to make this ahead, add the chips at the last minute.)
Kale Slaw:
Remove the ribs from the kale leaves and discard.
Finely shred the kale leaves and toss with the vinegar, olive oil, ½ teaspoon salt and ½ teaspoon pepper.
Let sit for at least 10 minutes before serving.