Turkey Niçoise Salad With Caper Vinaigrette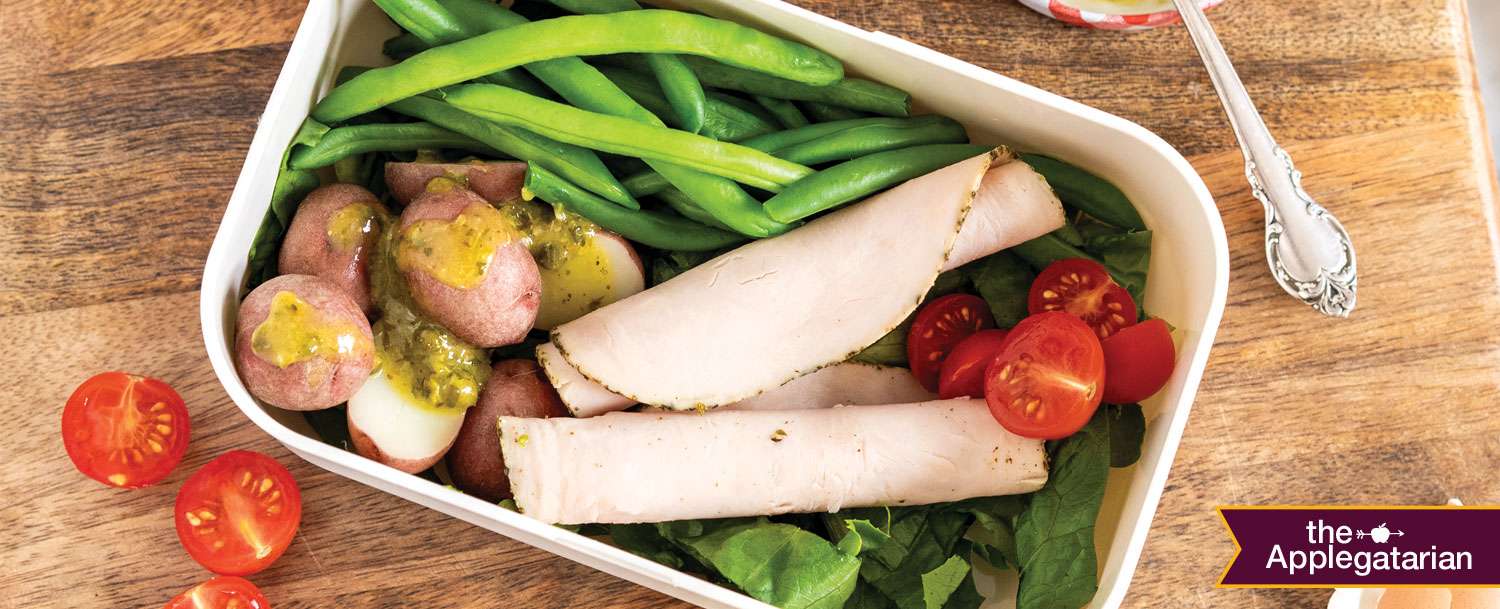 Niçoise salad is classically made with tuna, but grilled chicken or sliced deli turkey, as we use here, make delicious substitutions. This veggie-heavy salad comes together in minutes if you have everything prepped ahead of time, so it's just a matter of pulling containers of cooked green beans, potatoes and boiled eggs from the fridge and assembling.
1 | Total Time: Less Than 30 Mins
Ingredients
1 cup chopped romaine lettuce 
1 hard-boiled egg , peeled and halved 
1 cup steamed green beans
½ cup small boiled potatoes
½ cup cherry tomatoes, halved
¼ cup kalamata olives
2-3 tablespoons Caper Vinaigrette (see below)
Instructions
Place the lettuce in the bottom of a shallow bowl or bento box. Roll up the turkey slices and arrange on top of the lettuce, followed by the hard-boiled egg, green beans, potatoes, tomatoes and olives. Drizzle the vinaigrette over everything and serve at once or refrigerate until lunch time.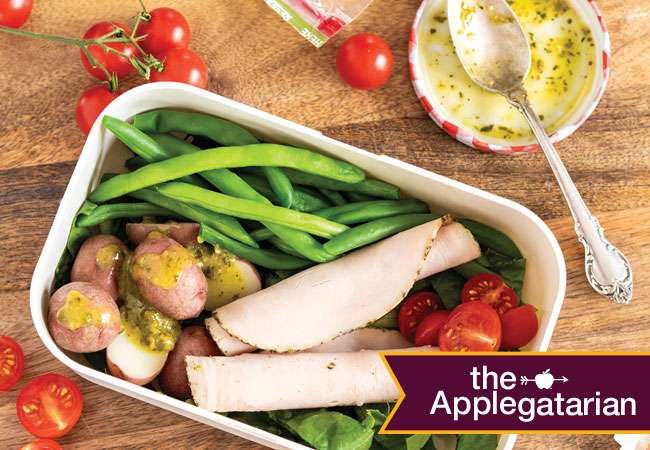 Caper Vinaigrette
Don't save this dressing just for Niçoise salad-it's good on any kind of leafy salad, steamed veggies, grilled fish or roast chicken. Try it instead of a mayo-based dressing on potato or tuna salad.
Ingredients
½ cup fresh parsley leaves
½ cup olive oil
2 tablespoons rice vinegar
1 teaspoon Dijon mustard
1 small garlic clove
½ teaspoon honey
Kosher salt and freshly ground black pepper
2 tablespoons capers, drained and chopped
Instructions
Combine the parsley, oil, vinegar, mustard, garlic, honey, ¼ teaspoon salt and ¼ teaspoon pepper in a blender or small food processor (or use an immersion blender). Blend until smooth. Stir in the capers. Taste and adjust the seasonings, adding a bit more salt, honey or vinegar as needed.
Vinaigrette will keep up to 1 week in the refrigerator. Bring to room temperature before using.