Turkey Collard Wraps with Bacon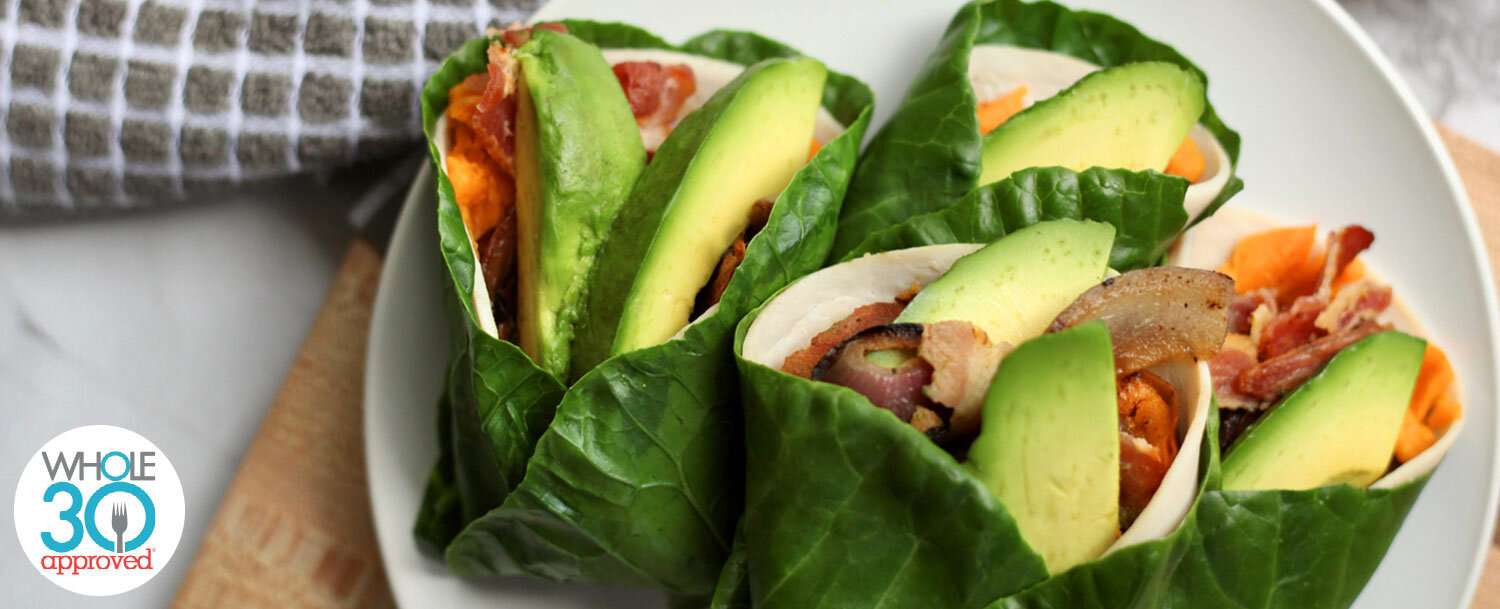 Photography by: Sarah Steffens
Melissa Urban, co-creator of Whole30, shows us how you can enjoy a Whole30 compliant sandwich. Using a collard leaf as a base, Melissa creates the perfect sandwich by stacking turkey, sweet potatoes, bacon, avocado, and grilled onions. She rolls it all up and that's a wrap!
Serves 4 | Total Time: Less Than 30 Mins
Instructions
Bring a large pot of water to a boil and prepare a large bowl with cold water and ice. Carefully dip each collard green leaf in the water for about 15 seconds, or until the entire leaf is softened and bright green. Transfer to the ice bath for 5-10 seconds, then set drape over a colander.
Cook your bacon and set aside on a plate lined with a paper towel. Do not drain the bacon grease.
Add the sliced red onion to the pan with the bacon grease and cook, stirring frequently, until soft and slightly caramelized. Set aside.
Carefully dry each leaf with a paper towel.
With a knife, remove each stem from the collard leaves and discard. Arrange each leaf so that both sides of the leaves touch and there is no gap where the stem would have been.
Place 2 slices of turkey on each collard leaf, followed by 2 sweet potato discs, ½ slice of cooked bacon, grilled red onion and 1-2 thick slices of avocado.
Carefully form wraps by pulling up each side of the collard leaves and securing at the bottom as if you were wrapping and twisting like a burrito.
Arrange on a platter to serve.
*This recipe can be prepped 1-2 days in advance.