Thai-Style Chicken and Veggie Soup
Taking an extra 15 minutes to enrich a store-bought stock with aromatics and green curry paste is what gives this easy, weeknight soup its great depth of flavor. While the stock simmers, prep your chicken and veggies, and you'll be sitting down to supper before you know it.
Serves 4 | Total Time: Less Than 60 Mins
Ingredients
4 cups chicken stock

2 garlic cloves, crushed

1 (1-inch) piece ginger, sliced

1¼ cups cilantro leaves, divided

1 (8-ounce) package

Applegate Naturals® Grilled Chicken Breast Strips

, chopped

1 carrot, cut into 2-inch matchsticks

1 red bell pepper, cut into 2-inch matchsticks

1 medium zucchini, halved lengthwise and sliced

1 (14-ounce) can coconut milk

2 teaspoons Thai green curry paste, or to taste

1 tablespoon fish sauce

1 tablespoon fresh lime juice

Salt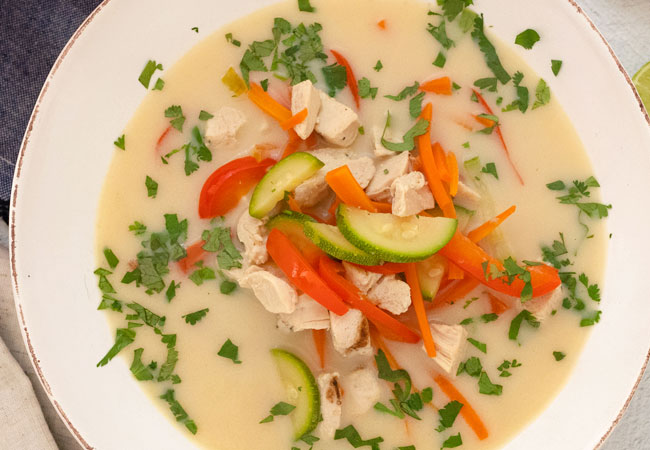 Instructions
Combine the chicken broth, garlic cloves, ginger and 1 cup cilantro leaves in a soup pot and bring to a boil. Reduce the heat and simmer, uncovered, for 15 minutes. Use a slotted spoon to remove the solids and discard.
Add the chicken, carrot, red bell pepper, coconut milk and curry paste and simmer until the vegetables are crisp-tender, about 5 minutes.
Meanwhile chop the remaining ¼ cup cilantro leaves.
Remove the soup from the heat and stir in the fish sauce, lime juice, chopped cilantro and salt to taste. Serve at once.