Sheet pan omelets are nourishing, flexible and only take 10 minutes to put together, so you can put breakfast in the oven and get back to preparing for your day.
Recipe and Photos by Autumn Michaelis, Whole30 Digital Content Producer
12 Servings | Total Time: Less Than 60 Mins
Ingredients
12 large eggs
½ cup compatible ranch
1 tsp salt or garlic salt
½ tsp pepper
1 7 oz package Applegate No Sugar Chicken & Herb Breakfast Sausage, thawed and thinly sliced
1 cup fresh or frozen peppers and onions, thawed (if needed) and finely chopped
Optional toppings: Additional ranch, chives or green onions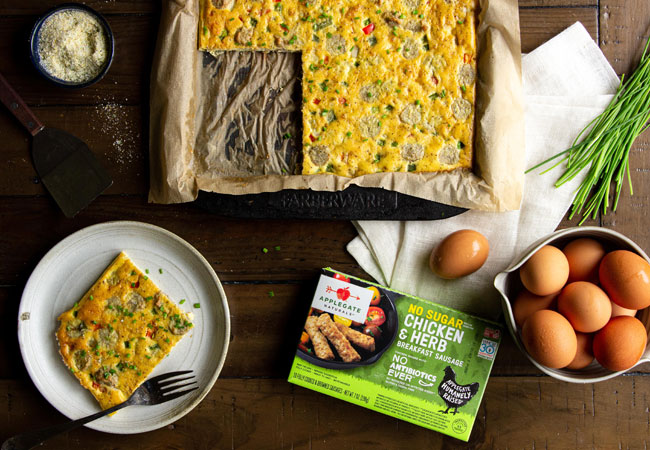 Instructions
PREHEAT oven to 350 degrees.
PREPARE a large-rimmed baking sheet by either lining it with parchment paper or spraying it generously with cooking oil.
CRACK eggs into a medium bowl and add ranch, salt, and pepper. Whisk until combined.
SPREAD out sliced sausage, chopped peppers and onions evenly onto the prepared pan.
POUR the egg mixture carefully over the sausage and vegetables, spreading it evenly over the pan.
BAKE for 30 minutes or until egg is set and just starting to brown. Let cool for 5 minutes, then slice into individual portions.
SERVE with additional ranch and chopped chives or green onions, if desired.
TO FREEZE, slice into individual portions, then place into a sealed container. Leftovers can be stored frozen for up to 3 months.