Baked French Toast with Maple Sausage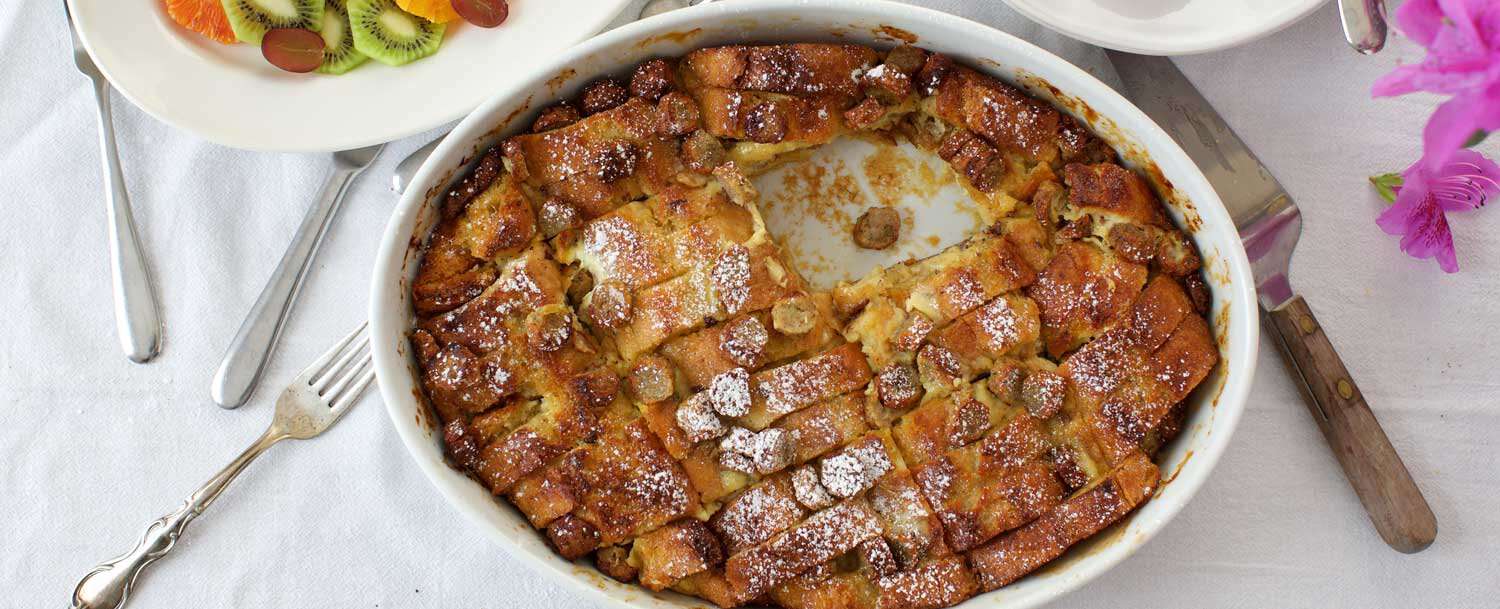 Because practically everything can be assembled the night before, this is the perfect dish for entertaining. It's also appropriately decadent, with a custardy texture similar to bread pudding and sweetness coming from both maple syrup and brown sugar. 
The addition of breakfast sausages makes it a one-dish wonder. Lay out a fruit salad, some coffee and juice and your work is deliciously done. 
Serves 8 | Total Time: Less Than 15 Mins
Ingredients
1½ day-old baguettes, cut into ¾-inch-thick slices
1 (8-ounce) package Applegate Naturals® Chicken & Maple Breakfast Sausage
6 large eggs
2 cups whole milk
¾ cup light brown sugar
¼ cup pure maple syrup
1½ teaspoons vanilla extract
½ teaspoon ground cinnamon
¼ teaspoon ground nutmeg
½ cup heavy cream
4 tablespoons unsalted butter, plus more for buttering the pan
Instructions
The night before you plan to serve the French toast, butter a 9 x 13-inch baking dish. Arrange the sliced bread in the dish then scatter the sliced sausages over top. 
In a large bowl, whisk together the eggs, milk, ½ cup brown sugar, maple syrup, vanilla, cinnamon and nutmeg until well combined. Pour the mixture evenly over the bread and sausages. 
Lay a sheet of wax paper over the dish then place another dish on top to weigh down the mixture and keep it submerged in the liquid. Refrigerate overnight. 
The following morning, preheat the oven to 375°F. Combine the cream, butter and remaining ¼ cup brown sugar in a bowl and microwave just until the butter has melted; stir well to combine. (Alternatively, heat the mixture gently in a small saucepan over low heat on the stove.)
Remove the French toast from the refrigerator and discard the wax paper. Pour the cream mixture evenly over the bread and sausage. 
Bake the French toast until the top is golden brown and the center is custardy, about 45 minutes. Remove from the oven and let rest for about 5 minutes before cutting into squares to serve.