Turkey Roll-Ups with Creamy Avocado Dip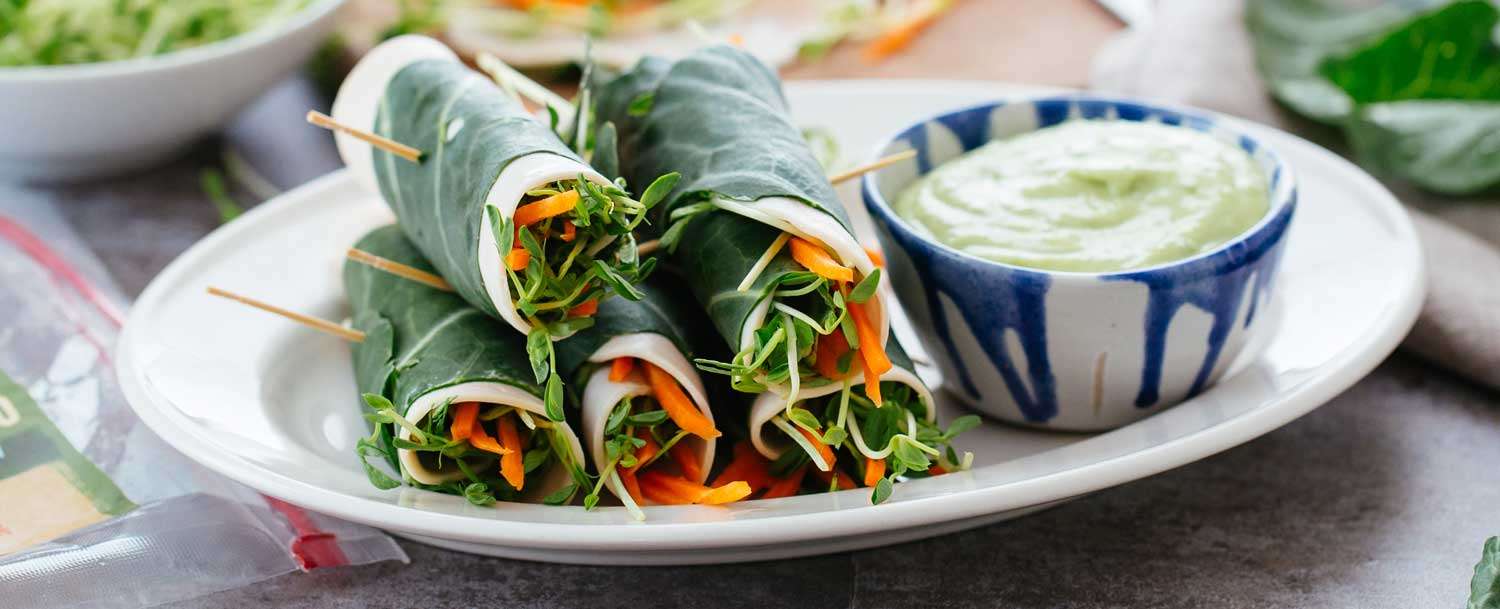 Think of these roll-ups as a template more than a recipe—let your imagination run wild when it comes to the fillings. Consider adding or substituting shredded beets, kohlrabi or radishes, thinly sliced sugar snap peas or cucumber, matchsticks of mango, apple or pear, other types of sprouts…the possibilities are vast.
Total Time: Less Than 15 Mins
Ingredients
For the dip:
1 ripe avocado, pitted and peeled 
2 scallions, chopped
1/2–1 jalapeño, seeded and coarsely chopped
2 garlic cloves, coarsely chopped
½ cup coconut milk
Juice of 1 lime or lemon
1 tablespoon avocado oil
Sea salt and freshly ground black pepper
For the roll-ups:
Instructions
To make the dip, combine the avocado, scallions, jalapeño, garlic, coconut milk, lime juice and avocado oil in a blender or food processor. Blend until smooth. Season to taste with salt and pepper.
To make the roll-ups, cut the ribs out of the collard leaves and discard; you will now have two halves from each leaf.
Lay a collard leaf on your work surface and top with a slice of turkey. Add a handful of shredded carrots and pea shoots, then roll up the leaf to enclose the fillings, securing with a wooden pick if needed. Continue with the remaining ingredients.
Serve the roll-ups with the dipping sauce.