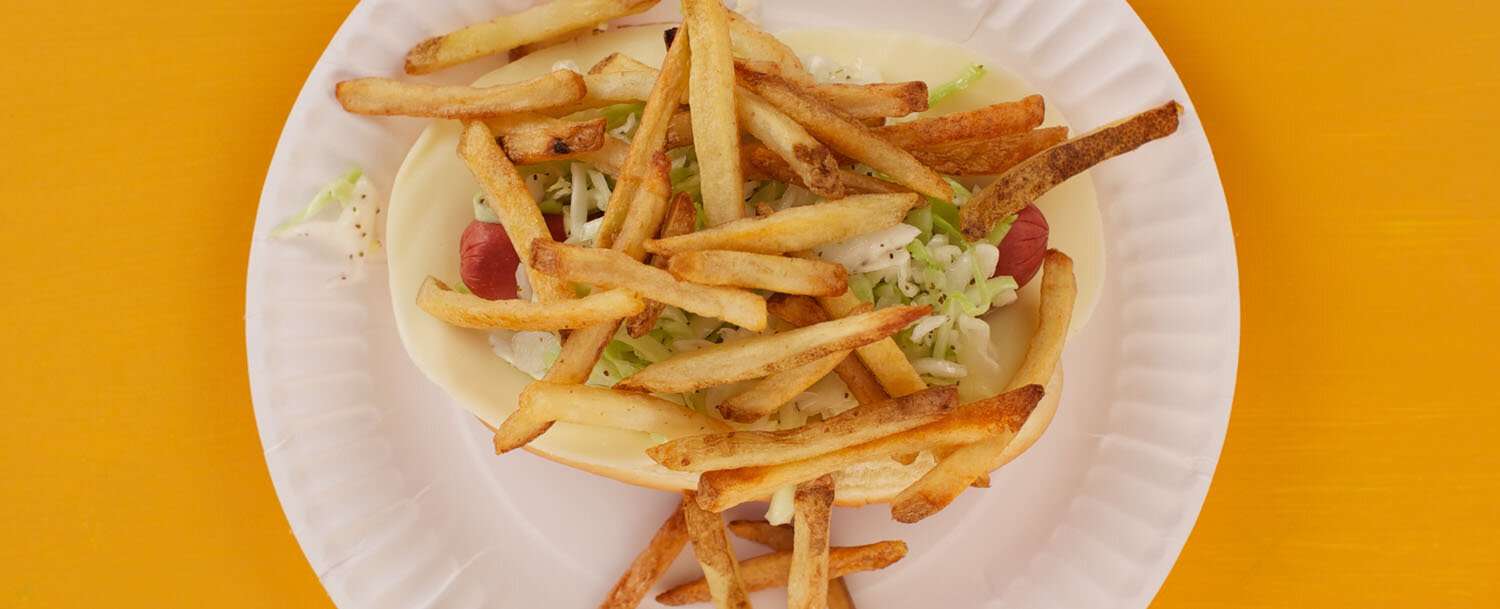 Pittsburgh Dog: Cole Slaw, French Fries and Provolone
The Pittsburgh sandwich shop Primanti's is known for its fully loaded sandwiches, overflowing with crisp, freshly made slaw and a mountain of fries. Turns out to be a perfect combination on a hot dog, too.
Makes 8 | Total Time: More Than 60 Mins
Ingredients
Hot Dogs
1 package hot dog buns, toasted
Cole Slaw (see recipe below)
French Fries (see recipe below)
Cole Slaw
Makes about 4 cups
1 pound green cabbage (about half of a medium-size head), shredded or finely chopped
1/2 cup sugar
2 teaspoons kosher salt
1/2 teaspoon celery seed
1/4 cup vegetable oil
1/4 cup apple cider vinegar
Freshly ground black pepper
French Fries
Serves 6–8
6 to 8 large (4 to 5 pounds) russet potatoes, scrubbed
8 cups vegetable oil, for frying
Kosher salt
Instructions
Cole Slaw
This simple slaw packs a lot of classic flavor. Feel free to add a carrot or two for extra color.
Combine the cabbage, sugar, salt and celery seed in a colander set over a medium bowl.
Let stand at least 1 hour and up to 4 hours; the cabbage should wilt significantly.
Discard the liquid in the bowl; rinse and dry the bowl, then transfer the wilted cabbage to the bowl.
Add the oil and vinegar; toss to coat.
Season with pepper to taste.
Cover and refrigerate until ready to serve.
French Fries
Frying the potatoes twice ensures a creamy center and crisp exterior—exactly what you want.
Cut the potatoes lengthwise into 1/4-inch-thick sticks, transferring to a large bowl of cold water as they are cut.
When ready to fry, drain the potatoes in a colander then spread out on a clean dish towel and pat dry.
Heat the oil in a large, heavy pot over medium-high heat until the oil temperature reaches 320°F.
Line 2 baking sheets with several layers of paper towels.
Add the potatoes in batches and fry until cooked through but still pale and soft, 2–4 minutes per batch.
Use a slotted spatula to transfer the potatoes to the lined baking sheets.
Make sure to allow enough time for the oil to return to 320°F between batches.
Increase the heat so that the temperature of the oil reaches 375°F.
Again working in batches, cook the fries a second time until crisp and golden brown, 2–3 minutes per batch.
Transfer to the lined baking sheets and season with salt.
Serve warm.
Hot Dogs
Grill hot dogs to desired doneness.
Lay 1 slice provolone on each toasted bun, followed by the hot dogs.
Top each hot dog with plenty of cole slaw and a hefty helping of French fries.