Pepperoni and Pesto Pinwheels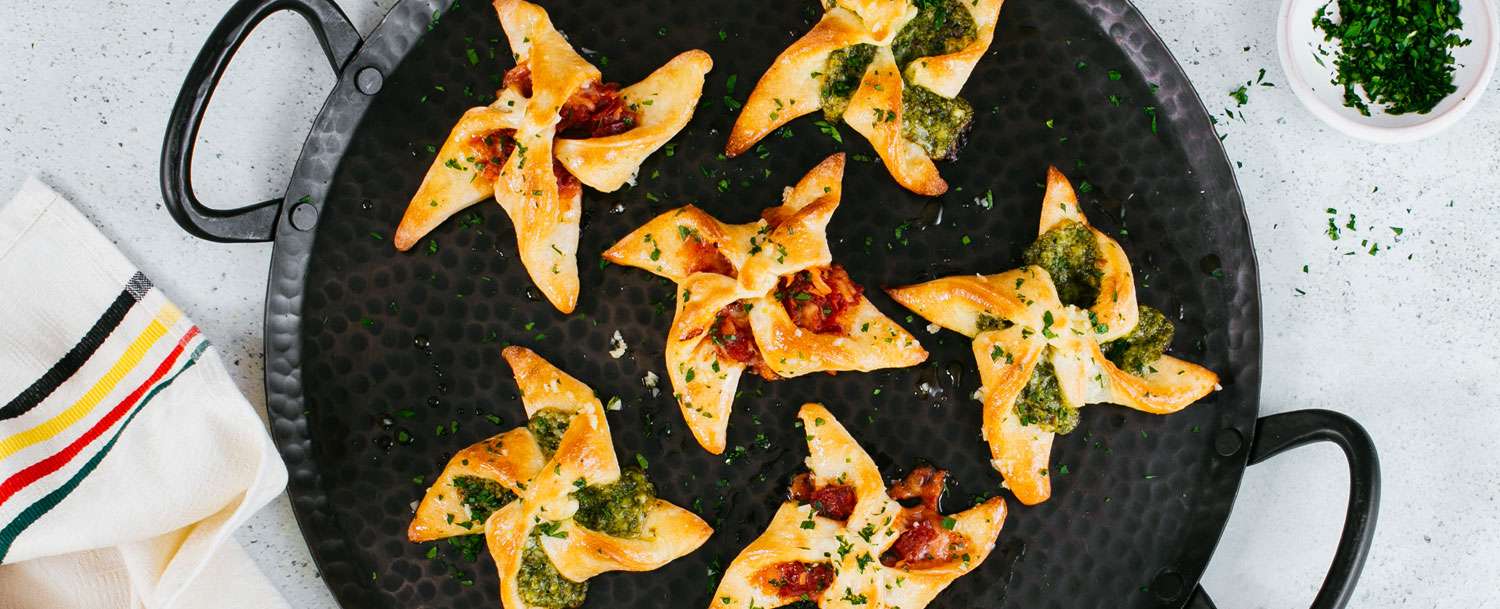 A last-minute brush of garlic butter burnishes these pretty pinwheels, turning them into a love child between pizza bites and garlic knots.
Makes 12 Pinwheels | Total Time: Less Than 60 Mins
Ingredients
2 ounces APPLEGATE NATURALS® Uncured Pork and Beef Pepperoni , chopped
½ cup tomato sauce, plus more for dipping, if you like
1 cup shredded mozzarella, divided
⅓ cup pesto
1½ pounds refrigerated pizza dough
2 tablespoons olive oil
2 tablespoons butter
2 garlic cloves, chopped
Chopped fresh flat-leaf parsley, for garnish
Instructions
Heat oven to 400°F. Line 2 baking sheets with parchment paper.

Combine chopped pepperoni, tomato sauce and ½ cup mozzarella in a small bowl. Combine pesto and remaining ½ cup mozzarella in another bowl.
Divide dough in half. Roll one piece of dough into an 8 x 12-inch rectangle, cut the rectangle into 6 squares. Arrange squares on one of the prepared baking sheets. Starting at corner of each square, use a sharp knife to cut toward center of square, stopping 1/2-inch from center. Evenly top each square with a spoonful of the pepperoni mixture. Fold every other point into center; press to seal. Repeat with the remaining dough and the pesto cheese mixture. Bake until crusts are puffed and golden brown, 12 to 15 minutes. Remove from the oven.
While the pinwheels bake, combine the olive oil, butter and garlic in a small saucepan and heat over moderate heat until sizzling and fragrant, about 2 minutes. Remove from the heat.
Brush the garlic butter over the pinwheels. Garnish with parsley and serve at once.