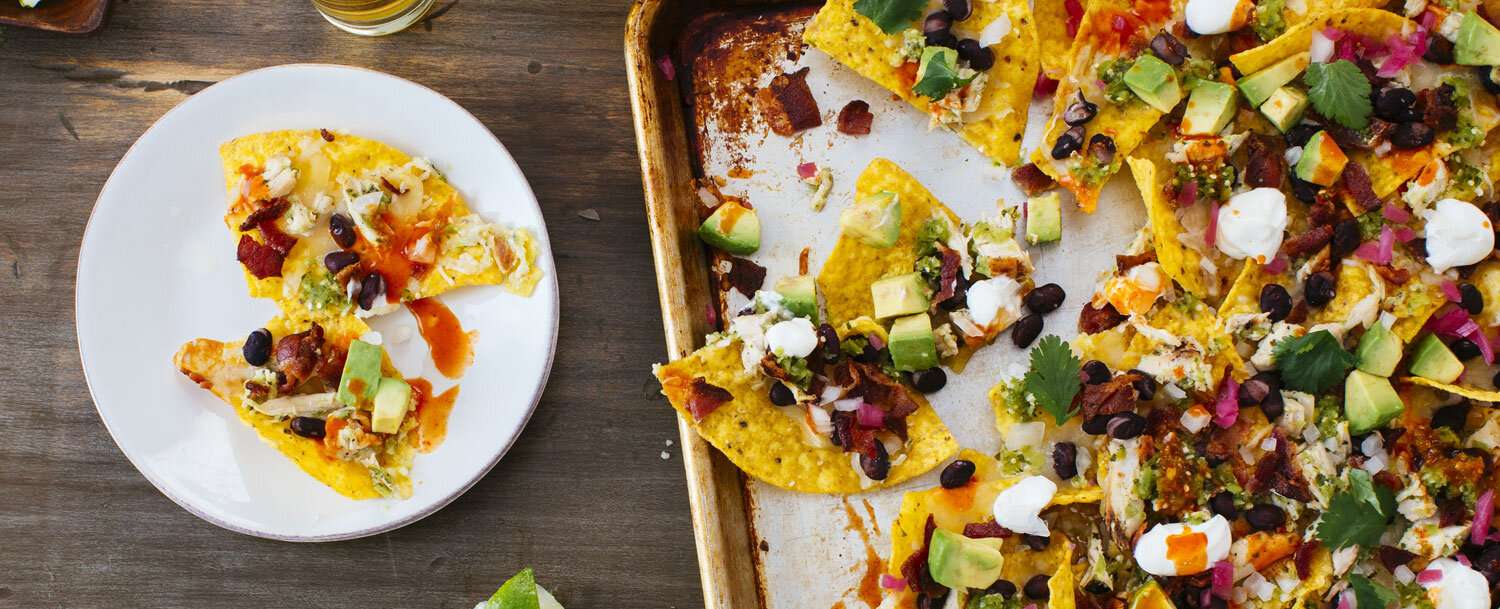 Fully loaded in every way. You can either bake both trays of nachos at the same time, or wait and bake the second one after you're done inhaling the first tray.
Serves 6-8 | Total Time: Less Than 30 Mins
Ingredients
For the Nachos:
For the Tomatillo Salsa:
½ pound fresh tomatillos
2 plump garlic cloves, coarsely chopped
1 jalapeño, seeded and coarsely chopped
½ cup cilantro leaves
½ teaspoon kosher salt
Instructions
For the Nachos:
Preheat the oven to 375°F. Lay two rimmed baking sheets on your work surface.
Shred or chop the chicken strips into small, bite-sized pieces. Place in a bowl with ½ cup of the tomatillo salsa. Toss to coat.
Divide the tortilla strips evenly between the two baking sheets. Sprinkle 1 package of cheese over each sheet of tortilla strips. Scatter the shredded chicken, black beans and bacon over the cheese and chips, dividing them evenly between the two baking sheets.
Place the baking sheets in the oven and bake until cheese is melted, 8–10 minutes.
Remove the nachos from the oven and drop small spoonfuls of the sour cream and remaining tomatillo salsa over the nachos. Scatter the diced avocado, white onions and pickled red onions over the nachos. Drizzle hot sauce over the nachos and garnish with cilantro leaves. Serve at once.
For the Tomatillo Salsa:
If necessary, peel any papery husks off the tomatillos and rinse the tomatillos well in warm water.
Coarsely chop the tomatillos. Place them in a blender along with the garlic, jalapeño, cilantro and salt.
Blend until smooth.
Salsa can be kept, refrigerated in an airtight container, for up to 3 days.