Meaty Cauliflower Crust Pizza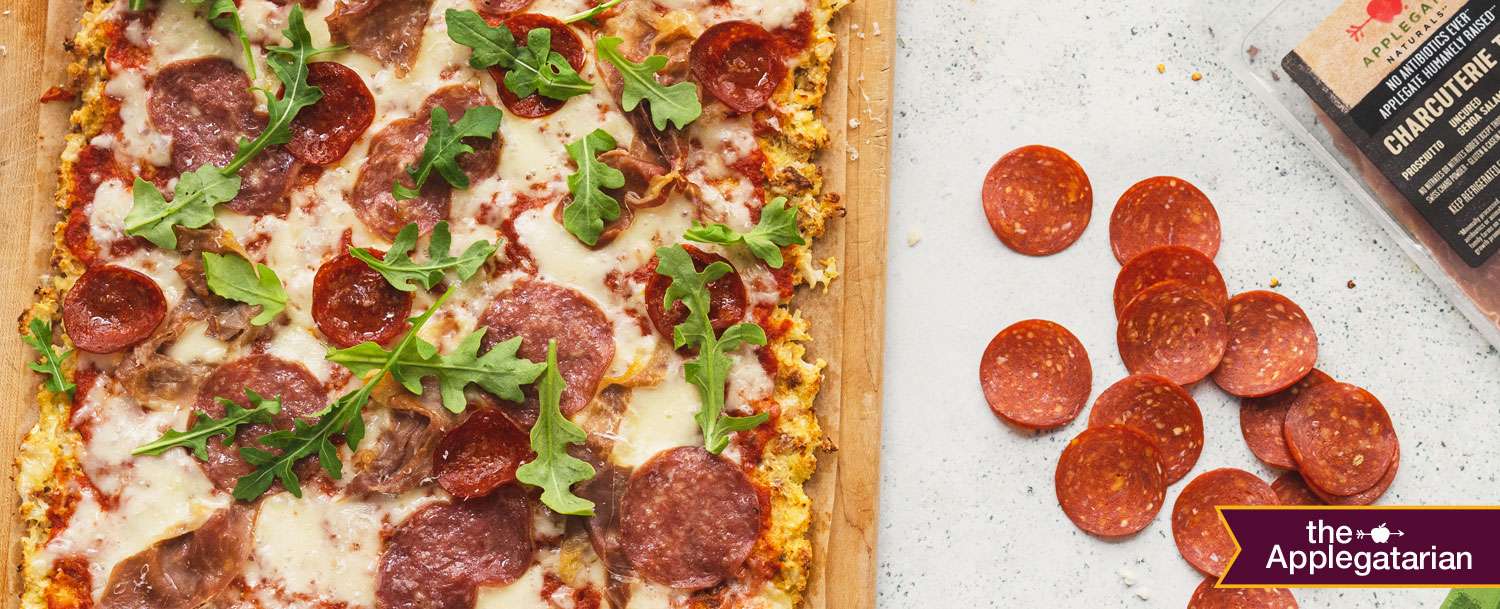 Riced cauliflower mixed with egg, almond flour and parmesan makes a naturally protein-rich, gluten-free pizza crust. The chopped bacon makes it extra delicious.
As Featured in The Applegatarian.
Serves 6 | Total Time: Less Than 60 Mins
Ingredients
1 (8-oz) package APPLEGATE NATURALS® No Sugar Bacon, chopped
1 large head (about 3 lbs) cauliflower, cored and cut into florets
1 cup almond flour
1 cup finely grated Parmesan cheese, plus more for sprinkling
3 large eggs, lightly beaten
¼ tsp kosher salt1 cup canned crushed tomatoes
4 oz shredded mozzarella
1 (3-oz) package APPLEGATE NATURALS® Charcuterie Trio
1 cup baby arugula
Crushed hot pepper flakes
Instructions
Preheat the oven to 425°F. Line a rimmed baking sheet with parchment paper.
Cook the bacon in a skillet over moderate heat, stirring often, until crisp and golden brown. Transfer to a paper towel-lined plate to drain.
To make the crust, pulse half of the cauliflower in a food processor until it's riced. Transfer the cauliflower to a clean kitchen towel and squeeze out any excess water. Transfer the cauliflower to a bowl. Repeat with the remaining cauliflower. Add the almond flour, parmesan, eggs, salt and cooled bacon and stir well to combine.
Scrape the cauliflower mixture onto the lined baking sheet and use your hands to press into an even layer. Bake until crust is dry and golden in spots, 30-35 minutes. Remove from the oven.
Spread the tomatoes and shredded mozzarella over the crust. Top with the meat. Return to the oven and bake until cheese is bubbling, 12-15 minutes.
Top pizza with the arugula and hot pepper flakes. Cut into pieces and serve at once.