Roasted Sausages with Cauliflower, Lemons, and Olives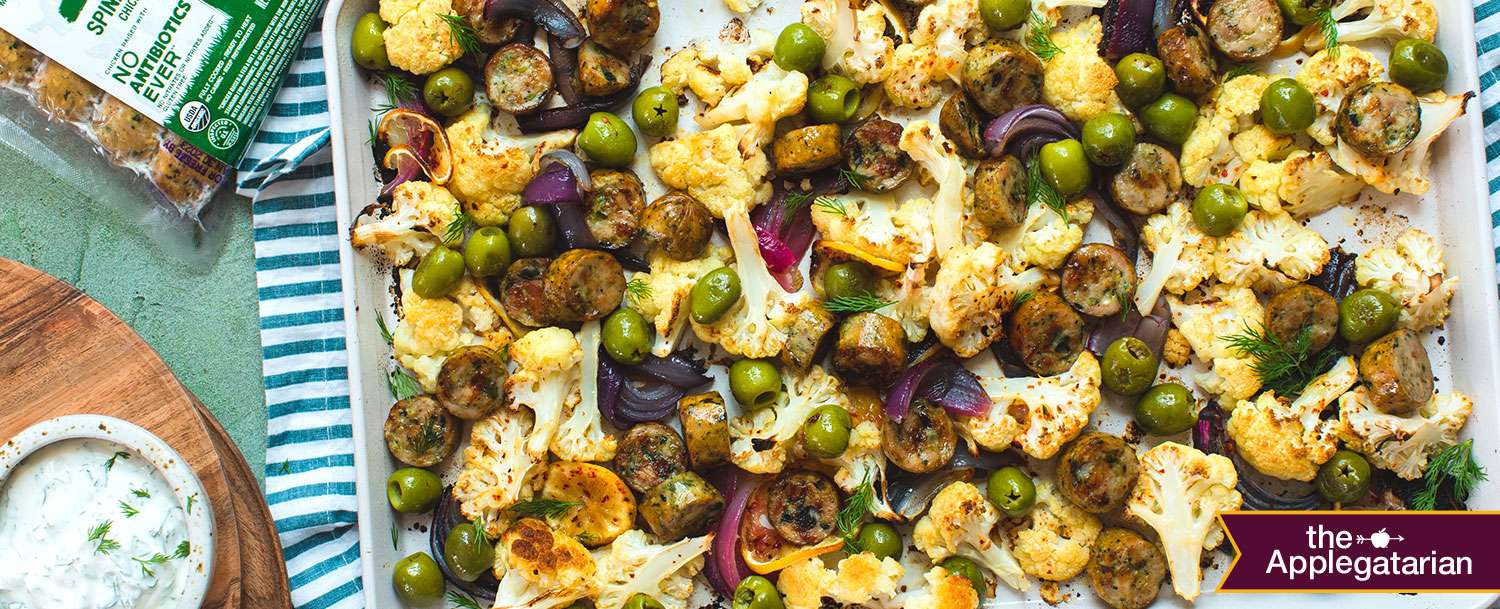 As featured in The Applegatarian.
What's not to love about the ease and simplicity of a sheet pan supper?
This Mediterranean inspired mix of vegetables and chicken sausage makes a complete meal on its own, but some rice or warmed pita would also round it out nicely.
Serves 4 | Total Time: Less Than 60 Mins
Ingredients
1 medium head cauliflower, broken into florets
1 small red onion, cut into 1-inch wedges
1 lemon, half very thinly sliced and half juiced 
3 tablespoons olive oil
½ teaspoon Aleppo pepper or crushed red pepper flakes
Kosher salt
1 (12-ounce) package APPLEGATE ORGANICS® Spinach & Feta Chicken Sausage, sliced
1 cup green olives, preferably Castelvetrano 
1 cup yogurt
1 small clove garlic, minced or grated
2 tablespoons chopped fresh dill
Instructions
Preheat the oven to 425°F.
On a large rimmed baking sheet, combine the cauliflower, onion, lemon slices, and olive oil. Sprinkle with the Aleppo pepper and ½ teaspoon salt. Toss well to combine.
Roast, stirring once, until the cauliflower and onions are tender and browned in spots, about 30 minutes.
Remove from the oven and scatter the sausage rounds and olives over the vegetable mixture. Return to the oven and roast until the sausage is lightly browned, about 15 minutes. Remove from the oven.
Meanwhile, in a small bowl, stir together the yogurt, garlic, dill, lemon juice, and salt to taste.
Serve the sausages, vegetables, and olives at once, with the yogurt sauce on the side.