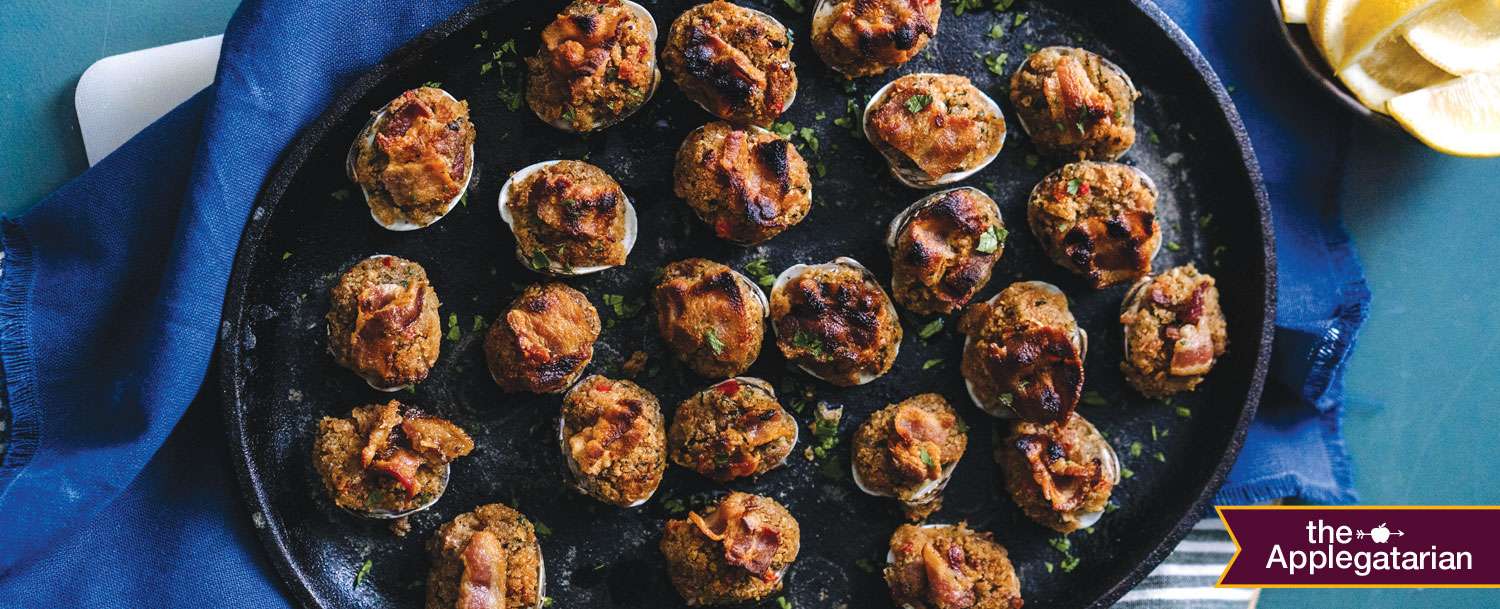 "I grew up in Cape Cod, so seafood is obviously a big part of our holiday meals. My sister and sister-in-law have their shellfish licenses, so we love to go out and dig up fresh clams. This recipe is quick, easy and a great way to use up all the surplus clams we always have on hand. And now my boyfriend's family requests that I make these for special occasions, which I love because it's a nice taste of home when I can't get back up to Massachusetts for the holidays!" Le-La Cloutier, Applegate Communications & Strategic Partnerships Manager
As Featured in The Applegatarian. 
Makes 24 | Total Time: Less Than 60 Mins
Ingredients
1 package APPLEGATE ORGANICS® Bacon
4 Tbsp reserved bacon fat
½ cup crushed butter crackers
½ cup dried breadcrumbs, preferably seasoned
¼ cup finely chopped bell peppers 1 shallot, finely chopped
1 garlic clove, finely chopped
2 Tbsp finely chopped
fresh parsley
½ tsp smoked paprika
½ tsp ground black pepper 1 Tbsp fresh lemon juice
24 littleneck or cherrystone clams Lemon wedges, for serving.
Instructions
Cook bacon in a skillet over moderate heat until lightly golden but not crisp, about 5 minutes. Transfer to paper towels to drain; reserve the bacon fat.
Cut half of the bacon into 1-inch strips and set aside. Dice the remaining bacon and place in a medium bowl along with the crackers, breadcrumbs, bell peppers, shallot, garlic, parsley, smoked paprika and black pepper; mix together. Add lemon juice and reserved bacon fat; mix until fully combined.
Preheat oven to 350°F. Place clams on a baking sheet and bake until they start to open slightly, about 5 minutes. Remove from oven and pry clam shells apart, keeping the clam in one part of the shell and discarding the other half. Run knife blade between the shell and clam to fully detach the meat from the shell. Set aside.
Preheat the broiler on low. Using your hands, pack bacon-breadcrumb mixture on top of each clam and arrange on the baking sheet. Place a 1-inch piece of reserved bacon on top of each clam, and broil until bacon is crisp and breadcrumb mixture is golden, about 3 

minutes. Serve at once, with lemon wedges on the side.