Lasagna Rolls with Chicken, Bacon and Garlic Alfredo Sauce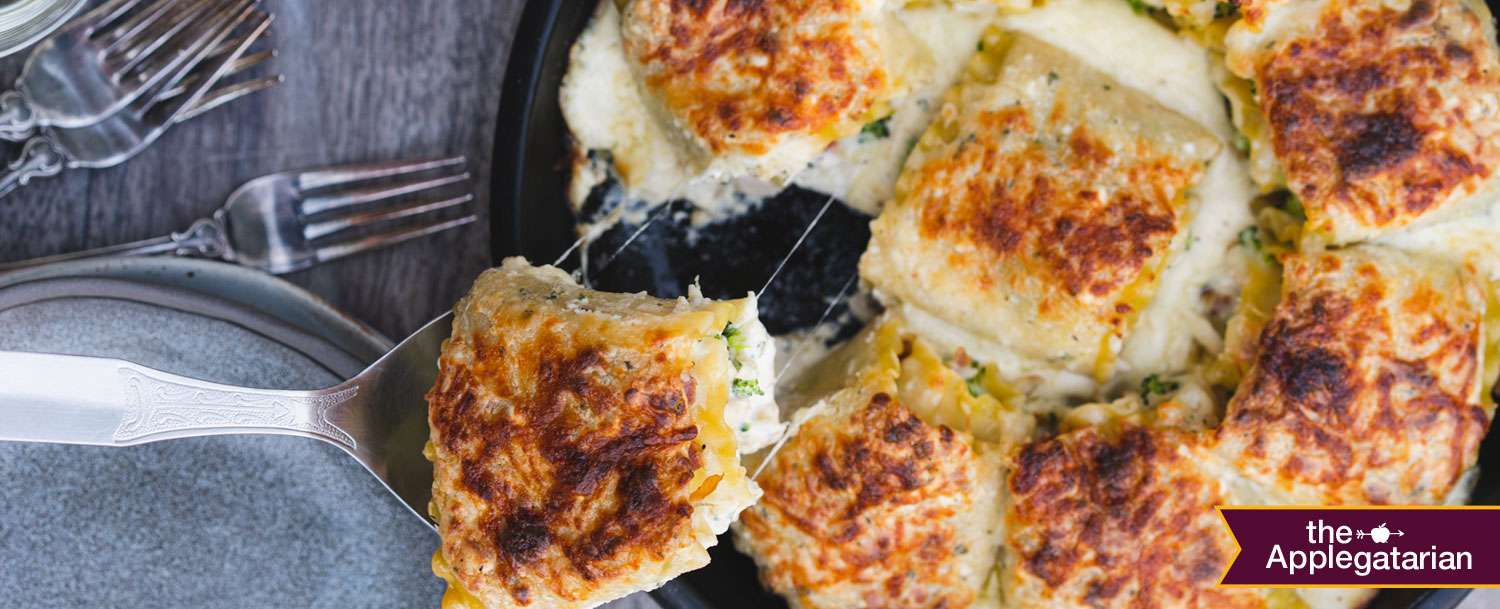 As featured in The Applegatarian. 
"My three sons Matthew, Caden, and Cameron, love pasta. One day, I was looking for something a little different from regular lasagna. I went online and put together elements from a few different recipes, and my boys absolutely loved it. Now they ask for this all the time."
-Colleen Shields, Applegate Director of Logistics
Serves 6 | Total Time: Less Than 60 Mins
Ingredients
12 lasagna noodles
4 tablespoons unsalted butter 4 ounces cream cheese
1 teaspoon minced garlic 1 teaspoon garlic powder
1 teaspoon dried Italian seasoning
¼ teaspoon freshly ground black pepper 2 cups heavy cream
1 cup grated Parmesan cheese
2 cups shredded cooked chicken (or APPLEGATE NATURALS® Grilled Chicken Breast Strips, chopped)
1½ cups finely chopped cooked broccoli
1 (8-ounce) package APPLEGATE®SUNDAY BACON® bacon, cooked and chopped
1 (8-ounce) bag shredded Italian cheese
Instructions
Preheat the oven to 350°F.

Cook the lasagna noodles according to the package instructions; drain and set aside in a single layer on wax paper.
Meanwhile, in a saucepan over medium heat, combine the butter, cream cheese, garlic, garlic powder, Italian
seasoning, and black pepper. Cook, stirring, until the butter and cream cheese are melted. Whisk in the cream and cook, whisking, until the mixture begins to simmer gently. Add the Parmesan and cook, whisking, until the cheese is melted. Remove from the heat and set aside, covered, to keep warm.
Assemble 1 lasagna noodle at a time: Lay a noodle on a work surface and spread a thin layer of Alfredo sauce on it. Sprinkle a thin layer of chicken evenly over the noodle, followed by some broccoli, bacon, and Italian shredded cheese. Roll up the noodle into a snug spiral and arrange, seam-side down, in a baking dish. Repeat with the remaining noodles, sauce, chicken, broccoli, bacon, and Italian cheese. Spoon the remaining Alfredo sauce over the noodles and sprinkle with any remaining shredded Italian cheese.
Bake until bubbling and golden brown, about 30 minutes.