Grilled Turkey Burger Bowl with Summer Vegetables and Everything Spice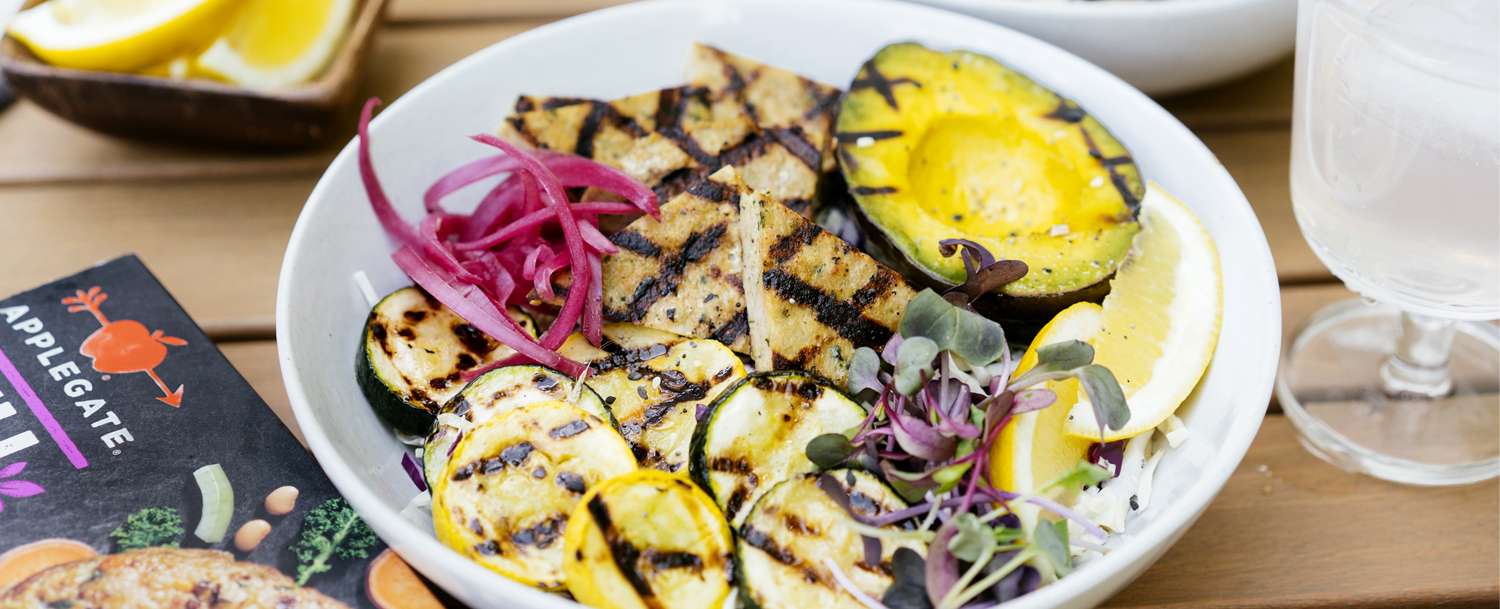 Crunchy, juicy, fresh and filling, this bowl can be customized with other favorite grilled veggies: eggplant, peppers, corn...whatever you like!
4 Servings | Total Time: Less Than 60 Mins
Ingredients
Burger Bowls:
1 zucchini, sliced into ¾-inch-thick rounds
1 yellow squash, sliced into ¾-inch-thick rounds
2 avocados, pitted, peeled and halved
¼ cup olive oil
Kosher salt and freshly ground black pepper
1 (16-ounce) package APPLEGATE® WELL CARVED™ Turkey Burgers
6 cups finely chopped cabbage
Pickled Red Onions (see recipe below)
Everything Spice (see recipe below)
Lemon wedges, for serving
Pickled Red Onions:
1 medium red onion, halved lengthwise and thinly sliced
½ cup distilled white vinegar
½ teaspoon kosher salt
Everything Spice:
1½ tablespoons sesame seeds
1½ tablespoons poppy seeds
1 tablespoon minced dried onions1 tablespoon minced dried garlic
1½ teaspoons flaky sea salt
Instructions
Burger Bowls:
Brush the zucchini, yellow squash and avocados with the olive oil and season lightly with salt and pepper. Grill the vegetables until tender and charred in spots, turning once. Meanwhile, grill the burgers according to package instructions, then cut into bite-sized pieces.
To assemble, divide the chopped cabbage evenly among 4 bowls. Top with the burgers and grilled vegetables. Place a small pile of pickled red onions in each bowl and sprinkle everything spice over everything. Serve at once, with lemon wedges.
Pickled Red Onions:
Makes about 1 cup / Takes less than 10 minutes
Combine the onions, vinegar, and salt in a small bowl and stir until the salt is dissolved.
Cover tightly and refrigerate overnight. The pickled onions keep, tightly covered, up to 1 week in the refrigerator.
Everything Spice:
Makes about ⅓ cup / Takes less than 10 minutes
Combine all ingredients in a small bowl.
Stir everything together until well combined. The everything spice can be kept in an airtight container at room temperature for up to 1 month.