Gluten-Free Crispy Chicken Alfredo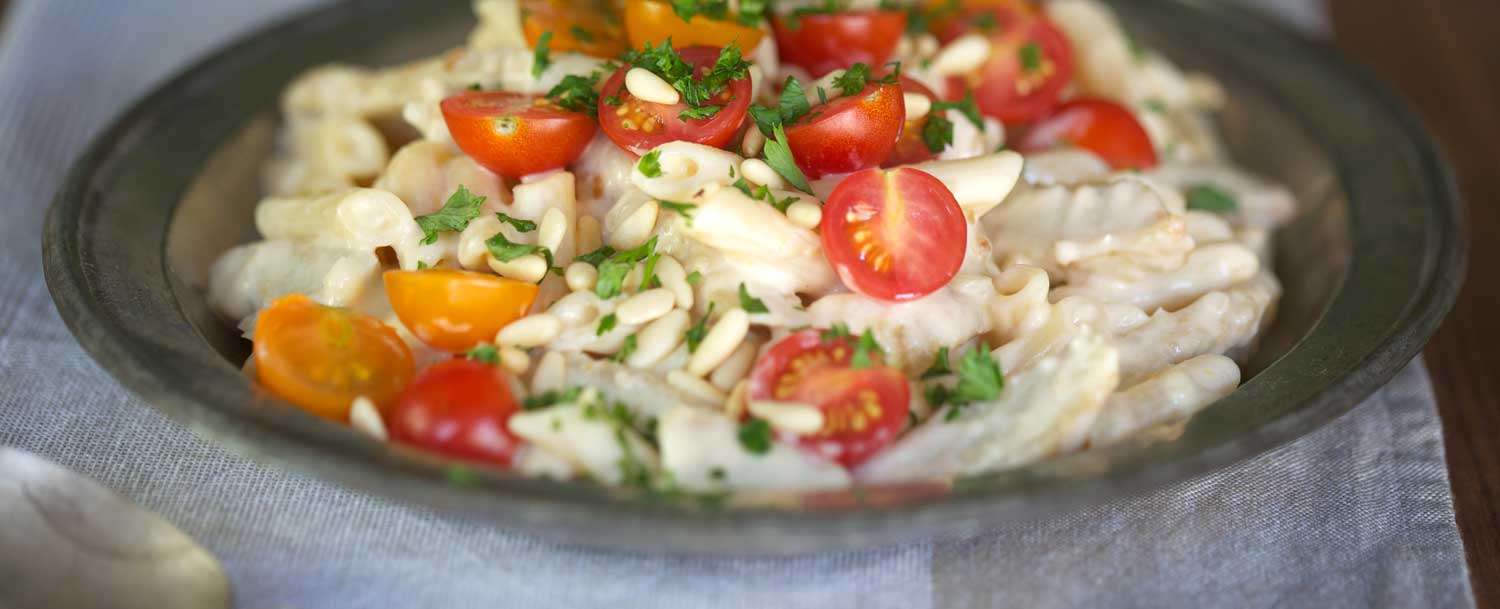 Gluten-free fans rejoice! We have a Chicken Alfredo recipe for you!
Serves 4 | Total Time: Less Than 30 Mins
Ingredients
½ lb. gluten-free pasta
1 tablespoon butter
1 clove garlic, minced
1 shallot, finely chopped
2 tablespoons all-purpose gluten-free flour
1 1/3 cups 1% milk
1/2 teaspoon. sea salt
1/4 teaspoon pepper
½ cup freshly grated parmesan cheese
8 slices Applegate Naturals® Muenster Cheese
2 tablespoons reduced fat cream cheese
4 tablespoons fresh curly parsley, chopped
1 pint cherry tomatoes, halved
1/3 cup pine nuts
Instructions
Bring a large pot of water to a boil and add gluten-free pasta. Cook per directions on package.
Cook Applegate Chicken Tenders in the oven according to package.
Meanwhile, melt butter in a large skillet over medium heat. Add garlic and shallots; sauté for 4 minutes. Add gluten-free flour and whisk mixture together. Add milk, sea salt and pepper; continue to whisk until thickened.
Add parmesan cheese, Applegate cheese and cream cheese; mix until all cheese is melted.
Remove chicken tenders from the oven; set aside to cool for 1 minute. Chop tenders into bite-sized pieces.
Drain pasta; transfer to a serving bowl and gently toss with alfredo sauce and chopped chicken tenders. Garnish with parsley, cherry tomatoes and pine nuts.
Serve warm.