Italian Hoagie / Salad with Oregano Vinaigrette
Whether you call it a sub, grinder, hero or hoagie, you can't dispute that the combination of Italian meats, cheeses, crisp vegetables, oil and vinegar delivers the ultimate satisfaction. And it's just as satisfying if you ditch the bread and turn it into a zesty salad. Having all the ingredients on hand and the dressing prepared makes lunch an easy decision for the entire family.
Serves 1 | Total Time: Less Than 15 Mins
Instructions
To make the sandwich:
Spread the bottom half of the hoagie roll with the mayonnaise. Spoon the vinaigrette over the top half of the hoagie roll.
Layer the lettuce, cheese, ham, soppressata, tomato and shallot over the bottom half of the roll. Close with the top half of the hoagie roll and cut in half.
To make the salad:
Arrange the lettuce, tomato, shallot, chopped ham, soppressata and cheese in a salad bowl or large lunch container. 

Before serving, drizzle the vinaigrette over top and toss gently to combine.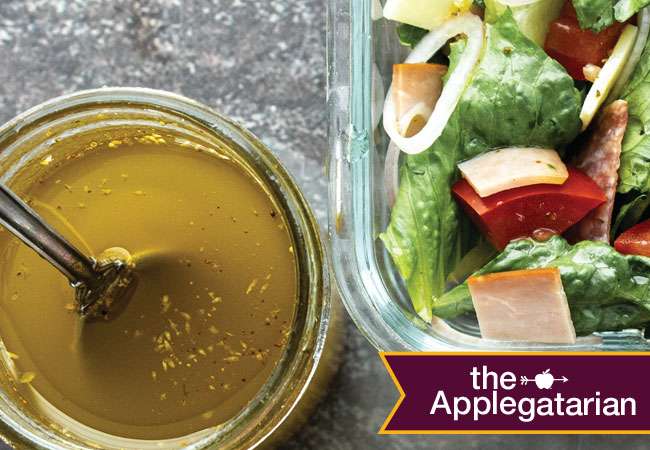 Oregano Vinaigrette
A hoagie's not a hoagie without a liberal squirt of oil and vinegar and a shake of dried oregano. We combined those flavors into a simple dressing that's great to have on hand.
Ingredients
1 large clove garlic, minced
½ cup olive oil
2 tablespoons red wine vinegar
½ teaspoon dried oregano
½ teaspoon kosher salt
¼ teaspoon freshly ground black pepper
Instructions
Combine all of the ingredients in a jar; seal and shake well to combine. Taste and adjust the seasonings. Set aside.
Vinaigrette can be stored in the sealed jar for up to 5 days at room temperature.