Beans and Greens with Crispy Salami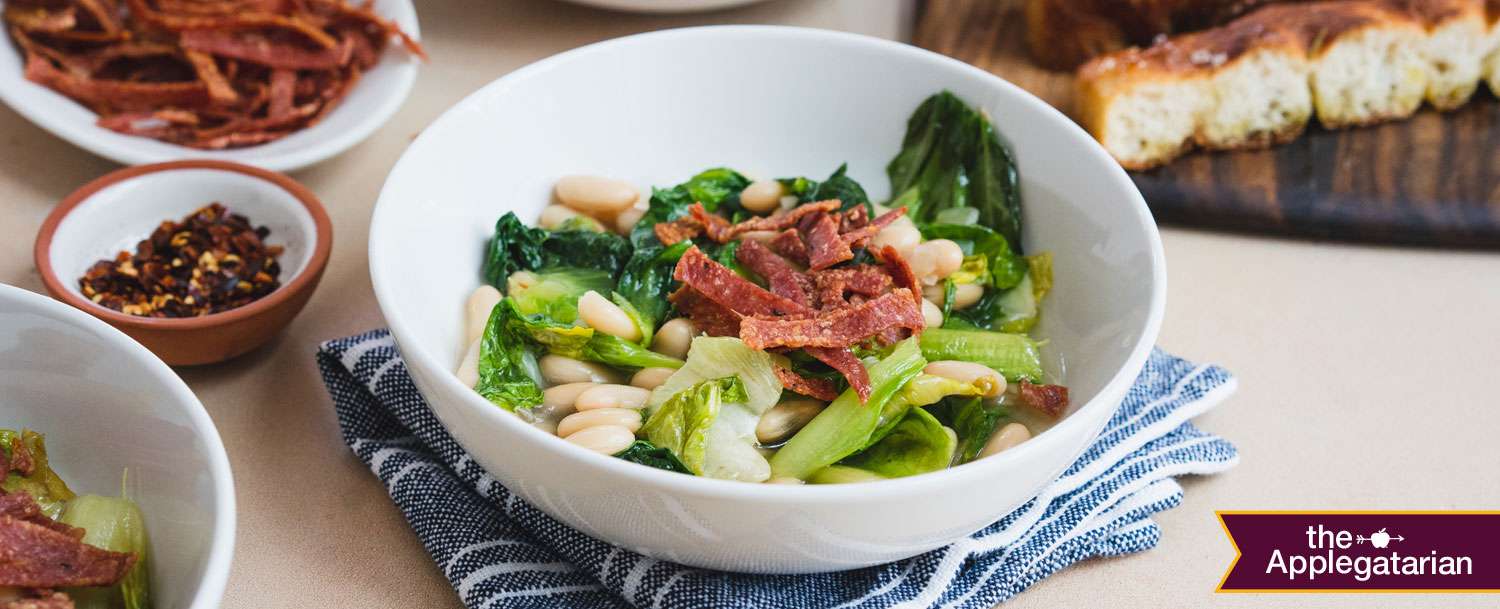 This pantry staple is one of the most satisfying fast dinners we know. It's delicious just as it is, but sometimes we like to serve it over a bowl of short, tubular pasta or with some crusty bread.
As featured in The Applegatarian, an outlet where employees and advocates of the nation's leading natural and organic meat brand dish about their favorite recipes, tips, products, partners and more.
3-4 Servings | Total Time: Less Than 30 Mins
Ingredients
2 tablespoons olive oil, divided, plus more for drizzling
1 (4-ounce) package APPLEGATE NATURALS® Genoa Salami, stacked and sliced into thin strips
1 small yellow onion, chopped 
3 cloves garlic, finely chopped
1 large bunch escarole, chopped
¼ teaspoon crushed red pepper flakes
2 (15-ounce) cans cannellini or other white beans, rinsed and drained
1 cup water or chicken broth
Kosher salt and freshly ground black pepper
Instructions
In a large skillet over moderate heat, heat 1 tablespoon olive oil. Add the salami strips and cook, stirring occasionally, until crisp, about 5 minutes. Use a slotted spoon to transfer the salami to a paper towel-lined plate to drain.
Add the remaining 1 tablespoon olive oil to the skillet, along with the onion and garlic, and cook, stirring occasionally, until softened, 8 to 10 minutes.
Add the escarole and red pepper flakes to the skillet and cook, stirring, until slightly wilted. Add the drained beans, water, ½ teaspoon salt, and ½ teaspoon black pepper to the skillet and bring to a boil. Reduce the heat and simmer, stirring occasionally, until the greens are tender and the liquid has reduced, about 10 minutes. Season to taste with salt and pepper.
Serve the beans and greens hot, drizzled with some olive oil and topped with the crisp salami.