Curried Cauliflower Breakfast Bowl with Spicy Bacon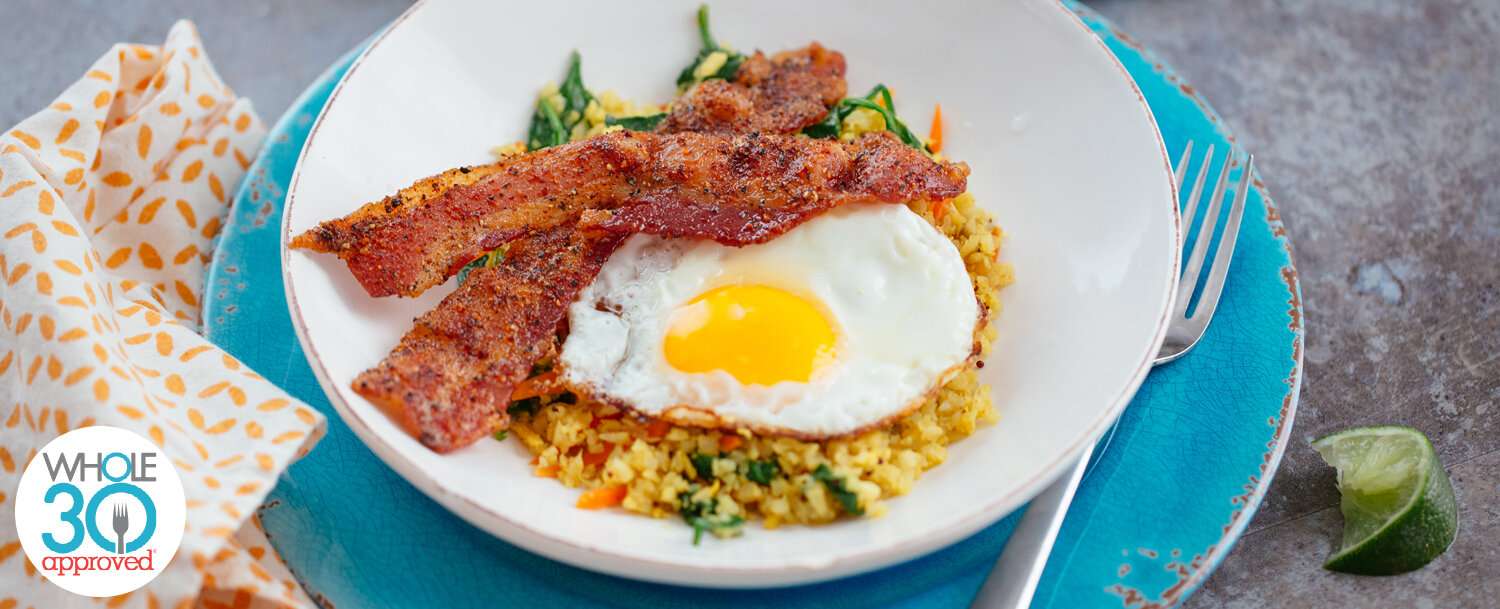 This colorful, brightly flavored Whole30 -compliant "rice" bowl will surely wake you up in the morning! If you can't find riced cauliflower at your grocery store, you can make it yourself by shredding pieces of whole cauliflower in the food processor or by hand with a box grater.
Serves 4 | Total Time: Less Than 30 Mins
Ingredients
For the bacon:
For the cauliflower rice and eggs:
3 tablespoons ghee
1 small red onion, thinly sliced
1 tablespoon finely chopped ginger
1 teaspoon curry powder
1 teaspoon brown mustard seeds
12 ounces cauliflower rice
1 carrot, peeled and grated
¼ cup water
Sea salt and freshly ground black pepper
2 cups baby spinach
½ lime
4 large eggs
Instructions
Preheat the oven to 375°F. Line a baking sheet with aluminum foil. Arrange the bacon in a single layer on the baking sheet and sprinkle with the cayenne and black pepper. Bake bacon until browned and crisp, 12 to 15 minutes. Transfer bacon to paper towels to drain.
While bacon is cooking, heat 2 tablespoons of the ghee in a large heavy skillet over medium-high heat. Add the onions and cook, stirring occasionally, until golden brown, 5 to 8 minutes.
Add the ginger, curry powder and mustard seeds and cook, stirring, until fragrant, about 1 minute.
Add the cauliflower, carrot and water. Cook, stirring occasionally, until vegetables are crisp-tender, about 5 minutes.
Stir in the spinach and cook until wilted, about 2 minutes. Squeeze the lime juice over the mixture and season to taste with salt and pepper.
Divide the mixture among 4 bowls and wipe out the skillet. Add the remaining 1 tablespoon ghee to the skillet and heat over medium heat. Crack the eggs into the skillet and cook to desired doneness.
Top each bowl with a fried egg and 2 strips of bacon.