Hearty, creamy chowders are found all along the northeast coast...
 but in summer, our favorite is chockablock-full of corn, bacon, and other veggies.  It's savory and satisfying without being overly rich.   If you have any vegetarian guests, you can cook the bacon separately and use vegetable broth instead of chicken.
 To make it vegan, replace the heavy cream with full-fat coconut milk and the butter with olive oil.
As featured in The Applegatarian.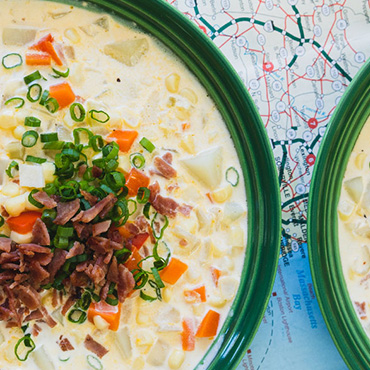 Serves 6 | Total Time: Less Than 60 Mins
Ingredients
1 (8-ounce) package APPLEGATE NATURALS® Turkey Bacon, chopped
2 tablespoons unsalted butter 1 large yellow onion, chopped 1 carrot, chopped
1 rib celery, chopped
1 red bell pepper, seeded and chopped Kosher salt and freshly ground black pepper
3 medium potatoes, preferably red or Yukon Gold, peeled and chopped
4 cups chicken broth
3 cups fresh corn kernels 1 cup heavy cream
Chopped scallions, for garnish
Instructions
Cook the bacon in 1 tablespoon butter in a large heavy soup pot over moderate heat, stirring frequently, until crisp, about 5 minutes. Transfer to a plate.
Add the remaining tablespoon butter to the pot along with the onions, carrot, celery, and bell pepper. Cook over moderate heat, stirring occasionally, until the vegetables are softened, about 10 minutes. Season with 1 teaspoon salt and 1 teaspoon pepper.
Add the potatoes and chicken broth, then bring to a simmer and cook, covered, until the potatoes are just tender, about 15 minutes.
Add the corn and cream and simmer, uncovered, until the corn is tender, about 10 minutes. Season to taste with salt and pepper.
Serve the soup hot, sprinkled with the scallions and reserved bacon.
The Applegatarian, an outlet where employees and advocates of the nation's leading natural and organic meat brand dish about their favorite recipes, tips, products, partners and more.