Chicken and Risotto Casserole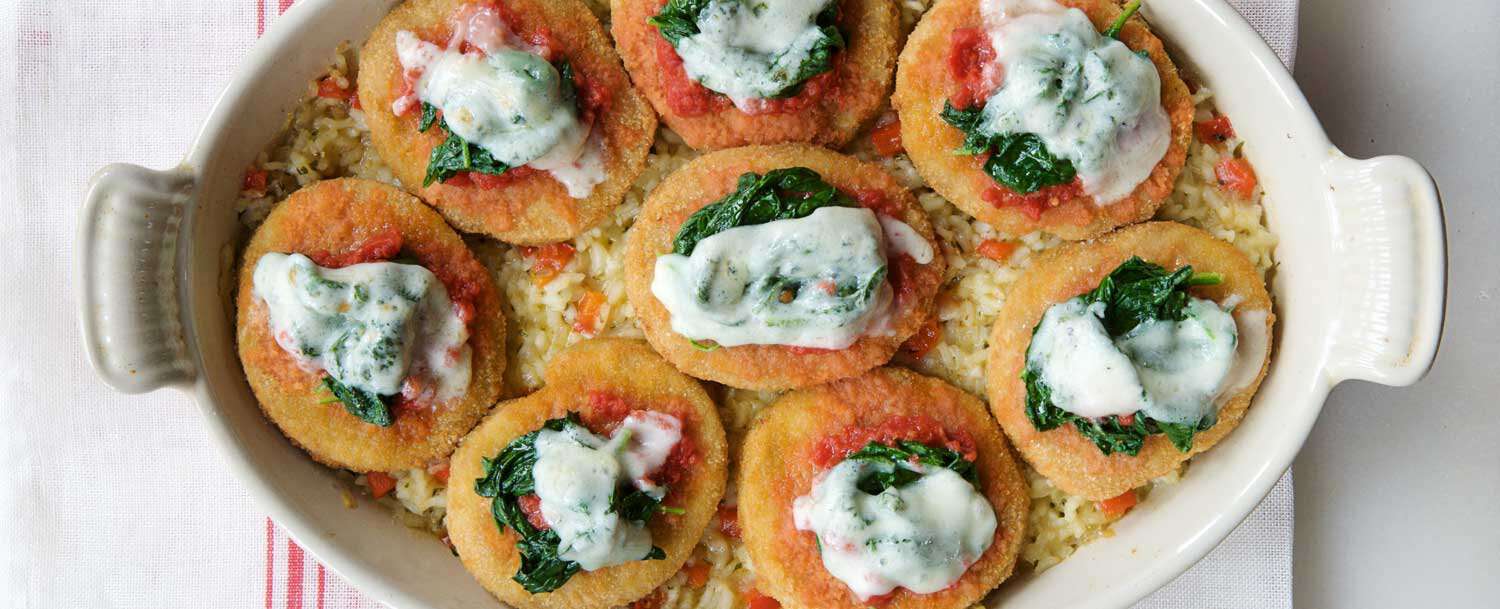 You can serve this dish with a leafy green salad and some crusty bread for the perfect Sunday supper.
Serves 8 | Total Time: More Than 60 Mins
Ingredients
1 cup grated parmesan cheese
6 tablespoons extra virgin olive oil
1 Spanish onion diced
1 red bell pepper diced
6 cloves garlic minced
6 basil leaves minced
1 cup Arborio rice
3 cups chicken broth (reserve ½ cup)
2 lbs fresh spinach or 10 oz. bag frozen spinach – thawed and squeezed dry
1 teaspoon salt
1/2 teaspoon fresh ground pepper
Tomato sauce - recipe follows
1 package Applegate Naturals® Provolone Cheese
Fresh Tomato Sauce*
4 tablespoons extra virgin olive oil
1 medium Spanish onion minced (approx 2 cups)
4 cloves garlic minced
2 tablespoons tomato paste
28-oz. can chopped plum tomatoes
12 basil leaves rough chopped
Salt and Fresh Ground Pepper to Taste
* SUBSTITUTE 16 oz. jar of tomato sauce
Instructions
Rice:
In a medium sauce pan, sauté onion, pepper, and garlic in olive oil until golden.
Add basil, rice, salt and pepper and sauté until the rice starts to get translucent (about 2 minutes).
Add half the stock and simmer while stirring until all the liquid is incorporated into the rice mixture.
Repeat this step with the remaining stock, pull off the heat and add the parmesan cheese stirring as you go until it is evenly mixed.
Set aside.
Spinach:
In a medium pan sauté garlic in the oil until golden.
Add spinach until wilted (approx 30 seconds).
Add salt and pepper to taste. Set aside

Assembly:Spread the rice into a heat proof casserole dish large enough to fit 8 chicken patties.
Add stock and distribute evenly among the rice mixture.
Spread out patties evenly over the rice mixture.
Ladle one heaping tablespoon of sauce over each patty.
Distribute the spinach on top of the 8 patties.
Bake at 350 degrees for 40 minutes.
Cut about 4 slices of provolone cheese in thin strips and crisscross over chicken for the last two minutes of baking.
Now … gather up 8 friends (or 4 big eaters) and celebrate the magic of a delicious chicken casserole!