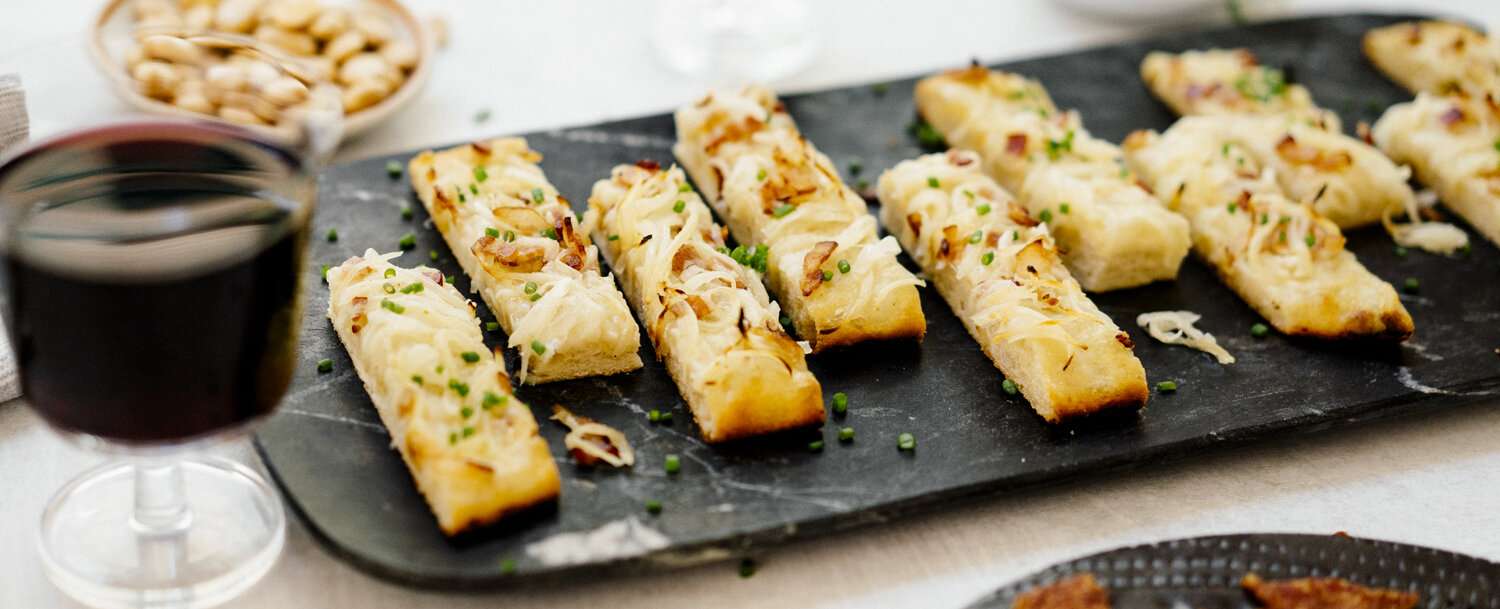 Topped with chopped bacon, thinly sliced onions and crème fraîche, this flatbread hails from the Alsace region of France, which borders Germany. Cut into small squares, it makes a mouth-watering appetizer; cut into larger pieces and served
with a green salad, it makes a delicious, casual supper.
6-8 servings | Total Time: Less Than 15 Mins
Ingredients
1 (8-ounce) package Applegate Naturals® Sunday Bacon® , chopped
1 small yellow onion, very thinly sliced
8 ounces crème fraîche
Kosher salt and freshly ground black pepper
1 pound pizza dough
Chopped chives, for garnish
Instructions
Preheat the oven to 450°F. Lightly oil a sheet pan.
Cook the bacon in a skillet over moderate heat, stirring occasionally, until softened and golden but not fully crisp, about 5 minutes. Remove from the heat.
Combine the onions and crème fraîche in a bowl. Add the bacon to the mixture, along with some of the grease from the skillet and stir to combine. Season the mixture with salt and pepper to taste.
Using lightly oiled hands, pat and stretch the pizza dough on the baking sheet until it is very thin (it may not completely fill the baking sheet).
Spread the onion mixture evenly over the dough, going right to the edges and making sure the bacon is threaded evenly throughout.
Bake until the crust is crisp and golden brown around the edges (lift up a corner of the tarte to make sure the underside is browned), 15 to 20 minutes.
Remove from the oven.
To serve, cut into squares and garnish with chopped chives. Serve hot, warm or at room temperature.