10 Colorful & Easy Jarred Salad Ideas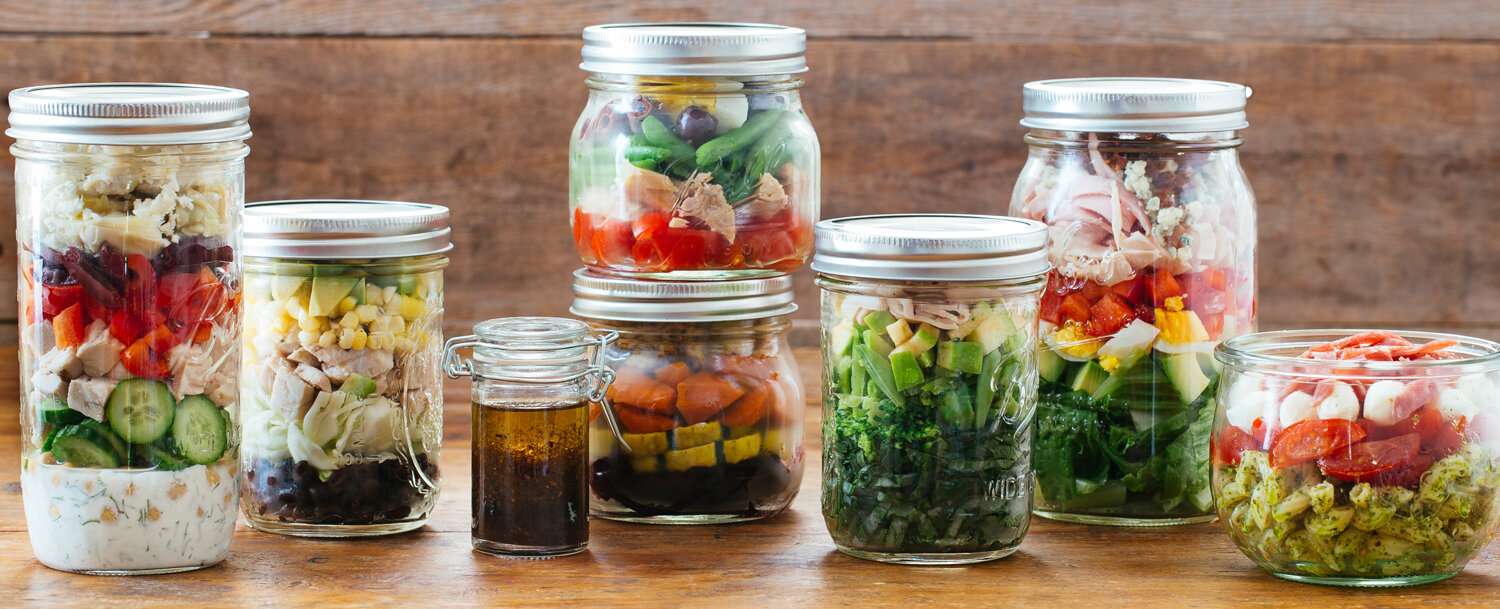 Packing a salad in a mason jar is a great way to transport lunch—it's a compact container into which you can really cram a lot of goodness. Because I pack so much into each jar, I prefer to shake the salad into a large bowl when I eat it—it's much easier to mix everything up that way (either spoon your dressing into the bottom of the jar or pack it separately). I love leafy greens, but I love a mix of raw and roasted veggies even more (and find them more satisfying), especially when they're paired with plenty of protein-rich meats, eggs, nuts and seeds. 
Here are my 10 favorite mixes right now.
1. Power Greens: Layer chopped kale, broccoli, snap peas, scallions, green apple and Applegate Naturals® Oven Roasted Turkey Breast. This tastes great with a sesame dressing (try this one).
2. Classic Cobb: Layer chopped romaine, avocado, red onion, hard-boiled egg, blue cheese, Applegate Naturals® Oven Roasted Turkey Breast, baked ham and crumbled bacon. This is nice with a classic buttermilk dressing.
3. Caprese Pasta: Toss small pasta noodles with pesto and layer with cherry tomatoes, small mozzarella balls (called ciliegene) and chopped Applegate Naturals® Genoa Salami or Applegate Naturals® Pepperoni.
4. Niçoise: Use a base of good-quality canned tuna or sardines (or Applegate Naturals® Grilled Chicken Breast Strips) and top with steamed green beans, chopped tomatoes, hard-boiled eggs and small black olives. Dress with a little oil and vinegar or a dollop of mayonnaise.
5. Vietnamese Beef: Channel your favorite takeout dish with thin rice noodles, leftover grilled steak (or Applegate Naturals® Roast Beef), matchsticks of carrot, radish and cucumber, plenty of mint and basil and a sweet-tangy dressing of lime juice, fish sauce and sugar.
6. Mediterranean: Build layers of canned chickpeas, Applegate Naturals® Grilled Chicken Breast Strips, chopped cucumbers, red bell pepper, artichoke hearts, kalamata olives and crumbled feta. Stir together yogurt, chopped dill, lemon juice, salt and pepper for an easy dressing (or try this one).
7. Southwestern: Start with a layer of black beans and top with Applegate Naturals® Fajita-Style Grilled Chicken Breast Strips (or leftover grilled steak or pork), shredded cabbage, corn, avocado and crumbled queso fresco. Blend some ready-made salsa with a tablespoon or two of olive oil to make a bright, spicy dressing.
8. Roasted Vegetable: Make this vegetarian salad with your favorite roasted vegetables (leftovers work great): beets, squash, sweet potatoes, carrots, cauliflower, etc. A scattering of pumpkin seeds and crumbled feta go nicely with this combo.
9. Sushi: Go with the flavors of your favorite roll and layer in sushi rice, leftover grilled salmon (or use smoked or canned salmon), chopped cucumber and avocado, pickled ginger, snips of nori and a scattering of toasted sesame seeds. Try this with a miso or zingy carrot ginger dressing.
10. Grain Goodness: Build on a base of fluffy quinoa, bulgur, barley, freekah or other favorite grain and top with lentils, herbs, roasted vegetables and crumbled cheese. Leftover grilled meat adds an extra dose of protein.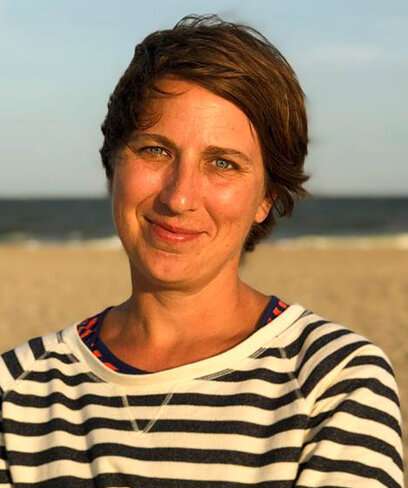 Kate Winslow
Kate Winslow is the author of Onions Etcetera: The Essential Allium Cookbook (Burgess Lea Press, 2017), as well as the co-author of The Agricola Cookbook and Coming Home to Sicily. A former editor at Gourmet magazine, Kate currently works with her husband Guy Ambrosino, a photographer, to test, develop and photograph recipes for cookbooks, magazines and, most fun of all, Applegate! Kate and Guy live along the Delaware River in New Jersey with their 12-year-old son, yellow lab and six chickens. Their work can be seen at kateandguy.com.