Turkey Burgers with Creamy Mushroom Sauce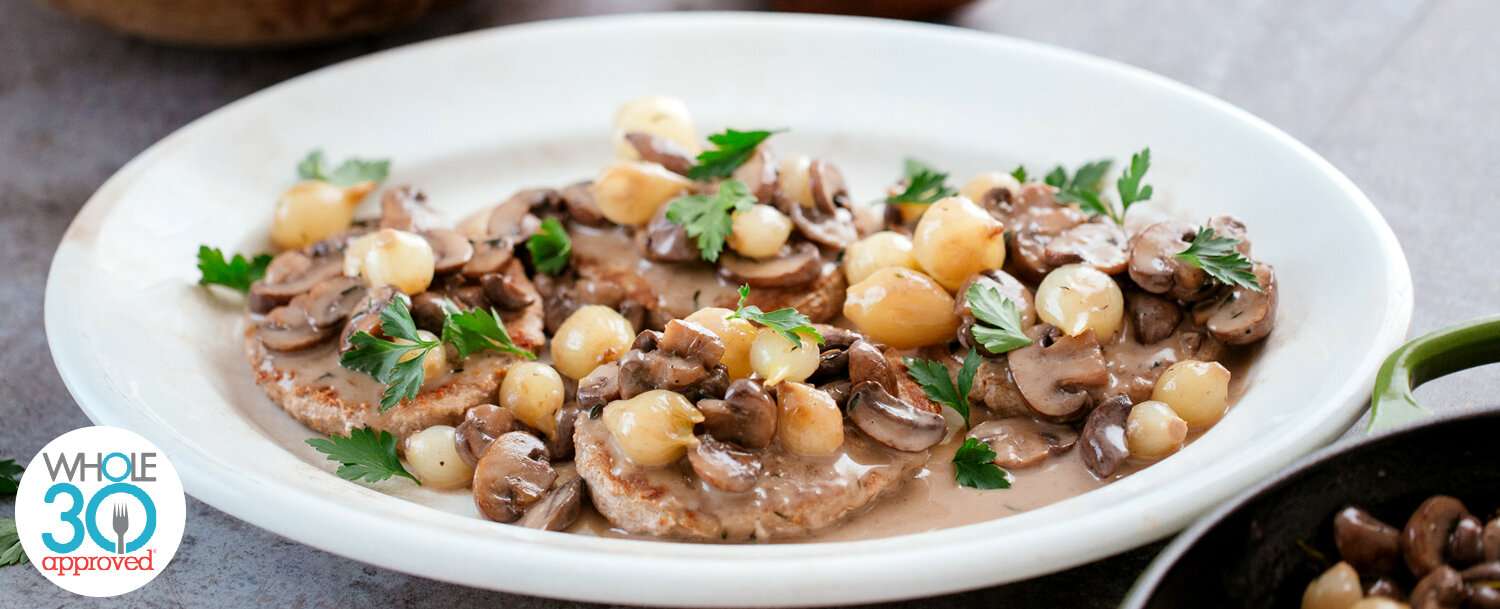 This Whole30 -compliant stroganoff-style recipe tastes great all on its own, with a green salad on the side. For a more robust meal, serve it over zucchini noodles or cauliflower rice.
Serves 4 | Total Time: Less Than 60 Mins
Ingredients
1 (10-ounce) bag fresh or frozen pearl onions (defrosted)
3 tablespoons ghee, olive oil or coconut oil, divided
1 pound cremini, button or baby bella mushrooms, trimmed and thickly sliced
2 cloves garlic, finely chopped
1 large sprig thyme
1 (14-ounce) can coconut milk, well shaken
Sea salt and freshly ground black pepper
1 (16-ounce) package frozen Applegate Organics® Turkey Burgers
Instructions
If using fresh onions, bring a small pot of water to a boil. Add the onions and boil for 2 minutes. Remove from the heat and drain well. When cool enough to handle, peel the onions. Set aside.
Heat 2 tablespoons of the ghee in a large heavy skillet over medium heat. Add the mushrooms, pearl onions, garlic and thyme. Cook, stirring occasionally, until the vegetables are browned and the liquid released by the mushrooms has evaporated, 10 to 12 minutes.
Add the coconut milk, ½ teaspoon salt and ¼ teaspoon pepper. Bring to a simmer, then reduce the heat to medium-low and simmer gently until the sauce has thickened and reduced, about 10 minutes. Keep warm over low heat.
While the sauce cooks, heat the remaining 1 tablespoon ghee in a heavy skillet over medium-high heat. Add the frozen turkey burgers and cook, flipping once, until browned and cooked through, 10 to 12 minutes.
Divide the turkey burgers among 4 plates and top with the mushrooms, onions and sauce. Serve at once.