Stir-Fried Chicken, Broccolini and Snow Peas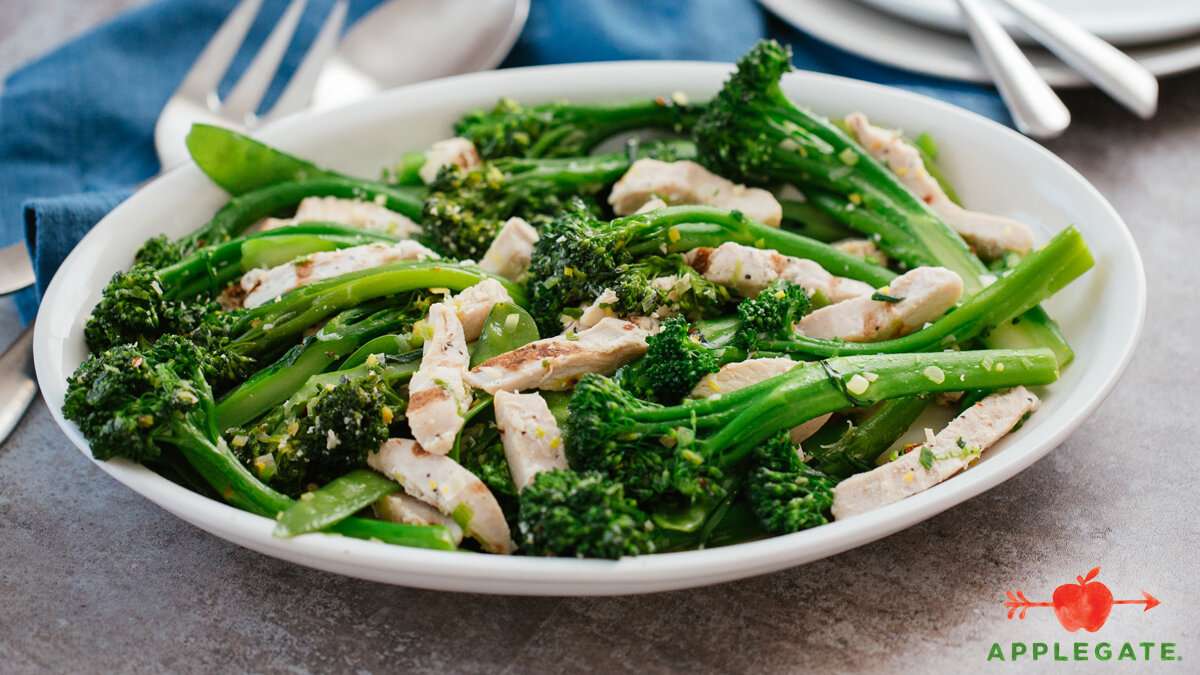 A quick dip in boiling water, followed by a cold rinse, preserves the vegetables' lively emerald tones. You can do this step early in the day and refrigerate the vegetables until dinner time—this Whole30 -compliant stir-fry will then come together in less than 10 minutes.
Serves 4 | Total Time: Less Than 30 Mins
Ingredients
1 pound broccolini, trimmed and halved lengthwise if thick
2 cups snow peas, trimmed
2 tablespoons olive oil, coconut oil or ghee
4 scallions, finely chopped
3 garlic cloves, finely chopped
1-inch piece of fresh ginger, peeled and finely chopped
Pinch of crushed red pepper flakes
½ cup chicken broth
2 (8-ounce) packages Applegate Naturals ® Grilled Chicken Breast Strips
1 tablespoon toasted sesame oil
Sea salt and freshly ground black pepper
Instructions
Bring a pot of water to a boil. Add the broccolini and boil for 2 minutes. Add the snow peas to the pot and boil for an additional 1 minute. Drain and rinse under cold running water to stop the cooking. Drain well.
Heat a wok or large nonstick skillet over medium-high heat. Add the oil and swirl to coat the pan. Stir in the scallions, garlic, ginger and crushed red pepper flakes and cook, stirring, until fragrant, about 1 minute.
Stir in the drained broccolini and snow peas and the chicken broth and cook for 1 minute. Add the chicken and cook, stirring occasionally, until vegetables are crisp-tender and chicken is heated through, 2 to 3 minutes. Remove from the heat.