Spicy Chicken, Bacon and Cheddar Salad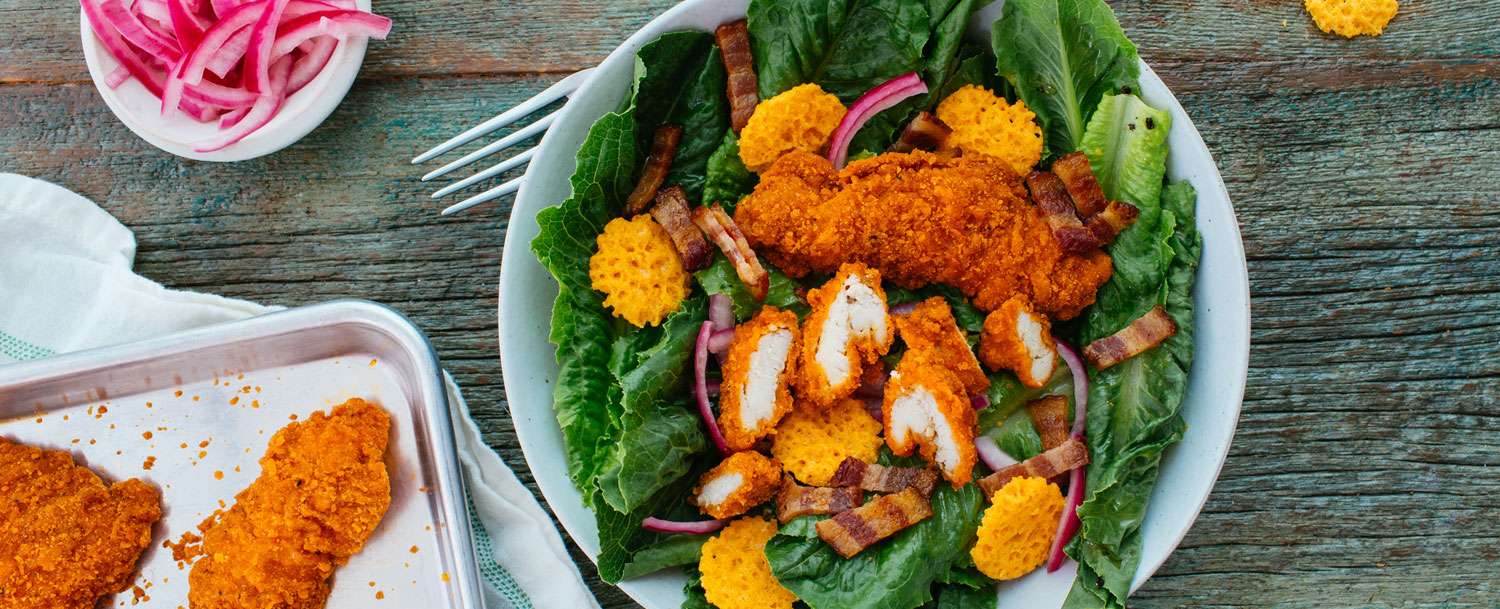 Applegate Farms' new Spicy Breaded Chicken Tenders really shine in this savory, crunchy salad—a different spin on a favorite fast food sandwich.
Serves 4 | Total Time: Less Than 30 Mins
Instructions
Place the sliced onions in a glass jar. Bring the white vinegar and ½ tsp salt to a boil in a small saucepan, stirring until salt has dissolved. Pour mixture over the onions, pushing on them so they are fully submerged in the vinegar mixture. Set aside to cool.
Cook the bacon in a skillet over moderate heat, stirring occasionally, until browned and crisp, 5–8 minutes. Transfer bacon to a paper towel–lined plate to drain; pour out the bacon fat from the skillet but do not clean. When cool enough to handle, finely chop half of the bacon and return it to the skillet. Add the apple cider vinegar and heat over low heat, stirring and scraping the bottom of the skillet. Whisk in the olive oil and season to taste with salt and pepper. Remove from the heat and set aside.
Meanwhile, cook the spicy chicken tenders according to package instructions.
To serve, divide the lettuce among 4 salad bowls or plates and top with the spicy chicken, cheddar crisps and some of the pickled onions. Drizzle the dressing over the salad and garnish with the remaining chopped bacon. Serve at once.
Note: Leftover pickled onions can be refrigerated for up to 2 weeks.