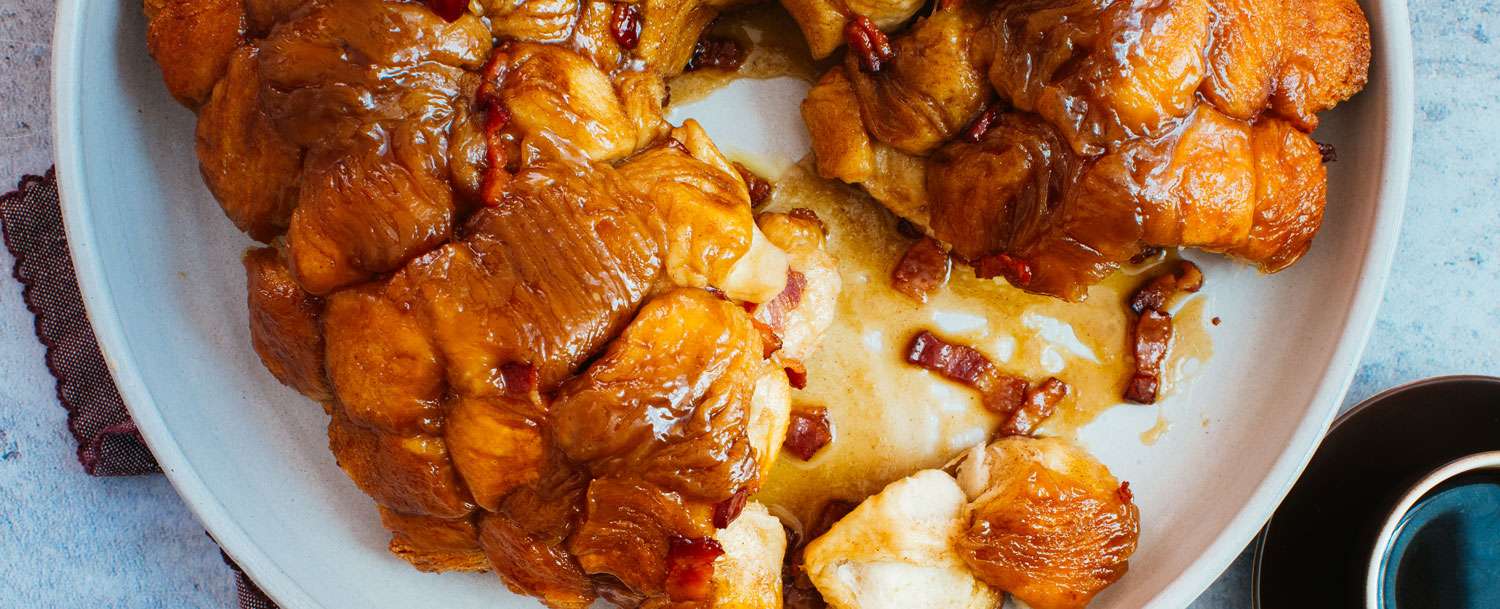 Crisp bacon adds a welcome counterpoint to sweet, maple-y monkey bread. This is a perfect recipe for kids to help make—they can roll the dough balls, dip them in cinnamon sugar and help build up the bread in the bundt pan.
Serves 8 | Total Time: Less Than 60 Mins
Ingredients
1 (8-ounce) package Applegate Naturals Sunday Bacon , chopped
¾ cup granulated sugar
2 teaspoons ground cinnamon
½ cup unsalted butter
¾ cup maple syrup
½ cup dark brown sugar
3 (16.3-ounce) tubes biscuit dough
Instructions
Preheat the oven to 375°F. Butter a bundt cake pan.

Cook the bacon in a heavy skillet over moderate heat, stirring frequently, until browned and crisp, 6–8 minutes. Remove from the heat. Using a slotted spoon, transfer the bacon to a paper towel–lined plate to drain.

Meanwhile, stir together the granulated sugar and cinnamon in a shallow bowl.

Combine the butter, maple syrup and brown sugar in a heavy saucepan and heat over moderate heat, stirring constantly, until butter and brown sugar are melted and everything is well combined. Remove from the heat and set aside.

Separate the biscuits and cut each round into quarters. Roll each dough quarter into a ball and roll in the cinnamon sugar to coat. Arrange a layer of sugared dough balls in the bottom of the bundt pan. Sprinkle about a third of the bacon over the dough. Drizzle some of the maple syrup mixture over top. Arrange another layer of dough balls in the pan and repeat with the remaining bacon, maple syrup mixture and dough balls until everything has been used.

Set the bundt pan on a baking sheet (to catch any drips) and place in the oven. Bake until dough is puffed and golden brown, about 35 minutes. If top is browning too quickly, cover loosely with foil and continue to bake. Remove from the oven and let sit for a few minutes before turning out onto a serving platter. Serve warm.