Garlicky Broccoli and Prosciutto Salad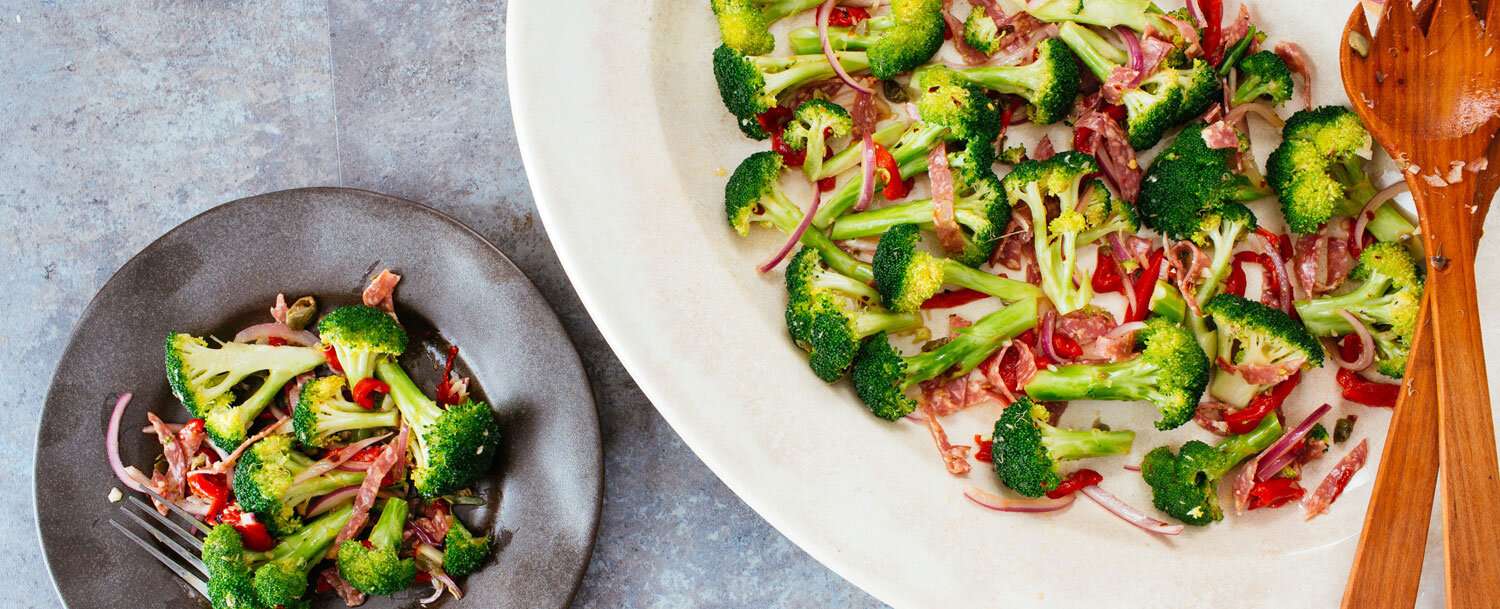 This colorful, crunchy, bold salad is adapted from a recipe by cookbook author Melissa Clark. As the raw broccoli "cures" under a shower of hot, garlicky oil, it becomes bright green and softens just enough. The addition of prosciutto, roasted red peppers and onions helps make this a light, Whole30-approved meal all on its own. The salad should sit for one hour before serving, though it can also be made two days ahead and refrigerated.
Serves 4 | Total Time: Less Than 15 Mins
Ingredients
1 tablespoon red wine vinegar
1 teaspoon kosher salt
1½ pounds broccoli crowns, cut into florets
2 ounces Applegate Naturals® Prosciutto, thinly sliced
½ small red onion, thinly sliced
½ cup roasted red peppers, sliced
2 tablespoons capers, coarsely chopped
½ cup olive oil
4 plump garlic cloves, finely chopped
¼ teaspoon crushed red pepper flakes, or to taste
Instructions
Stir together the vinegar and salt in a large bowl until salt is dissolved. Add the broccoli and toss well to coat.
Add the prosciutto, onion, roasted red peppers and capers to the broccoli and toss well.
Heat the oil in a small skillet until hot but not smoking. Add the garlic and red pepper flakes and cook until fragrant, about 1 minute. Remove from the heat and pour immediately over the broccoli mixture. Toss well.
Let sit at room temperature for 1 hour before serving.