Tomato Salad with Warm Bacon Vinaigrette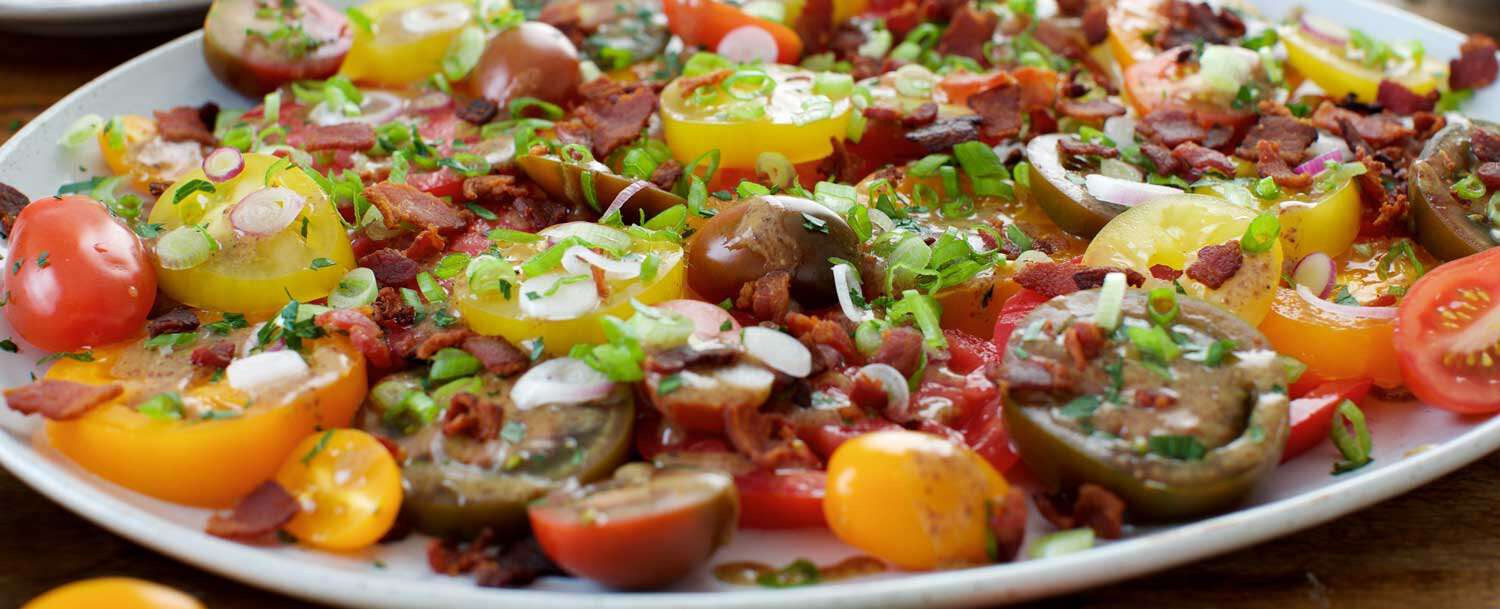 This colorful salad begs to be made in the height of summer when a host of heirloom tomatoes beckons at the farmers market. Slice large tomatoes and simply halve or quarter any small cherry or grape tomatoes. 
Consider serving the salad over crostini for an easy appetizer, or tucking in some sliced mozzarella to make it a main course on a hot night.
Serves 4 to 6 | Total Time: Less Than 30 Mins
Ingredients
2 pounds ripe tomatoes, sliced
Salt and freshly ground black pepper
4 strips Applegate Naturals® Sunday Bacon® Brand, chopped
2 tablespoons apple cider vinegar
1 tablespoon grainy mustard
½ teaspoon sugar
2 scallions, thinly sliced
1 tablespoon finely chopped parsley
1 tablespoon olive oil
Instructions
Arrange the tomatoes on a large platter and season lightly with salt and pepper. Set aside while you make the dressing.
Fry the bacon in a small skillet over moderately high heat, stirring from time to time, until crisp, about 8 minutes. Using a slotted spoon, scoop out the bacon and transfer to a paper towel–lined plate to drain. 
Keep any fat that remains in the skillet. Return the skillet to the heat and add the vinegar, mustard, sugar and 1⁄4 teaspoon salt, stirring to dissolve the sugar. 
Pour the warm dressing over the tomatoes and top with the scallions, parsley and crisp bacon. Drizzle the olive oil over the salad and serve at once.