Crisper Crash Roast Beef Hash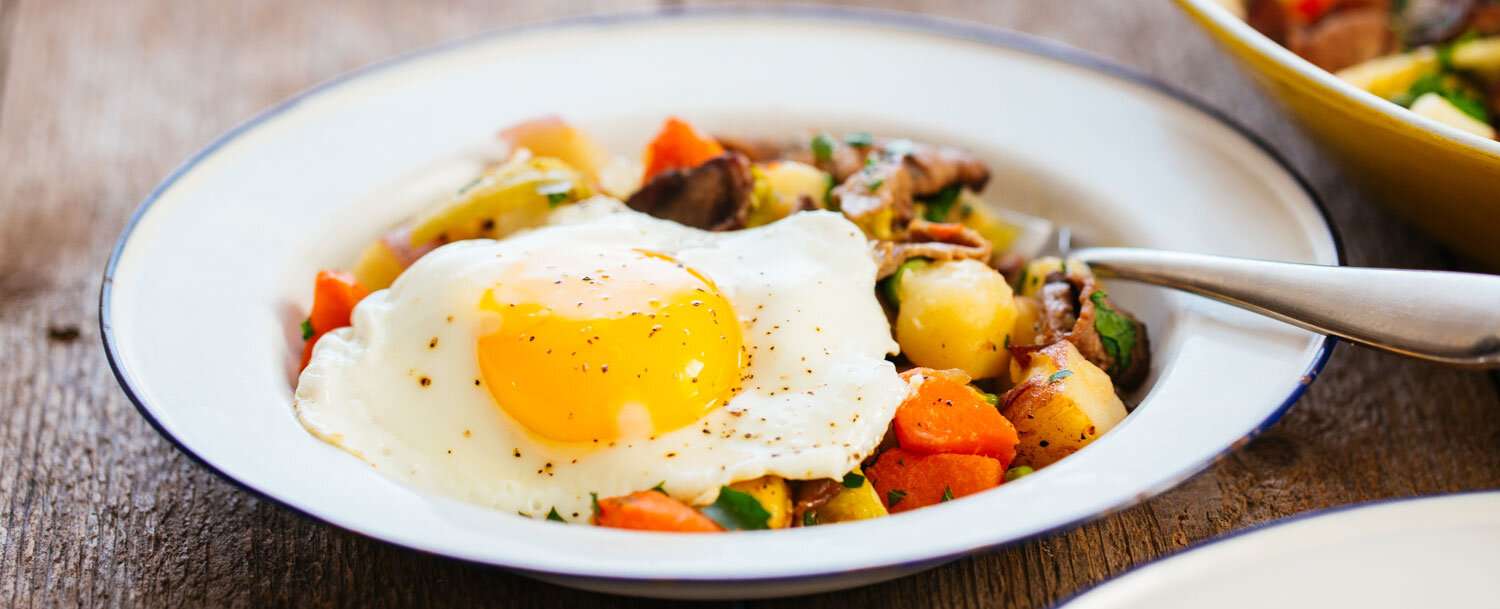 Think of this tasty, colorful recipe as a way to use up all your fridge's leftovers. Sure, we call for potatoes, Brussels sprouts and carrots below, but know that you can use practically any kind of leftover veg—think roasted sweet potatoes, butternut squash, sautéed kale, cauliflower or broccoli, roasted beets, parsnips, turnips—the list is endless!
Serves 4 | Total Time: Less Than 60 Mins
Ingredients
4 tablespoons butter
5 tablespoons olive oil
1 yellow onion, chopped
3 cups diced cooked potatoes
2 cups quartered cooked Brussels sprouts
1 cup sliced cooked carrots
1 (7-ounce) package Applegate Naturals® Roast Beef, cut into 1-inch-wide strips
Salt and freshly ground black pepper
1 cup frozen peas
Chopped fresh parsley, for garnish
4 large eggs
Instructions
Preheat the oven to 425°F.
Melt the butter and 4 tablespoons of the olive oil in a large cast-iron or other heavy, ovenproof skillet over medium-high heat.
Add the onions and cook until softened, 8–10 minutes.
Add the potatoes, Brussels sprouts, carrots and roast beef, and season to taste with salt and pepper. Cook, stirring occasionally, until vegetables begin to brown, about 15 minutes.
Stir the peas into the hash and transfer the mixture to the oven. Cook until the top is golden brown, 5–10 minutes. While the hash is in the oven, fry the eggs. Heat the remaining 1 tablespoon olive oil in a large skillet over medium-high heat. Add the eggs, season with salt and pepper, and cook to desired doneness. Garnish the hash with the chopped parsley and serve with the fried eggs.